Rodney second Padre with 2 saves in 1 day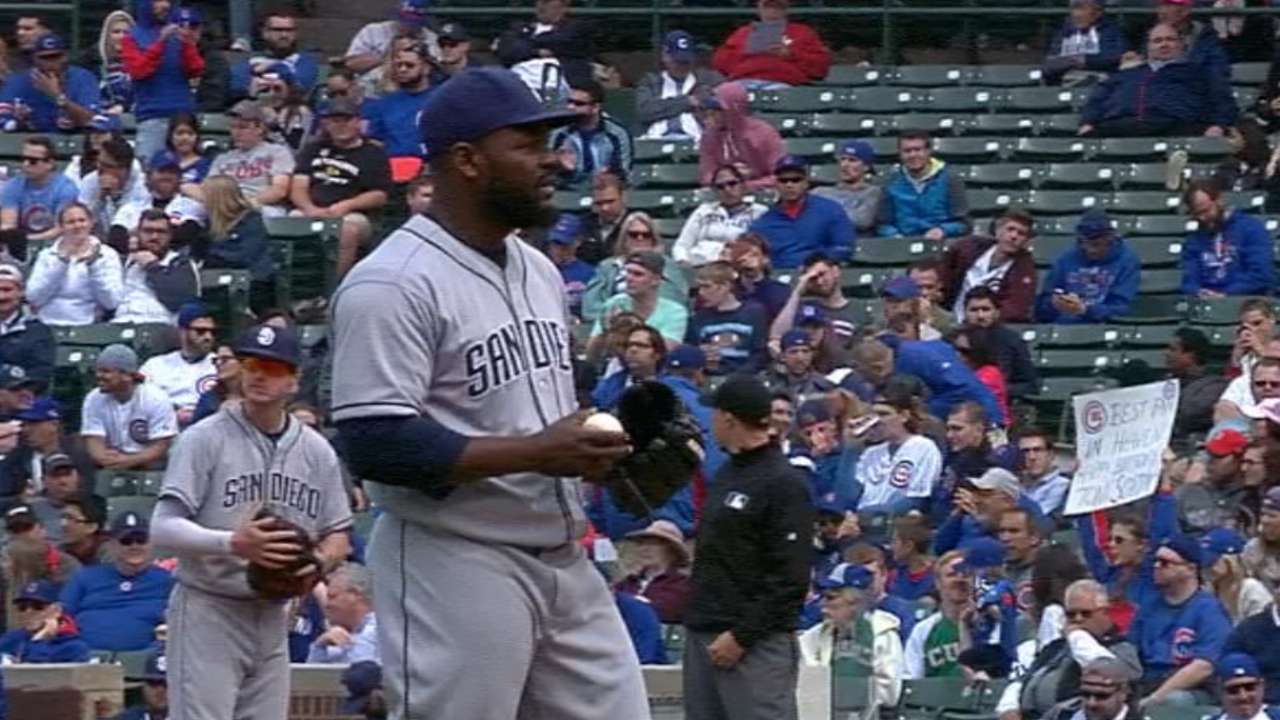 CHICAGO -- For the first time in his 14-year career, Fernando Rodney was on the hill to record two saves on the same day Wednesday. And that meant Rodney was firing two arrows into the foggy Chicago sky -- no matter what his former teammate Ben Zobrist did to try and stop him.
Rodney got Zobrist to bounce back to the mound for the final out of Wednesday night's 1-0 victory -- completing a doubleheader sweep of the Cubs at Wrigley Field. When Rodney drew back his imaginary arrow and fired it toward the right-field bleachers, Zobrist playfully leapt to try to stop it.
"He tried [to block it]," Rodney said with a wry smile afterward. "He was too late"
Rodney has been a revelation for the Padres this season. After signing a one-year deal with a team option during the offseason, he's converted 10 of 10 save opportunities and hasn't allowed a run over 14 innings.
He needed just 11 pitches to get through his first save Wednesday, a 1-2-3 effort in a 7-4 Padres victory. That kind of efficiency gave manager Andy Green the confidence to call on Rodney again in the nightcap.
"I don't think anybody could keep Fernando Rodney out of the game," Green said. "He was ready to get the save."
The sailing wasn't as smooth in Game 2, as Rodney allowed a single to Javier Baez to start the frame. But he retired the next three batters, all on soft ground balls.
In doing so, Rodney became just the second pitcher in Padres history to record two saves on the same day, joining Rollie Fingers, who accomplished the feat on May 30, 1977, in San Francisco.
"It was a fun stadium, fun ballpark to do this," said Rodney, who spent the second half of last season pitching for the Cubs. "We're here to play baseball, and we can compete with any team in the league."
Rodney added that there was never a doubt in his mind he'd get the ball in Game 2 if the Padres found themselves in a save situation.
"I felt good," Rodney said. "That's my style."
AJ Cassavell covers the Padres for MLB.com. Follow him on Twitter @ajcassavell. This story was not subject to the approval of Major League Baseball or its clubs.