Tigers get clarification on slide rule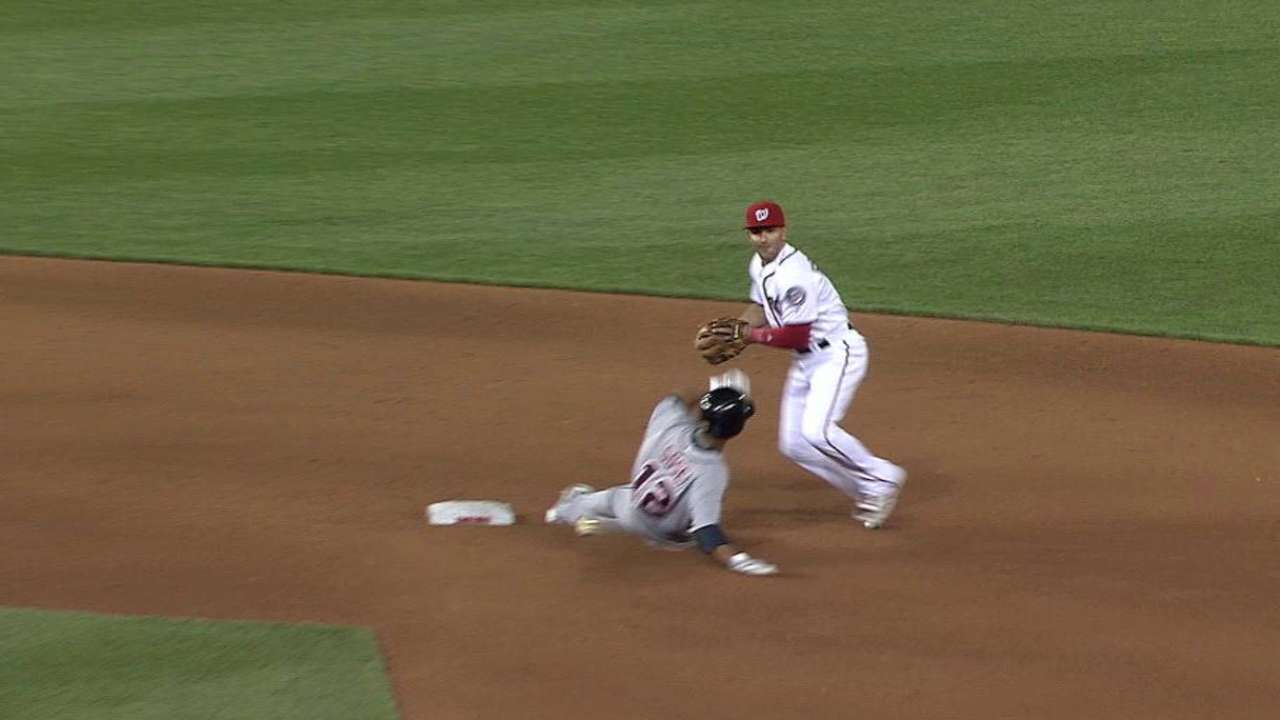 WASHINGTON -- The Tigers had received an update from Major League Baseball clarifying aspects of the slide rule at second base before Tuesday's win and Anthony Gose's attempt at breaking up a double play on the go-ahead run brought it into the limelight.
"I just got an email recently making that clear," manager Brad Ausmus said.
Tuesday's rally became a live demonstration of it.
With the bases loaded, one out and the score tied at 3 in the sixth inning on Tuesday, Andrew Romine hit a ground ball to the right side that Daniel Murphy fired to shortstop Danny Espinosa at second in hopes of starting an inning-ending double play. Gose slid wide in an attempt to disrupt Espinosa, but Espinosa got off a clean throw without having to adjust. Romine beat the throw to first, allowing Justin Upton to score the go-ahead run from third.
"From my understanding, the rule is you need to make an attempt to touch the bag, which I think the replay showed that [Gose] did not," Murphy said. "I also think with the rule, you need to try to maintain the bag, which I don't think he did either."
Under the update, however, that type of slide has to hinder the fielder. Since Espinosa stepped out of the way when he took the throw, there was no contact.
"In their judgment, [Gose] didn't impact the fielder's ability to turn the double play," Ausmus said.
Nationals manager Dusty Baker told reporters after the game that they weren't aware of the clarification.
"The only thing that they added was if it doesn't impede the ability of the middle infielder to make the play or turn the double play," Ausmus said. "So if you don't have a bona fide slide, doesn't [necessarily] mean you have interference."
The change has no effect on how Ausmus wants his baserunners to handle the new rules on sliding.
"We told them in Spring Training. As a matter of fact, we told them about this specific incidence," Ausmus said. "Bases loaded, first-and-third, don't risk it, because it might cost us a run. Just slide into the base.
"I don't want to say [there's a change], because when you slide, you don't know if you're going to impede it. We essentially said, especially when there's the potential for a run to score, just slide into the base. Leave no doubt."
Ausmus was not happy with Gose's slide, and he emphasized that he doesn't want to see it again. That said, he understands why slides like that still happen.
"In Spring Training, when we were discussing this rule, this is kind of what we said: Listen, this is a hard habit to break," he said. "You've been trained to break up double plays your entire life. You've got to change your thought process, especially when there's a run at stake. I think you've seen it around the guys where guys, they're so used to trying to break up two, they forget about the slide."
He planned on giving a reminder.
"It will be reiterated to players today: When a run's at stake, just slide into the base," Ausmus said.
Jason Beck has covered the Tigers for MLB.com since 2002. Read Beck's Blog, follow him on Twitter @beckjason and listen to his podcast. This story was not subject to the approval of Major League Baseball or its clubs.