Baker shuffles order; Murphy in cleanup spot
Zimmerman shifts to fifth in lineup designed to better protect Harper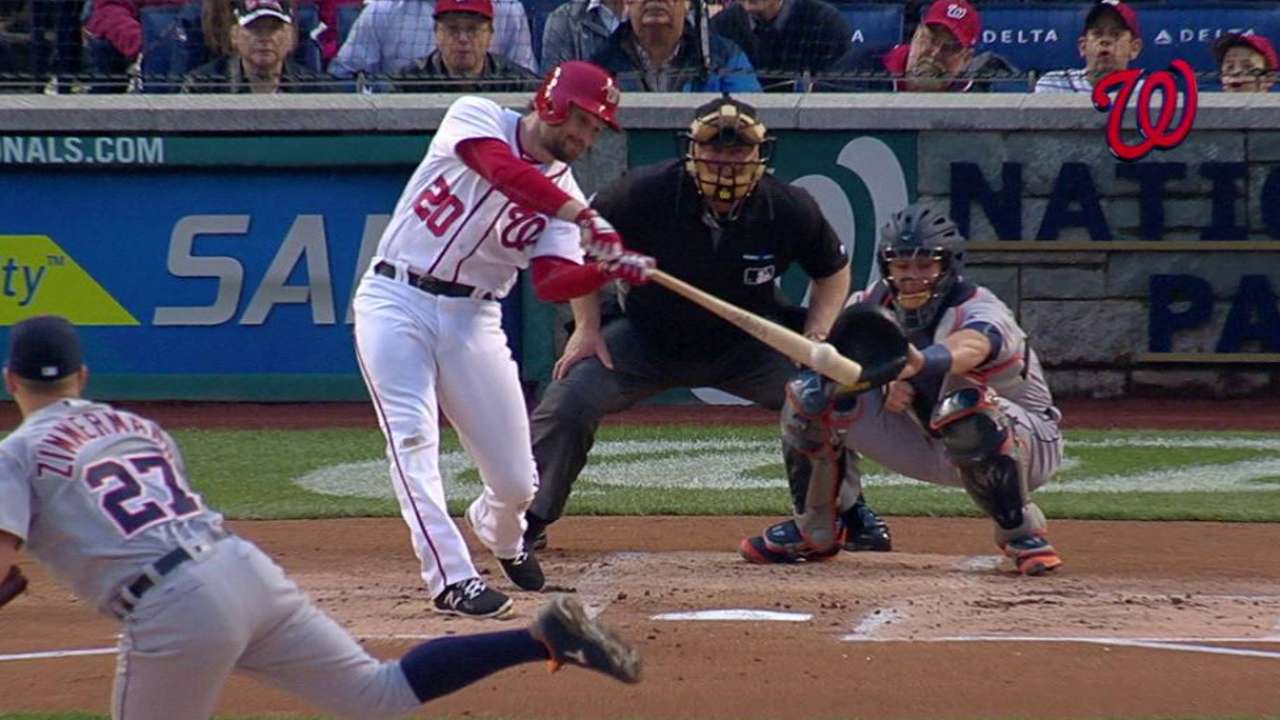 WASHINGTON -- In the ongoing effort to protect Bryce Harper in the lineup, Nationals manager Dusty Baker has shifted his hottest hitter to the cleanup spot and could leave him there for a while.
Wednesday's lineup card featured Daniel Murphy batting fourth and Ryan Zimmerman fifth, an inverse of Washington's usual order. The move comes in response to a walk-heavy week for Harper, who has drawn 17 free passes in his last six games with Zimmerman batting behind him.
• Cast your Esurance All-Star ballot for Harper, Murphy, Zimmerman and other #ASGWorthy players
The timing of the swap initially seemed odd, considering Zimmerman hit two home runs on Tuesday, but Baker was motivated by Murphy's success against Tigers starter Jordan Zimmermann. Murphy had batted .328 with four home runs in 61 career at-bats against the former National while playing for the Mets and continued that trend in the first inning on Wednesday.
In the first inning, Murphy followed a double by Anthony Rendon and a single from Harper with a single to left-center to drive home the game's first run. Then, in the sixth inning, Murphy made Zimmermann pay for a Rendon single and a nine-pitch walk to Harper with another RBI knock to give Washington a 2-1 lead.
Murphy finished the game 3-4, while Zimmerman went 1-2 with two walks. Overall, the two hitters reached base six of their eight times at the plate.
Baker said he doesn't know how long he'll stick with Murphy in the cleanup spot, but he would take into account whether opponents have tough left-handers in the bullpen to match up against lefties Harper and Murphy late in the game.
Given that the Marlins, whom the Nationals face this weekend, don't carry a southpaw reliever, Murphy might slot in behind Harper for at least a few days. After that, Washington heads to New York to face the Mets, who carry two lefties in Antonio Bastardo and Jerry Blevins. Though Zimmerman has struggled so far this season, hitting .235/.288/.383, his right-handed bat might prevent an opponent from bringing in a lefty to face Harper and Murphy in the late innings.
• Harper appeals 1-game suspension for ejection
"That's really important to me, how you play the chess game with the lineup," Baker said.
Baker said he told both Murphy and Zimmerman ahead of time about the lineup switch and that both said they would do whatever was asked of them.
Murphy, who led the National League with a .398 batting average entering Wednesday, said hitting behind Harper will not affect his approach. His job, he said, is "just to try to have quality at-bats. Just grind them out, no matter where you're hitting in the order."
Alex Putterman is a reporter for MLB.com based in Washington. This story was not subject to the approval of Major League Baseball or its clubs.