Harper appeals 1-game suspension for ejection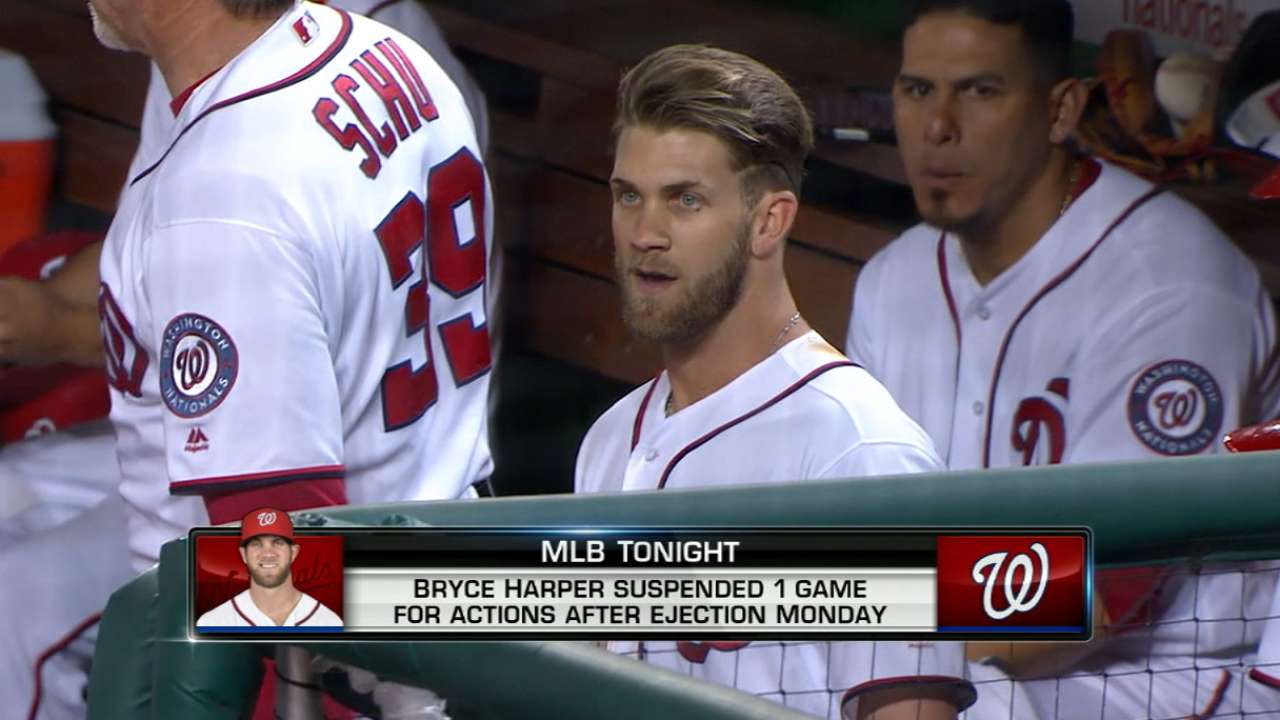 WASHINGTON -- Bryce Harper appealed his one-game suspension and undisclosed fine for his actions following his ninth-inning ejection on Monday night, Major League Baseball announced on Wednesday.
Harper will play in the series finale against the Tigers, batting third against his former teammate, Jordan Zimmermann.
Harper was ejected by home-plate umpire Brian Knight on Monday night for yelling from the dugout after Knight called Danny Espinosa out on strikes. When Clint Robinson hit a walk-off home run one batter later to beat the Tigers, 5-4, Harper returned to the field as the Nationals dugout emptied to greet Robinson at home plate. Before he joined the celebration, however, Harper was caught by television cameras shouting an expletive at Knight.
"I was pretty upset," Harper said after the game. "I think I was right to do that. Let him hear what I have to say, let him hear it again, and so what?"
Harper added that he had no problem paying a fine for his actions, and Nationals manager Dusty Baker admitted the next day that Harper probably deserved one.
"Yeah, he deserves something. A fine or something," Baker said. "To me, who's not going to come out on the field to celebrate a game-winning home run? I mean, what do you think we are? Like, robots that don't have feelings? Probably what he did and said was wrong. But I mean, how many people say and do wrong things every day?"
"I think the union, they'll take care of that and figure out what happens," Harper said on Wednesday. "I think the only person that I'm pretty upset that saw it was my mom. I told her, 'Sorry.' I texted her after the game. So I think those are certain things that just happen. You live and you learn. Nothing I can do."
Jamal Collier covers the Nationals for MLB.com. Follow him on Twitter at @jamalcollier. This story was not subject to the approval of Major League Baseball or its clubs.