Situation called for 4-out save from Cishek
Mariners manager says decision to bring in closer early wasn't easy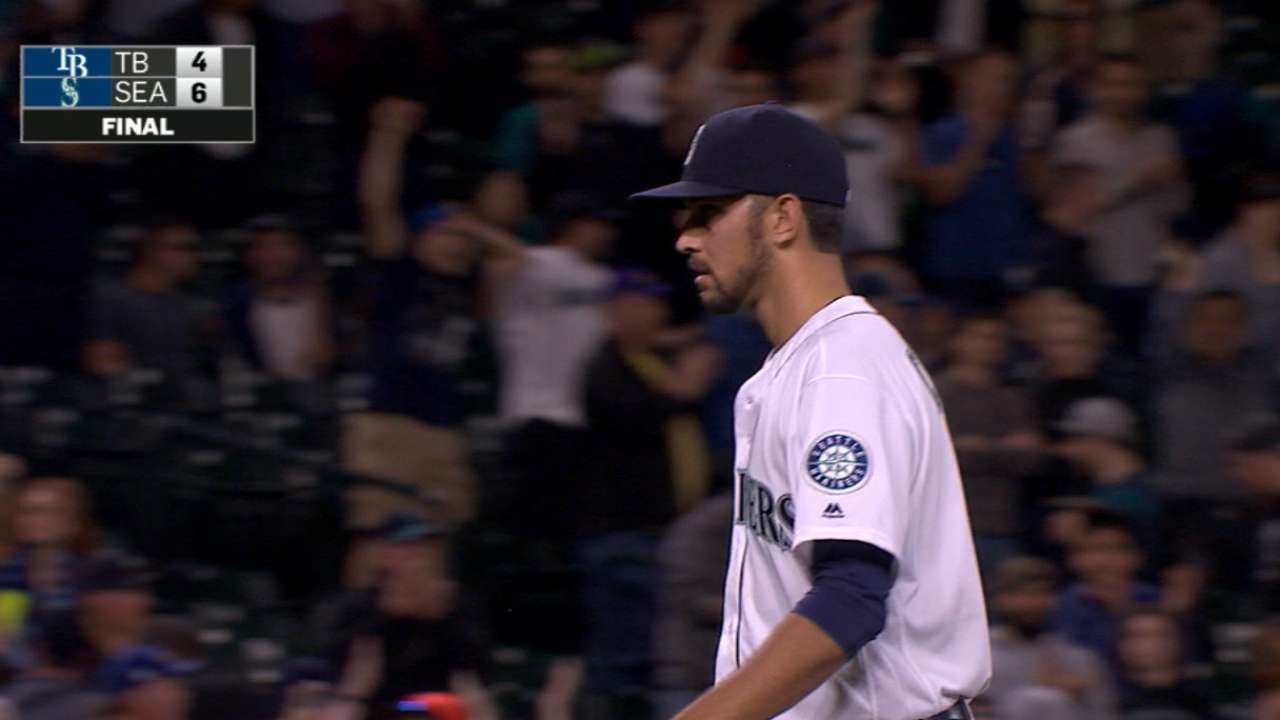 SEATTLE -- When Mariners manager Scott Servais went to Steve Cishek for a four-out save in Tuesday's 6-4 victory over the Rays, it wasn't an easy choice. By using Cishek for his second multi-inning outing in four days, he took away his closer's availability for Wednesday's series finale.
And that's why Servais went to Steve Vincent in the ninth inning of Wednesday's 6-5 win over the Rays, with Vincent giving up a game-tying home run, and later had Steve Johnson -- recently called up from Triple-A Tacoma -- on the mound for the victory in the 11th.
Cishek wound up throwing 32 pitches to get his 11th save on Tuesday. He threw 35 pitches on Saturday in Houston when he blew his first save of the year, but came back to get the win after Robinson Cano hit a go-ahead homer in the top of the 10th.
For perspective, the sidewinding 29-year-old hadn't thrown more than 34 pitches in an outing since he was the Marlins' closer in 2013, when he threw 39 in a two-inning loss to the Mets. He's had just two multiple-inning saves in the past three years, both four-out scenarios while with the Marlins in 2014.
"It's a tougher decision than people think," Servais said. "It's very easy to sit back and say, 'OK, the game is to this point, now it's the seventh-, eighth- and ninth-inning guys.' Sometimes you have to look at matchups, what the other team is offering or has on the bench, where you're at in the game, the momentum of the game. There's a lot that plays into it."
It also requires having a closer willing to break out of his normal one-inning routine.
"I like pitching, so it's good," said Cishek. "I knew it was possible. We talked about it in the past, if the situation looked right."
"A lot of closers don't want any part of it," Servais said. "I credit Steve with being open to it. He has done it a little in the past. He has no problem with it at all, but it is not something I'd like to do on a regular basis."
The biggest factor, for Servais, is trying to grab a win when one is on the line. With setup man Joaquin Benoit on the disabled list, he felt Cishek's stuff matched up much better than Joel Peralta's with two outs in the eighth and the tying run coming to the plate in Steve Pearce, who had already homered twice Tuesday. Peralta didn't disagree.
"That's a good call," Peralta said. "That's what I told him on the mound. Because I'm better against lefties than righties and I think my background with Pearce is not that good. He's got me a couple times. So I think it's way better for Cishek to face him."
Servais appreciates the honesty of his 40-year-old reliever. He also appreciates his players doing whatever necessary to win every game possible.
"The importance of today's win cannot be overemphasized," Servais said. "It's huge at the big league level. I don't think you just punt it and say, 'Oh, we'll get 'em tomorrow.' We have an opportunity to win, that's kind of how I look at it. Every win is so valuable.
"Everybody says, 'It's only May.' But they count just as much in May as they do in September. You have to balance it. We do have a lot of games left, a lot of games left to win, and we're going to need a closer. You have to trust the guys. We do have a pretty veteran group and they know their arms and bodies. You talk to them. Open lines of communication are huge."
Greg Johns has covered the Mariners since 1997, and for MLB.com since 2011. Follow him on Twitter @GregJohnsMLB and listen to his podcast. This story was not subject to the approval of Major League Baseball or its clubs.