All right with all righties: Breslow out, McGowan in
Marlins designate lefty for assignment, leaving them without a southpaw in 'pen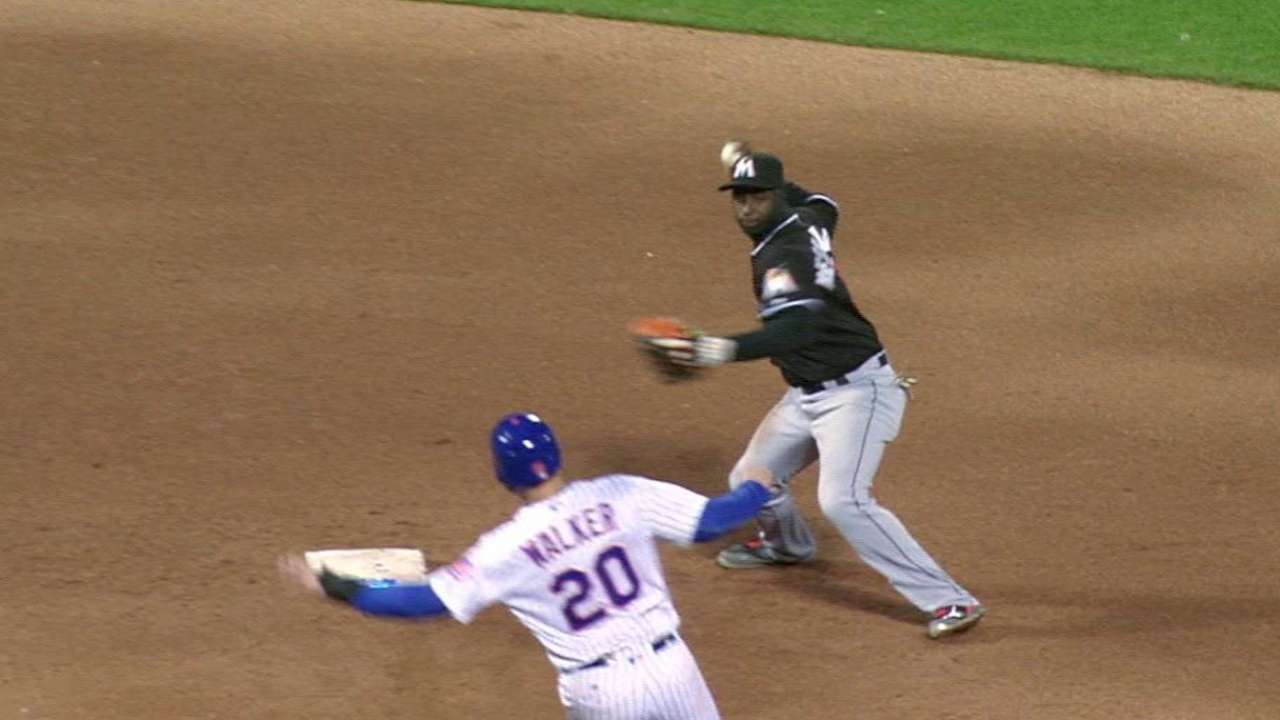 MIAMI -- The Marlins designated lefty reliever Craig Breslow for assignment on Wednesday and selected the contract of right-hander Dustin McGowan from Triple-A New Orleans.
The transaction left the Marlins without a left-hander in the bullpen, making them the only team in the Majors without one. However, the Marlins are adding a hard thrower in McGowan to replace the veteran Breslow, who had struggled in recent outings.
"This is what we've been thinking about for a little bit, depending on how you want to be able to use our guys," manager Don Mattingly said.
McGowan, who made the Opening Day roster, appeared in six games with Miami earlier this season and threw 5 1/3 innings while posting a 3.38 ERA with two strikeouts and two walks.
At New Orleans, the right-hander has had multiple-inning appearances, including one three-inning stint. The Marlins are planning on using him in long relief. McGowan has made 69 big league starts.
Adding McGowan also gives Mattingly more flexibility to use Jose Urena as depth in a late-inning setup situation. Urena had been held back in some games in case he was needed in long relief.
"Mac has been stretched out down there, as part of him being able to throw multiple innings," Mattingly said. "This is a choice we've made, to go without the lefty. I'd like to have one, or even a couple. I'd also much rather have what we feel like are our best seven arms out there, and how we're going to be able to use them."
Breslow was 0-2 with a 4.50 ERA in 15 games. In 14 innings, he had seven strikeouts and four walks. Opposing hitters were batting .362 off him, and his WHIP was 1.79.
The 34-year-old McGowan threw 7 1/3 scoreless innings with New Orleans, striking out seven and walking six.
Miami initially designated McGowan for assignment on April 17, when it recalled right-hander Kyle Barraclough. Three days later, McGowan accepted the Triple-A assignment.
Breslow, 35, had his troubles against left-handed hitters, who were 10-for-25 (.400) off him with a .423 on-base percentage.
The lefty threw 1 1/3 innings in Tuesday's 10-2 loss to the Brewers, giving up two runs on one hit with two walks.
"You want to go with what you think are your best combination of arms," Mattingly said.
Joe Frisaro has covered the Marlins for MLB.com since 2002. He writes a blog, called The Fish Pond. Follow him on Twitter @JoeFrisaro and listen to his podcast. This story was not subject to the approval of Major League Baseball or its clubs.