MLB.com Columnist
Phil Rogers
Play Ball puts imagination back in the game
As weekend event begins in Chicago, Sandberg and Co. show kids anything's possible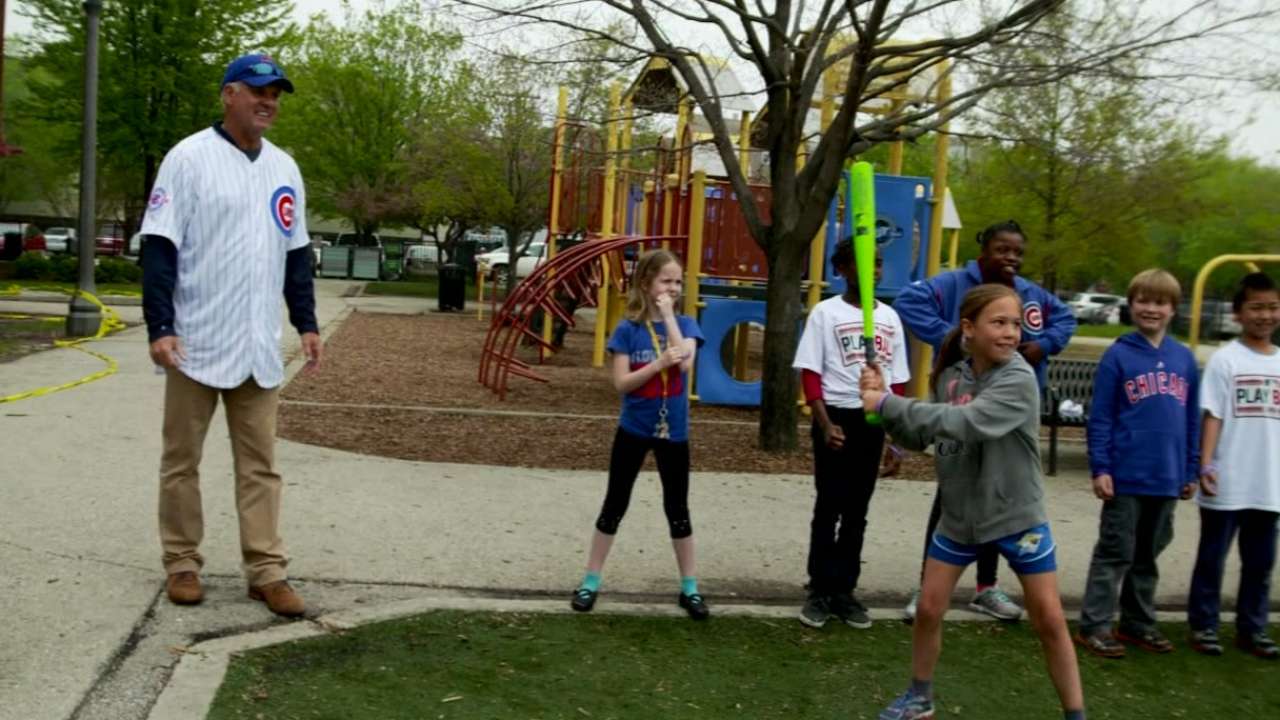 CHICAGO -- A few blocks away, the Cubs were getting ready to play a doubleheader against the Padres. But the epicenter of Chicago baseball on Wednesday morning was Hawthorne Scholastic Academy, a grade school.
Cubs chairman Tom Ricketts and Hall of Famer Ryne Sandberg joined Major League Baseball in making the day for the students.
You could have heard a pin drop in the grade school's auditorium when Sandberg stepped up to the microphone.
"When I was a kid you guys' age, I went out in the yard, up against the brick wall or up against the front step, and I threw the ball there and fielded it when it came back,'' Sandberg said. "That was just myself playing a game with myself. Then I'd get some friends together, and I didn't have a field [like the one outside], but we'd play on a field and we copied the Major League players.''
Sandberg wrapped up his talk with simple instructions.
"Get out and play ball,'' he said.
• Play Ball Weekend launches in Chicago
Hundreds of children did exactly that. They moved from the auditorium to the school's artificial turf playground, where USA Baseball and Softball members, as well as MLB senior vice president of youth programs Tony Reagins and his staff, manned stations where the children got to run the bases, play home run derby and catch popups. Each child took home a plastic Wiffle ball bat and ball at the end of the day.
This was the opening event to MLB's Play Ball Weekend, and the enthusiasm of the kids spoke loudly to its success.
"I want everyone to come to Wrigley and watch baseball, but [also to understand] it's fun to play,'' said Ricketts, whose own children are involved in youth baseball and softball. "I really applaud the Play Ball initiative of Major League Baseball. The Cubs are extremely supportive. We just want to make these young people baseball fans.''
When Commissioner Rob Manfred replaced Bud Selig last year, he made it a priority to increase the number of children playing and following baseball. He created a youth programs position for Reagins, former general manager of the Angels. And together with USA Baseball, they launched Play Ball as a means of growing the game.
"The younger we can get them involved, the more likely they'll become lifelong fans,'' Reagins said. "Getting them started young is extremely important.''
One conclusion that Manfred and his staff reached after studying the situation was that baseball had gone from being a casual activity that came in many forms to an organized activity that competed against other sports and entertainment options for the time of children and their parents. It wasn't that way for those of us in Sandberg's generation, and the Play Ball program seeks to turn back the clock.
"We want to make sure kids know you don't have to have 18 players, an umpire and a field to play our game,'' Reagins said. "I think it's really important to stress the point it's OK to play baseball in your front yard, in your back yard, in the park, in your bedroom. We're giving away replica bat and ball so kids can play baseball at any time. You don't have to have a big production to go out and play our game.''
Growing up in Spokane, Wash., Sandberg was always happiest with a ball in his hands. He was a three-sport star who turned down Division I offers to play quarterback, but his love of sports came from front-yard games with his brother and their friends.
"I'd play against my brother out in the front yard,'' Sandberg said. "We'd put up mats and blankets on the windows, so we didn't break any windows. I played with a solid plastic golf ball and a Wiffle ball bat. We used to play, do lineups, bat right-handed, left-handed, crouch like Pete Rose. Whatever the stances were, we'd emulate them. We'd not only play one game, but we'd have a little break in between and play a doubleheader. That all started for me at about 8 years old. I was probably doing that through high school, just for the fun of it.''
With no coaches or umpires in sight, the two Sandbergs competed for bragging rights.
"To actually feel the emotions of a rally and putting some hits together out in the front yard, just the one on one,'' Sandberg said. "We actually felt that. To pitch a good game out there. … My dad would come home, and we'd give him the report on how the games went. We took it very seriously, and felt we were in the shoes of the Major League players.''
Teams are participating in Play Ball Weekend in a variety of ways, including activities at ballparks around the Major Leagues.
At Wrigley Field on Sunday, youth baseball and softball players will stage a pregame cap exchange. As part of the Nationals' 12th annual Youth Baseball and Softball Day, the team will hold a baseball and softball equipment drive in conjunction with MLB's Baseball Tomorrow Fund. The Yankees will distribute plastic bats and balls to the first 10,000 fans age 14 and under on Sunday.
Reagins said that youth involvement with baseball has increased after years of decline. The Play Ball initiative adds onto the sport's efforts to grow baseball in inner cities and underserved areas.
New Orleans became the ninth city to open an Urban Youth Academy in February. Reagins said three others are expected to be completed in the next two years.
"We're going to continue this effort,'' Reagins said. "It's growing, it's energized. Kids are playing around country. We're going to continue that and see where it's going. … We'll continue to do [this] year after year, and hopefully we can continue to bring our game to kids who haven't been introduced to it.''
Phil Rogers is a columnist for MLB.com. This story was not subject to the approval of Major League Baseball or its clubs.