Baseball in the desert home to Bloomquist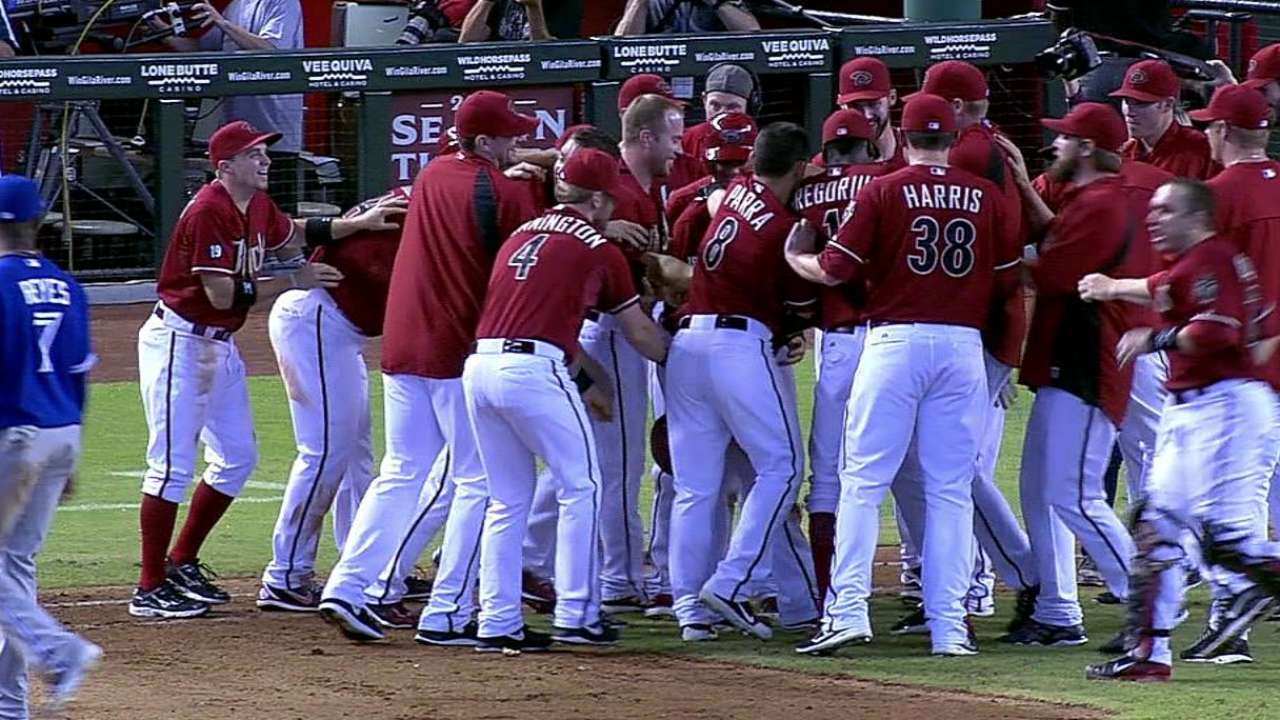 Willie Bloomquist played in more than 1,000 Major League games, and it's been said he gave so much of himself that he never went to the showers with a clean jersey. In reflecting upon his 14-year career, which included a three-year stint with the D-backs, the 38-year-old Bloomquist shared a peek into the passion that drove him until his retirement in March.
Although he grew up in the Pacific Northwest, Bloomquist said he knew he wanted to be an Arizona State Sun Devil since he was 9 years old.
"My sister sent me a ton of Sun Devil garb growing up, so when I heard my father was going to be in [Phoenix] for a convention, I pestered my dad to take me with him and take me to an ASU baseball game," Bloomquist said.
"We went to an afternoon game at Packard and the Devils won, and I remembered thinking, 'Gosh, I am going to play here someday.'"
• D-backs hire Bloomquist as special assistant
Bloomquist, who accepted a position as special assistant to D-backs president and CEO Derrick Hall on Tuesday, spent the next decade working on his craft. And in 1996, he was drafted in the eighth round by the Seattle Mariners out of South Kitsap High School in Port Orchard, Wash. However, he decided to go to college. When he got an offer to play shortstop and second base at ASU from then-coach Pat Murphy, Bloomquist called it "divine intervention."
"I had just finished visiting Notre Dame and Rice," Bloomquist said. "When I got to ASU, I met Murph, and he didn't mess around. He was a disciplinarian, and he wanted things done his way. … I instantly respected him for it.
"Murph became a second father to me. He went from becoming a coach and a guidance guy to being one of the biggest reasons I had the lengthy and successful career that I had.
"I owe the world to him. Alongside my father and one of my high school coaches, Murph has been one of the most influential people in my life," Bloomquist said.
Murphy, who coached at Arizona State from 1995-2009 -- including coaching Bloomquist in 1997-99 -- is now the bench coach for the Milwaukee Brewers.
"Willie was the mentally toughest player I ever coached, and he means the world to me," Murphy said. "He wouldn't be denied. He had a way of competing that embodied what I coached, and I loved him for it."
Murphy is the godfather to Bloomquist's 3-year-old daughter, Layla, and he said they talk frequently.
"[Being Layla's godfather] is one of my greatest honors away from the game of baseball," Murphy said.
Bloomquist was drafted by the Mariners again in June 1999, this time in the third round. He left ASU after his junior season, signing with the Mariners, but during his offseason in 2000 and '01, he went back to finish his degree in business management.
After spending the next 10 seasons with the Mariners, Kansas City Royals and Cincinnati Reds, Bloomquist signed a one-year contract with the D-backs in January 2011.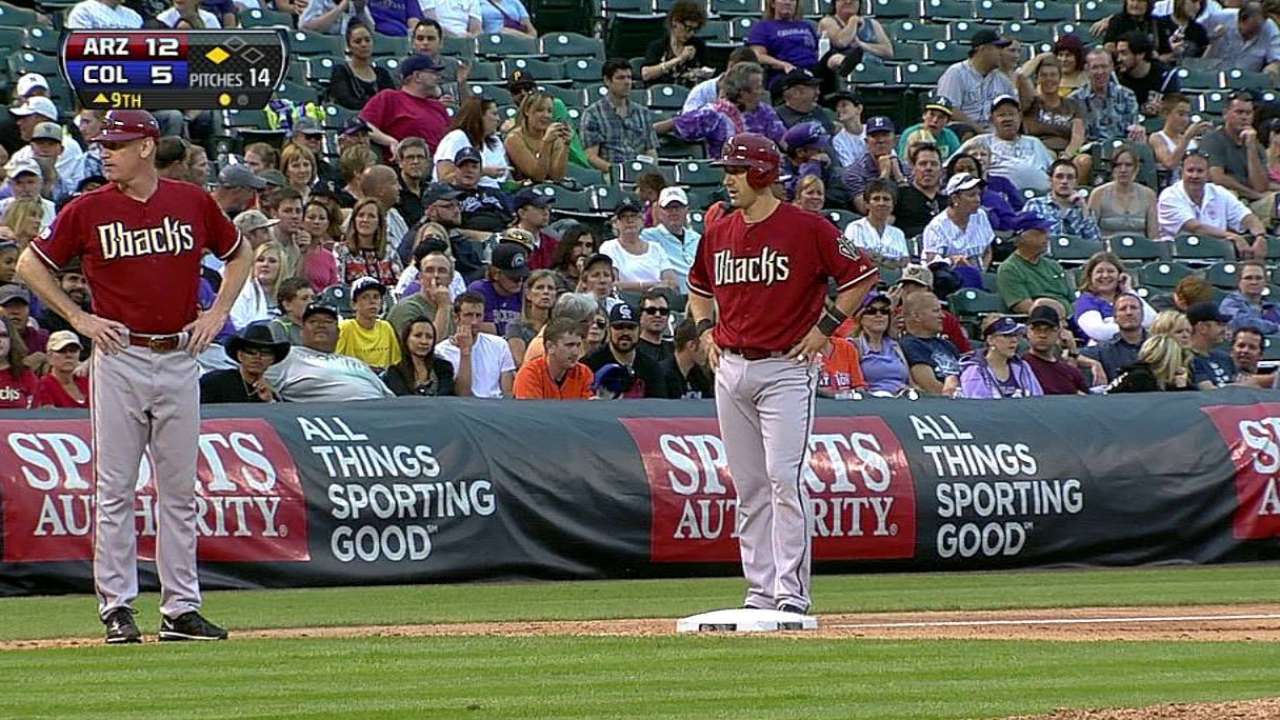 "In 2011, I had an offer to play for the Washington Nationals, and there was actually less on the table from the D-backs," Bloomquist said. "When I played baseball in the Valley, I just felt better. I don't know what it is, but I just feel like this 'me the baseball player' is here in the Valley.
Bloomquist called his time with the D-backs his "favorite three years in professional baseball."
Former D-backs teammate Aaron Hill said Bloomquist was one of the most genuine and honest baseball players he's met.
"He kept everyone, including himself, in check," Hill said. "He was always upfront about whether or not we were playing the game the right way or playing it hard enough.
"Willie's work ethic was unbelievable. You could tell with how he went about his business that he earned everything he got, and he was just someone you respected because he played the game the right way."
In 2011, Bloomquist played in 97 games. He hit .266 and stole 20 bases. That same season, the D-backs won the National League West, and in five games against the Milwaukee Brewers in the NL Division Series, Bloomquist posted a .318 average and stole three bases.
On March 11, Bloomquist posted a video to Twitter announcing his retirement. He said he had a couple of Minor League offers, but they wanted him to "reprove himself."
Make your last swing your BEST swing. Farewell @MLB. Thank you for 14 amazing seasons. It's been an incredible ride. pic.twitter.com/VuImzqOrSl

— Willie Bloomquist (@williebloom) March 11, 2016
To which Bloomquist said, "I played 14 years in The Show. I'm not reproving myself to anybody.
"At the end of the day, it's not worth putting my body and my family through this to have to go back to the Minor Leagues. … My family doesn't deserve it," Bloomquist said.
Bloomquist is looking forward to his new position with the D-backs. He called it "a position that allows me to learn a different side of baseball than I'm used to."
My family and I are excited to begin the next chapter! https://t.co/0XxrKtILtC

— Willie Bloomquist (@williebloom) May 10, 2016
"It will definitely be a transition from playing," Bloomquist said. "But learning from the leadership that the D-backs have in place is obviously something that is enticing -- not to mention the proximity of the stadium that allows me to be at home with my family, which is paramount at this stage of our lives."
Ian Kraft is a contributor to MLB.com. This story was not subject to the approval of Major League Baseball or its clubs.