Angels acquire righty Chacin from Braves
Shoemaker recalled for rotation, Choi squeezed off roster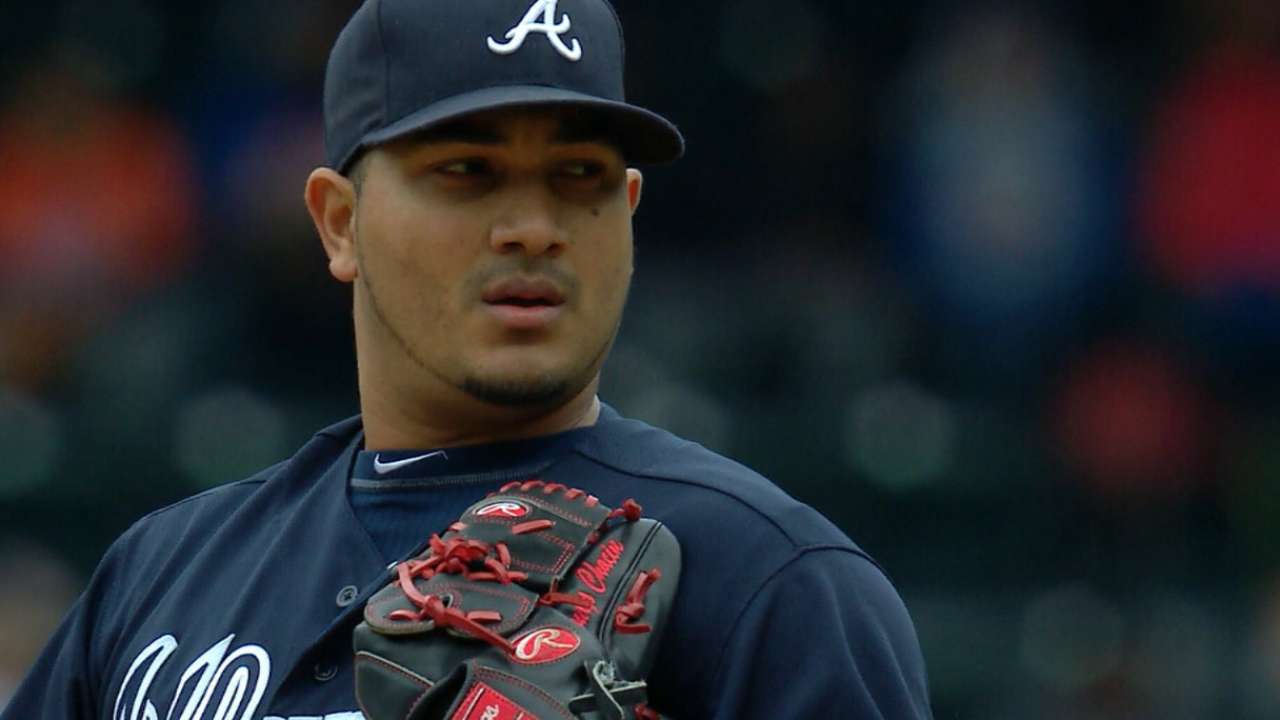 ANAHEIM -- Angels closer Huston Street played with Jhoulys Chacin in Colorado, when Chacin was one of the Rockies' most trusted starting pitchers and appeared to be in the early stages of a promising career.
"I remember vividly thinking this guy is going to be really, really good," Street said. "And he still has that chance. I'm glad he's here."
The Angels, decimated by injuries throughout their rotation, acquired Chacin from the Braves on Wednesday, in exchange for low-level Minor League reliever Adam McCreery.
Chacin will be added to the active roster on Thursday and will debut in Seattle on Saturday, the next time the Angels require a starting pitcher. Matt Shoemaker was called up to start Wednesday night against the Cardinals, and first baseman Ji-Man Choi, a Rule 5 Draft pick, was designated for assignment, clearing a spot on the 25-man roster for Shoemaker and a spot on the 40-man roster for Chacin.
Chacin, signed out of Venezuela, was a fixture for the Rockies from 2010-13, posting a 3.58 ERA and averaging 149 innings. But shoulder injuries hindered him in 2012 and most of 2014. The Rockies released him late in Spring Training in 2015, forcing Chacin to bounce around with the Indians and D-backs, spending most of his time in the Minor Leagues.
He signed a Minor League deal with the Braves in December, one that reportedly paid him $1.1 million in the Majors. He posted a 5.40 ERA in five starts, but with 27 strikeouts, eight walks and an impressive 48-percent ground-ball rate in 26 2/3 innings.
Chacin's ERA was 3.27 before he gave up eight runs in 4 2/3 innings to the Mets last Wednesday. His adjusted Fielding Independent Pitching score is 3.32, which would be the second-best among healthy Angels pitchers. His career adjusted ERA, which neutralizes the hitter-friendly parks Chacin has often pitched in, is 118, which essentially means the 28-year-old right-hander has been 18 percent better than the league average.
"He's got good stuff," Street said. "I remember him having really good stuff."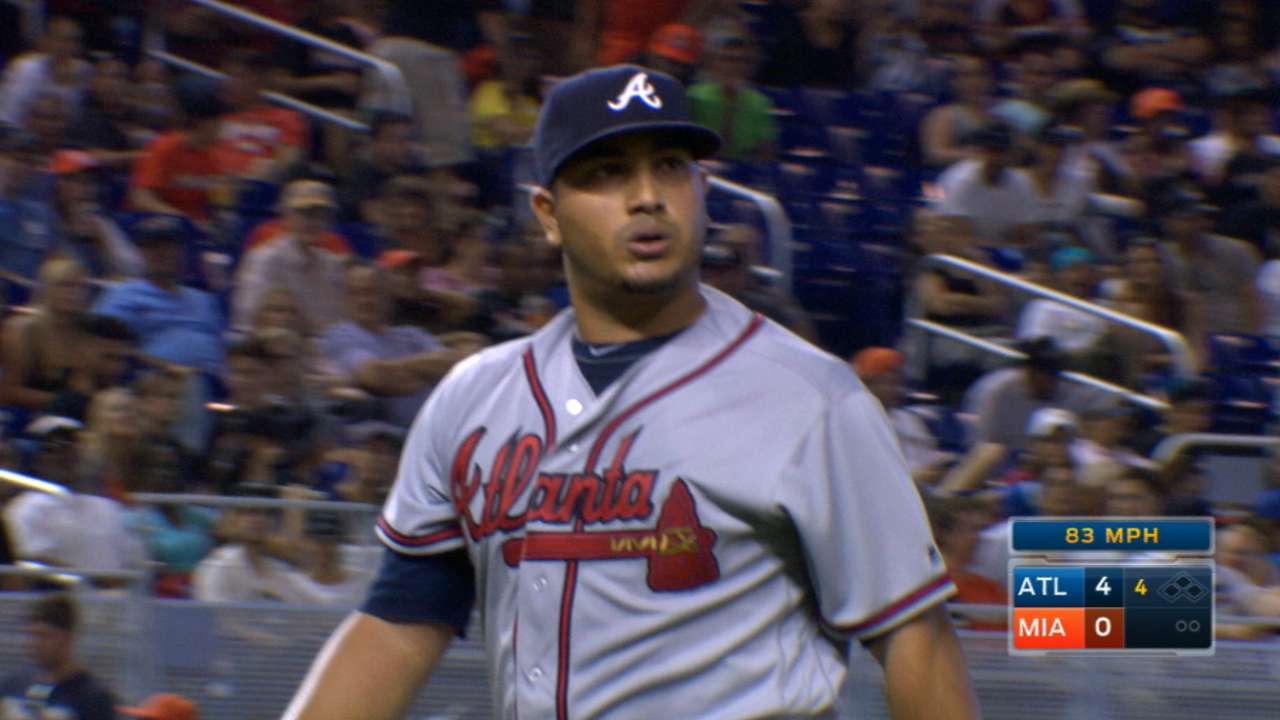 Choi, a 24-year-old out of South Korea, cracked the Opening Day roster as a left-handed bat off the bench. But the Angels were never able to carve out a role for him. Choi was mainly used as a pinch-hitter and went 1-for-18 with six walks. He will now be placed on waivers. If every team -- including his previous club, the Orioles -- declines to put him on their 25-man roster, he can elect free agency.
Choi does not have to be offered back to the Orioles for $25,000, because he has already been outrighted to the Minor Leagues. Players who have already been outrighted once can elect free agency in lieu of being outrighted a second time.
The Angels hope he chooses to re-sign with them on a Minor League deal so he can get some at-bats in Triple-A.
"Ji-Man really didn't have the opportunity to play as much as you would want a young guy to play," Angels manager Mike Scioscia said. "Where our roster is right now, we just couldn't keep him."
McCreery, a 23-year-old left-hander, was selected in the 22nd round of the 2014 Draft out of Azusa Pacific University in California and hadn't advanced past Rookie ball. He had a 3.55 ERA in 31 appearances with exaggerated strikeout and walk rates, issuing 7.8 walks and 11.6 strikeouts per nine innings.
Starting pitchers Garrett Richards (likely undergoing Tommy John surgery), Andrew Heaney (hoping to avoid the same procedure), C.J. Wilson (out until at least mid-June with shoulder woes) and Tyler Skaggs (shut down from throwing) are all out for the Angels, who have also looked into signing Tim Lincecum and Kyle Lohse.
Prior to Wednesday, the Angels' rotation consisted of only Jered Weaver, Hector Santiago and Nick Tropeano.
Scioscia considers Chacin "an experienced guy that has, I think, gotten his stuff back to where he can definitely pitch and pitch well in the big leagues. We're going to give him his chance."
Alden Gonzalez has covered the Angels for MLB.com since 2012. Follow him on Twitter @Alden_Gonzalez and Facebook , and listen to his podcast. This story was not subject to the approval of Major League Baseball or its clubs.