Arrieta not worried about future with Cubs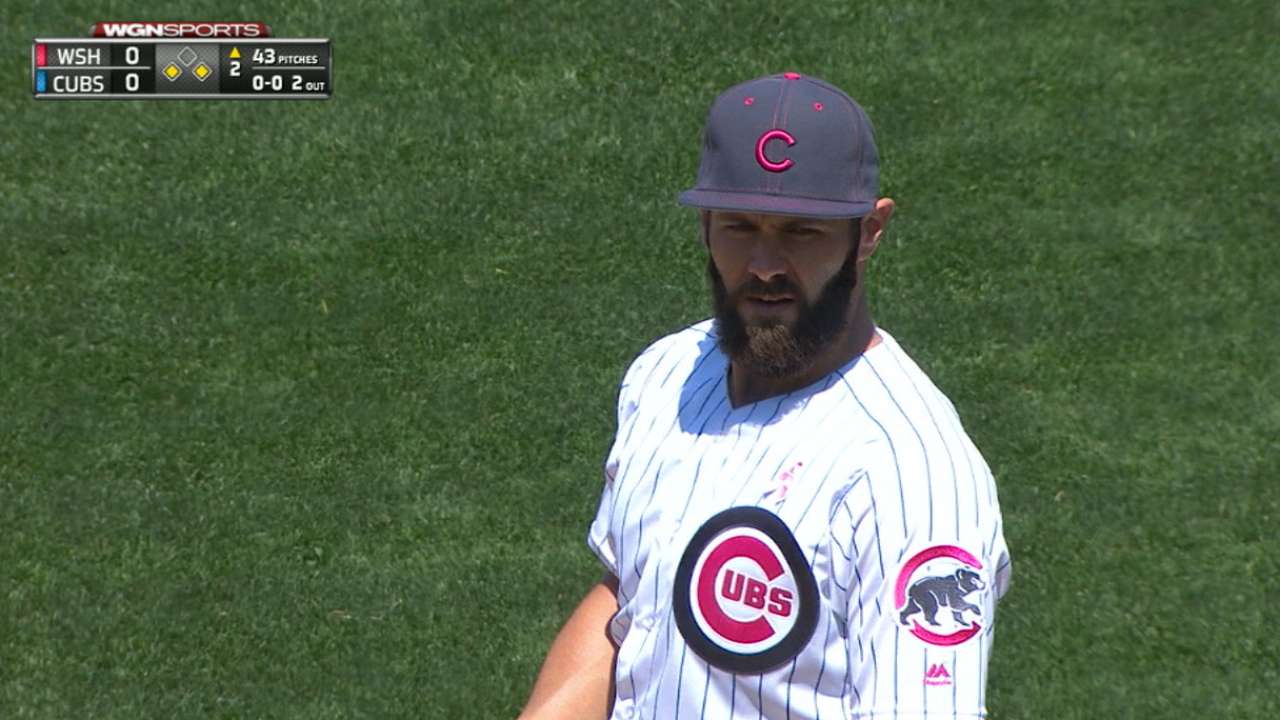 CHICAGO -- The only thing that surprised Cubs pitcher Jake Arrieta about Stephen Strasburg's seven-year, $175 million contract extension was the timing of it. The news broke when the Nationals right-hander was actually pitching.
Arrieta and Strasburg have the same agent, Scott Boras, and any talk about a pitcher getting a new contract prompts questions to the Cubs' ace about his status. Arrieta will be a free agent after the 2017 season.
"I think I've made it clear I like Chicago," Arrieta said. "I think everybody knows that. If I had it my way, I'd stay here. That's just one side of the story. We'll see."
Arrieta avoided arbitration this year by signing for $10.7 million, and he is well aware that in his last year of arbitration, he will be paid close to what a free agent would make. Will he test the market?
"I think the misconception is that Scott wants everybody to go to free agency," Arrieta said of his agent. "For a lot of guys, it's smart to do that. And as we've seen in the past, a lot of Scott's clients who have gone to free agency have been very well compensated and it worked out for them.
"With Strasburg's situation, he was drafted by Washington, he loves the organization, loves his teammates," Arrieta said. "He's been well taken care of. He wanted to stay there. He was compensated very well for it."
Arrieta knows the right-hander -- they played together on the U.S. Olympic team in 2008 and Arrieta faced Strasburg in college.
"I've watched him pitch since he was a young kid in college," Arrieta said. "I've seen his transformation. I'm really happy for him."
Does Arrieta agree to the concept of a hometown discount in which he would take less money to stay with the Cubs?
"No," he said.
But the 30-year-old righty, who threw his second career no-hitter last month, doesn't want to be a distraction to his teammates.
"Most of the focus, if not all the focus, has to stay on what we're trying to accomplish today," Arrieta said. "I've said before, financially, I'm fine regardless. That makes it easier for me as well as my teammates to focus on trying to win as many games as we can. We're trying to separate ourselves from the next team in our division as quickly as you can, especially early in the season. The contract stuff will work itself out. If we keep winning, those kind of things work themselves out."
In a perfect world, any extension with the Cubs would be done quickly. There are no talks and no news regarding a new contract.
"You want to be paid in respect to how your peers are paid," Arrieta said. "I don't think that changes with any guy you ask. Guys want to be compensated fairly. It's something you see around baseball every year. If something comes up -- I would prefer it's not dragged out. I'd like to either not deal with it or get it done with and focus on the rest of the 2016 season and continue to help carry this team to the postseason."
Carrie Muskat has covered the Cubs since 1987, and for MLB.com since 2001. She writes a blog, Muskat Ramblings. You can follow her on Twitter @CarrieMuskat and listen to her podcast. This story was not subject to the approval of Major League Baseball or its clubs.