Sub pop: Lee, Gutierrez strong in platoon roles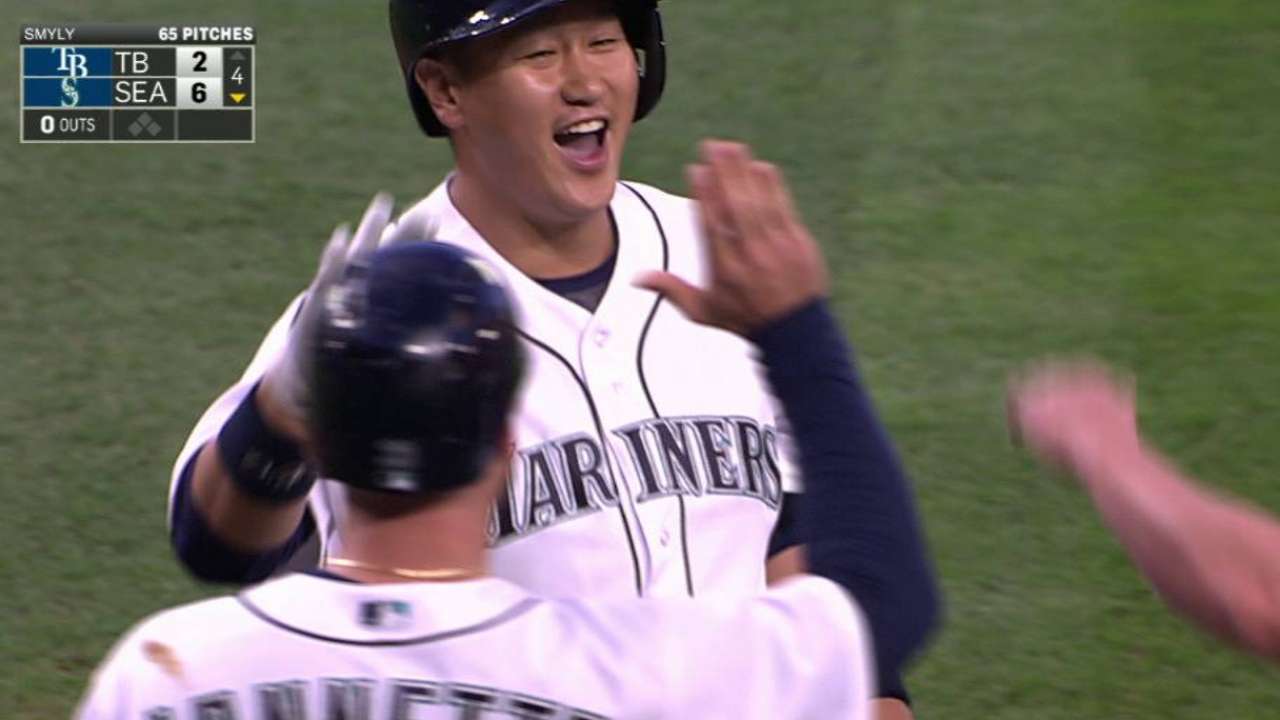 SEATTLE -- With a lefty-leaning lineup, the Mariners figured that southpaw starters could be an Achilles' heel this season, and they struggled against left-handers early this year.
But with platoon partners Dae-Ho Lee and Franklin Gutierrez driving in five runs on home runs on Tuesday, Seattle won its fifth straight game against a left-handed starter with a 6-4 victory over the Rays and southpaw Drew Smyly.
"It was great to see Guti kind of bust out tonight with a big home run early," manager Scott Servais said. "Dae-Ho continues to do it. It's tough to hit the ball out opposite field in Safeco, and he put a good swing on it. It was a big night by both those guys."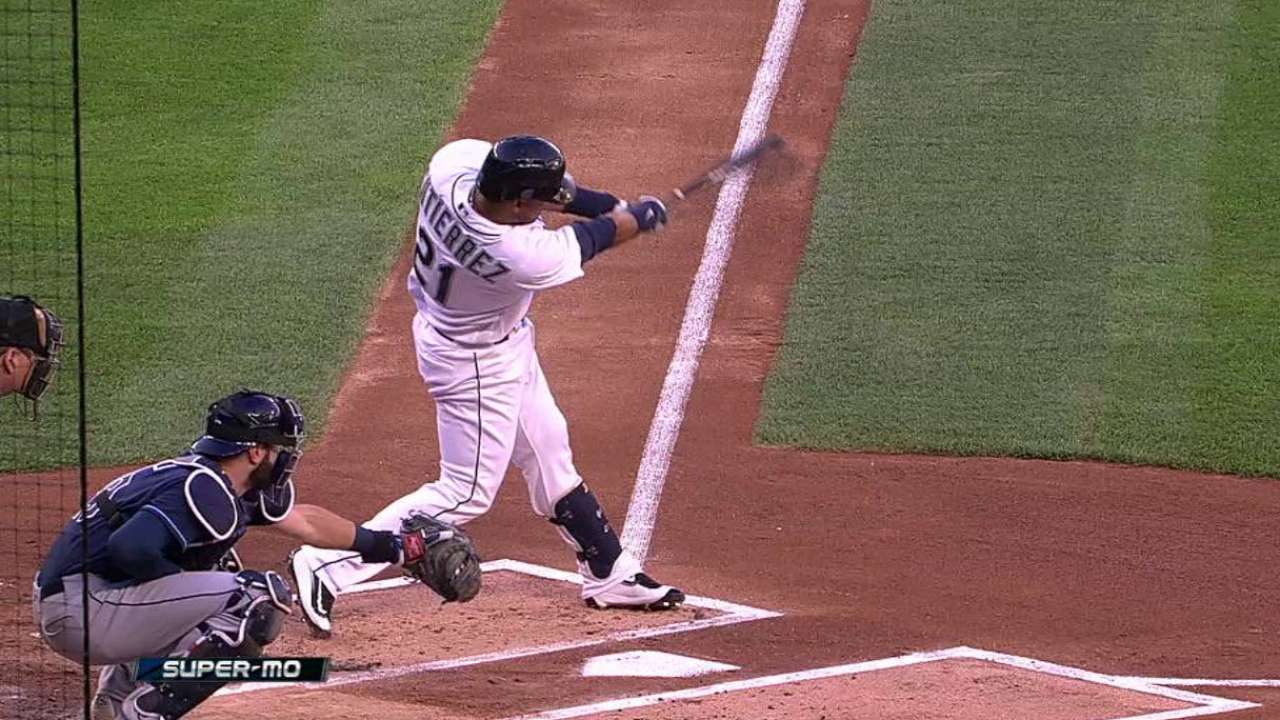 Gutierrez's two-run shot in the first inning was his first of the year as he's gotten off to a quiet start, but Lee has proved to be a huge surprise as the 33-year-old rookie from Korea now has five homers and is hitting .283 in limited duty at first base.
"He's amazing," Gutierrez said of his new teammate. "He can hit it out to left, center, right. He's got big-time power. He's a big boy."
Lee showed bunt early in his at-bat against Smyly in the fourth before powering his three-run home run. He said he was just looking to draw in the infielders, but wound up raising a few eyebrows in the process.
"Nothing surprises me with Dae-Ho," Servais said with a smile. "That was not coming from the bench. But he has fun playing the game. It's almost like a kid playing in high school or Little League at times. He just has a good time."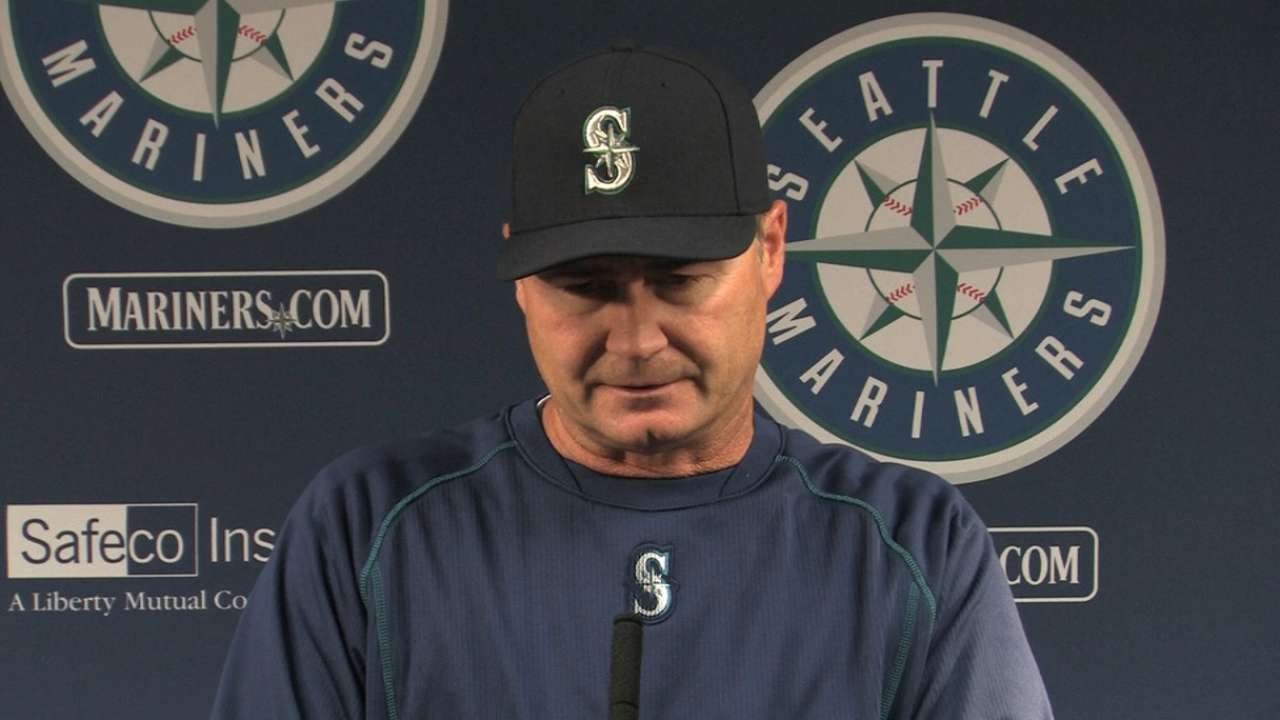 Lee wasn't quite sure about that appraisal, however.
"I'm just playing as a rookie, but I'm not a kid," he said through interpreter D.J. Park. "I'm not a baby. I'm [33] years old. But I try to have fun."
And Lee added a new look to the clubhouse before the game as well when he presented all his teammates with personalized sunglasses from Korea.
"I just wanted to bring those to all my teammates and coaches as appreciation that I'm here," he said. "Everybody all said they were fine, so I felt good, too."
On the day he gave teammates sunglasses, Dae-Ho gave the fans in RF a souvenir. #DaelWithIt https://t.co/78jXVVBNea pic.twitter.com/s3DamgoNbt

— Seattle Mariners (@Mariners) May 11, 2016
It helps when he keeps hitting balls over walls, of course. The Mariners are now 7-5 against left-handed starters, despite their slow start, and Lee's right-handed presence has been part of that equation.
"We knew we were going to face a bunch of lefties and that was going to be an obstacle," Servais said.
But Seattle has cleared most hurdles in the early going, with Tuesday's win improving the club to 20-13 overall, 1 1/2 games up on Texas in the American League West.
The Mariners are now expecting to face almost all right-handed starters in the next 10-12 days, which figures to give Servais an interesting challenge. Lee has produced well in his limited role against lefties, though he did homer twice against right-handed relievers in Oakland.
Servais has stuck with Adam Lind as his lefty platoon man against right-handers, so he figures to get most of the action at first in the coming days while Lee is used primarily as a pinch-hitting option off the bench. Lind has hit .212 with one homer and five RBIs in 85 at-bats.
"We go the rest of the homestand and then I think the entire road trip is all right-handed pitching," Servais said. "You go into hitter-friendly parks in Baltimore and Cincinnati and hopefully that helps. Adam is going to be a big part of our offense here. He's too good not to. The track record and what he's done in this league says all it needs to say. We'll get him going. I feel good about it. He's just the one guy that hasn't clicked yet."
Greg Johns has covered the Mariners since 1997, and for MLB.com since 2011. Follow him on Twitter @GregJohnsMLB and listen to his podcast. This story was not subject to the approval of Major League Baseball or its clubs.