'Tremendous' Happ keeps roll going vs. Giants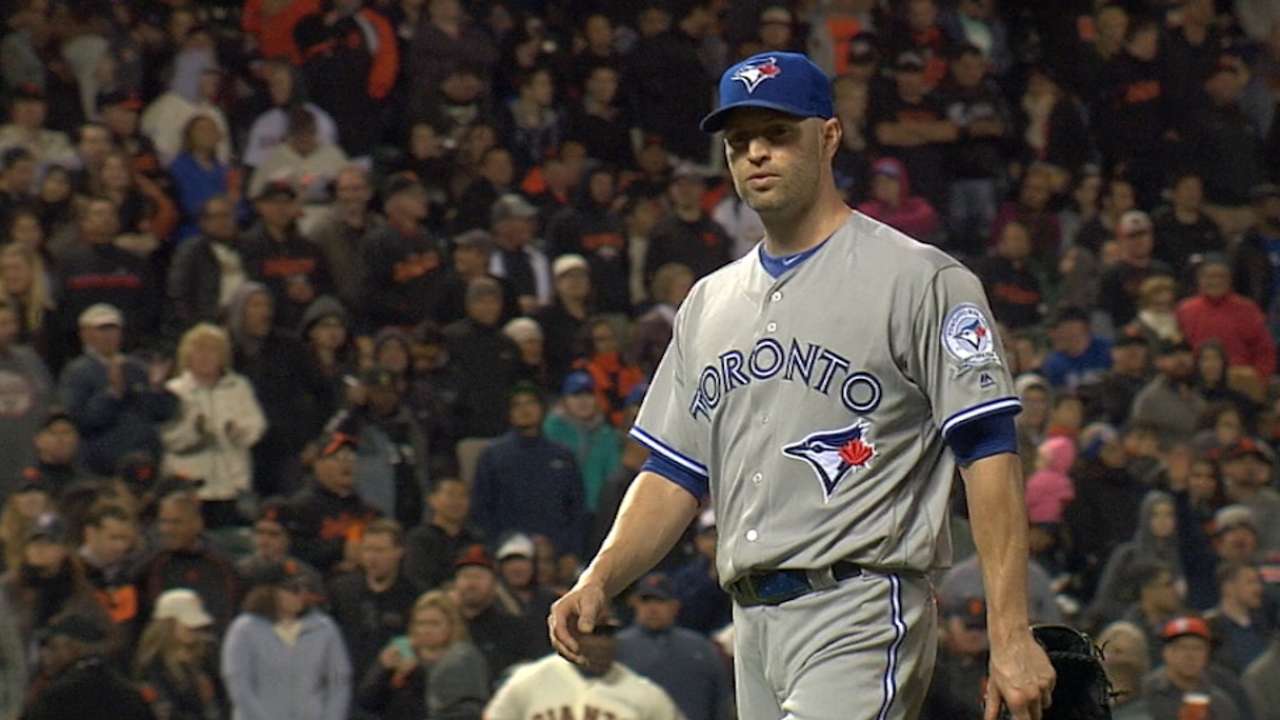 SAN FRANCISCO -- J.A. Happ has been pitching so well, for such a long period of time, that it's probably time to start raising the level of expectations.
Toronto's veteran left-hander has been good all year but he was almost perfect in Tuesday night's 4-0 victory over the Giants. Happ was one out away from the fourth shutout of his career but instead settled for 8 2/3 scoreless innings.
This is not the same Happ who pitched for the Blue Jays from 2012-14. He's more focused, more confident and perhaps most important of all, Happ is getting entirely different results on the mound.
"Happ was tremendous," Blue Jays manager John Gibbons said. "He's a different cat now. He's on a nice little roll. The last couple of months last year, this year, it has been a pleasure to watch. He's a pitcher now, he's not a thrower."
Since Aug. 14 of last year, Happ's 1.68 ERA is the second-best in the Major Leagues. He trails only Chicago's Jake Arrieta, who also happens to be the lone pitcher with a longer streak of consecutive starts with three earned runs or fewer at 27 (Happ has 17). Clayton Kershaw is one of the best in the business, but even his 1.75 ERA trails Happ over that same time period.
Happ's lone blemish early in the game came on a third-inning bunt single by Kelby Tomlinson. Happ faced the minimum through five innings and one of his only signs of trouble came in the sixth when the Giants put the first two runners of the inning on base. Happ escaped that jam by fielding a bunt by Matt Cain to throw out Jarrett Parker at third and then inducing a ground-ball double play off the bat of Denard Span.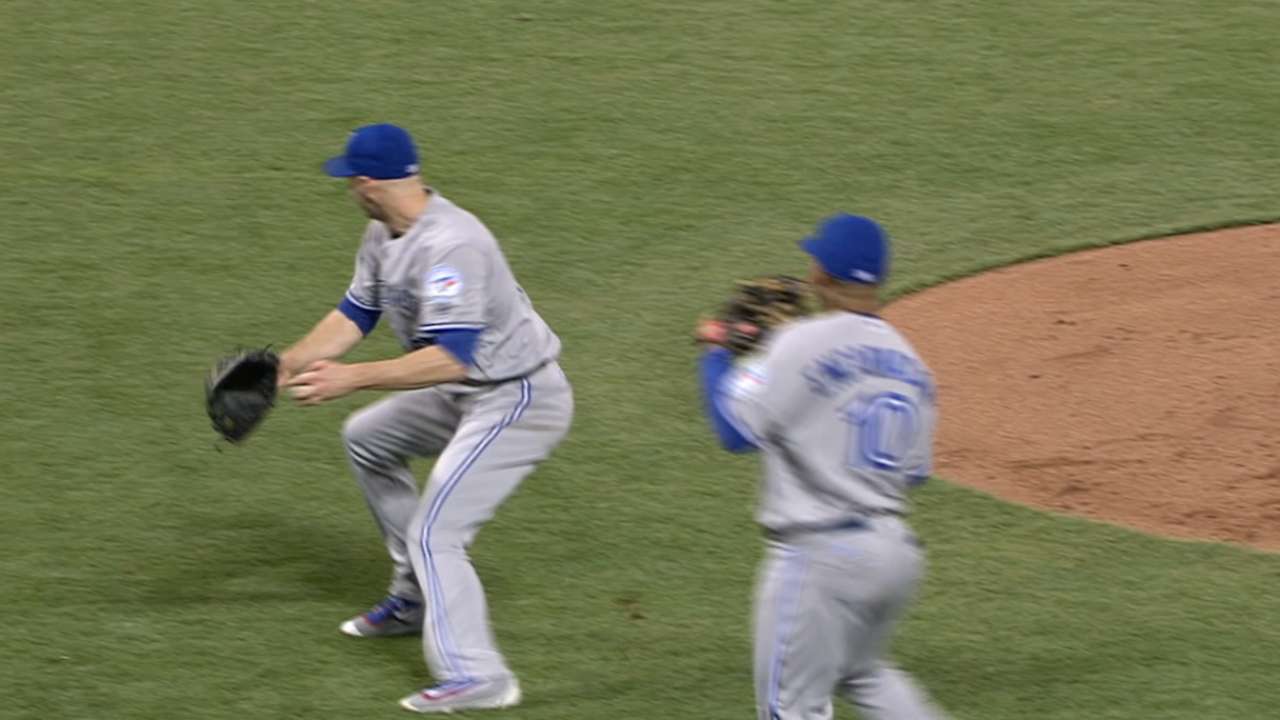 The dominating performance enabled Happ to become the first Blue Jays pitcher to open the season with a perfect 5-0 record since Roger Clemens went 11-0 to start the 1997 campaign. In total Tuesday night, Happ surrendered six hits and three walks with five strikeouts while throwing 75 of his 111 pitches for strikes.
"He had a couple of different breaking balls and a changeup to righties," Giants second baseman Joe Panik siad. "He was locating his fastball in and out and did a good job of keeping the fastball down and away to righties. He threw a lot more breaking pitches today than I think he has the past couple of games; I was looking at films. A veteran like that just knows how to pitch."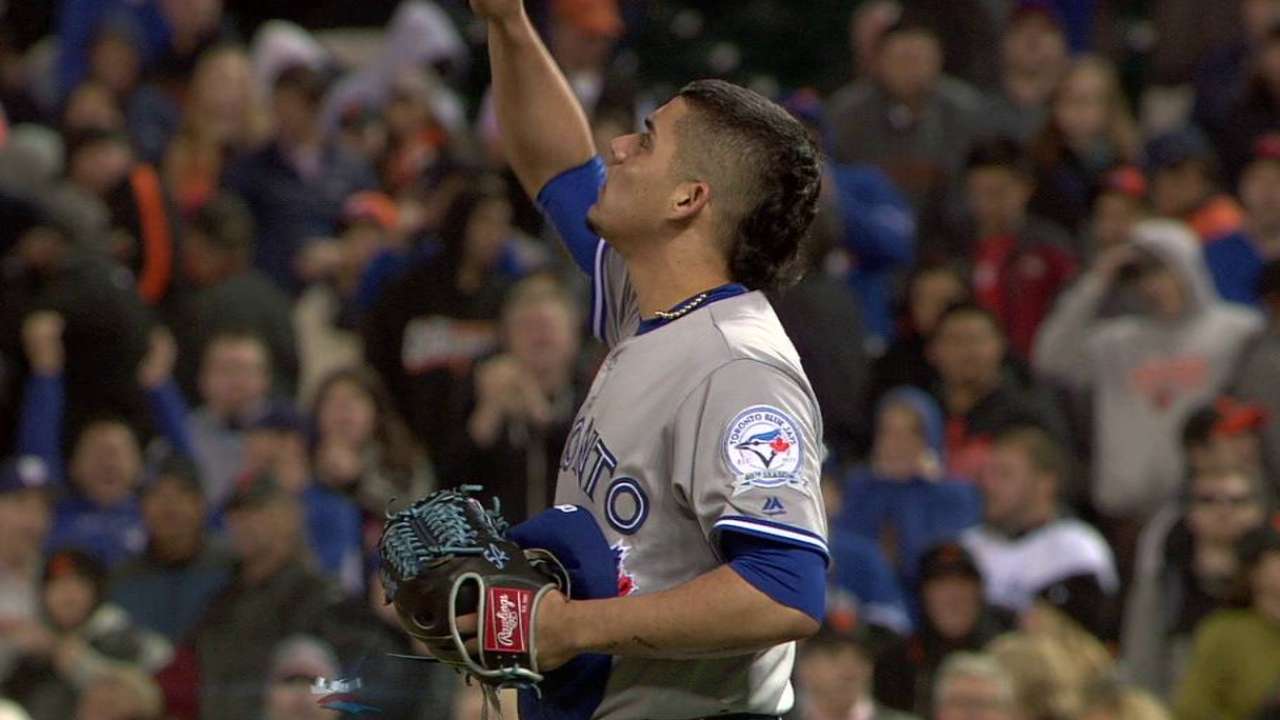 The only regret Happ had about Tuesday night's performance was how his night ended. He was one out away from picking up his first shutout -- and first complete game -- since Aug. 30, 2010. Happ retired two of the first three batters he faced but then walked Brandon Belt in a tough nine-pitch at-bat that ended on a borderline call.
Everybody on the Blue Jays' side wanted to see Happ close this one out, including his manager, but the club instead went to Roberto Osuna. Toronto's closer preserved the win two batters later, but as expected, Happ didn't have any problem with the decision from the dugout.
"I was disappointed but that was a good battle Belt had there," Happ said. "I made some good pitches and he fouled them off. He was patient enough, I guess, to see ball 4. Disappointing not to be able to finish it out, but Osuna came in and did a great job getting me out of that jam."
Gregor Chisholm has covered the Blue Jays for MLB.com since 2011. Follow him on Twitter @gregorMLB and Facebook, and listen to his podcast. This story was not subject to the approval of Major League Baseball or its clubs.