Bauer proving a problem for Houston
Righty fires 7 scoreless, improves to 4-0 with 0.67 ERA against Astros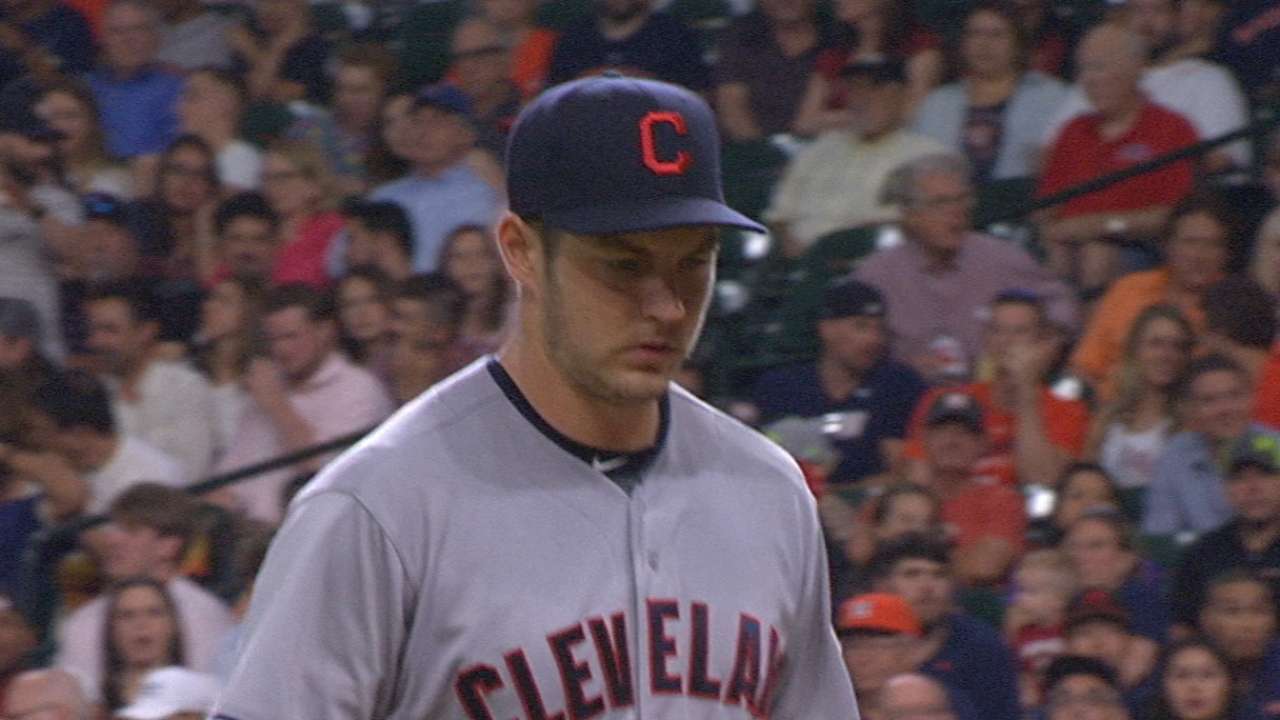 Bauer tossed six no-hit innings in Houston last April but didn't receive a shot at the no-no thanks to 111 pitches and five walks.
The no-hit drama Tuesday was done by the third inning, but Bauer was even more dominant, locating his fastball in and using a change-of-pace breaking ball to baffle the Astros' potent lineup.
"My stuff was pretty good," he said. "I was able to make some pitches in situations and get out of some stuff. ... The last two outings, my changeup has been really big. It's something that I had been working on and trying to incorporate more."
Bauer was making his third start of the season, pitching in place of injured starter Carlos Carrasco.
And even though the numbers didn't totally show it in Bauer's previous outing, Tuesday's effort was more proof that he has a legitimate shot to be a rotation mainstay.
Indians manager Terry Francona said he was most encouraged by Bauer's commitment to a brisk pace, which allowed him to develop confidence.
"It's easy to tell guys to work quick, but when they're doing it, there's a pretty good chance they know what they want to throw," Francona said. "When they feel good, they get it and go. Everything works better when the guy on the mound is getting it and throwing it over the plate.
"He wants to get it and throw it as opposed to thinking every single pitch is like an event. Getting it and going is always good."
It sounds like a simple approach, but it's what newly acquired catcher Chris Gimenez said Bauer needs, given his raw talent.
"We've been trying to get him to simplify things," Gimenez said. "He's got too good of stuff to go out there and overthink it. He needs to let his stuff play for him."
It always seems to play well against the Astros. And while lineups change and players come and go, Bauer has consistently dominated the Astros.
In his past two starts in Houston, Bauer has tossed 13 shutout innings of three-hit ball with eight walks and 18 strikeouts. In the four career starts against the Astros, he's 4-0 with a 0.67 ERA and has allowed 13 hits for a 0.89 WHIP while recording 36 strikeouts. Those are all career bests for Bauer against an individual opponent (minimum 12 innings).
The righty has also easily bested the formidable top of Houston's order. Jose Altuve, he of consecutive 200-hit seasons and the 2014 batting title, is just 3-for-12 against Bauer with no extra-base hits. Carlos Correa is 0-for-8 against him. George Springer has drawn three walks but is also 0-for-3 off Bauer.
Francona wasn't buying any notion that Bauer "owns" the Astros, but said he thought the 25-year-old was more efficient Tuesday than in his hit-free outing here last season.
"It's a pretty small sample size," Francona said. "He pitched once last year and pitched a good game; I think our whole staff did though. I thought tonight he pitched in effectively to get them off the plate even when he wasn't commanding as good."
Added Bauer: "You see that with different pitchers, where they just pitch really well against one team for whatever reason or in one city or something. I can't really explain it."
Chris Abshire is a contributor to MLB.com based in Houston. This story was not subject to the approval of Major League Baseball or its clubs.