With slam, Dickerson makes Padres history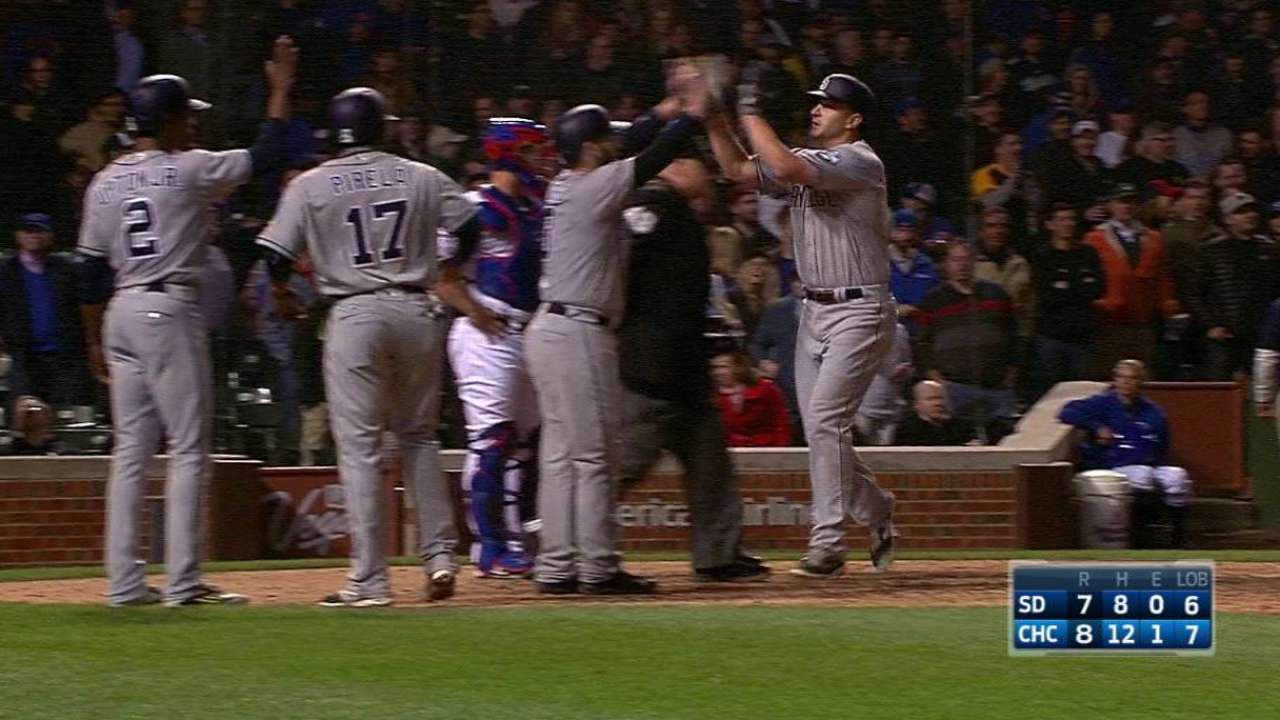 CHICAGO -- Alex Dickerson's historic homer -- a grand slam in the eighth inning of the Padres' 8-7 loss to the Cubs on Tuesday night -- soared majestically into the dense fog on Chicago's North Side, silencing a boisterous Wrigley Field crowd.
A few seconds later, the ball soared back toward the infield, one loyal occupant of the right-field bleachers fulfilling his duty.
That simple act guaranteed Dickerson a souvenir from his first career home run.
• Grand slams mean 40% off pizza
"I picked the right park," Dickerson said wryly.
Dickerson delivered in grand style on Tuesday, carving his name into the Padres' record books, becoming the first player in club history to notch a pinch-hit grand slam for his first homer. He is just the sixth Padre to hit his first long ball with the bases loaded and the first since Alexi Amarista did so in 2012.
For the native of Poway, Calif., who was called up last week for his second stint in the big leagues, it was vindication for years of hard work since being selected by Pittsburgh in the third-round of the 2011 Draft.
"It's everything," he said. "You always want to go down and get your first career home run, have it be a grand slam. I've just been prepared for this moment, honestly, to the point where I don't get nervous as I get into games anymore. It's more, 'Hey, I got a job to do.' A lot of that is just getting work, getting comfortable."
There's no question that Dickerson's comfort level has risen in 2016. He didn't make the roster out of camp, but he earned his spot with a brilliant first month at Triple-A El Paso. He batted .352/.405/.549 for the Chihuahuas and was riding a 13-game hitting streak before being recalled.
"[The grand slam] was a really exciting moment," he said. "Better would be to tie it or take the lead, but [it's a] special moment for me and all the work I put in."
When the Padres brought up Dickerson, their intention was to use him in key situations late in games against right-handed pitching. That was precisely the situation on Tuesday when manager Andy Green called his name.
Dickerson didn't disappoint, putting a smooth swing on an 0-2 slider from Adam Warren that didn't bite.
"That's a big swing for anybody," said Green. "He was smiling ear to ear. That was a fun moment. It put us right in the game. You're down five runs to a very good team, and one swing of the bat and you're down a run."
In the end, Dickerson's homer went for naught. He cut the Cubs' lead to one run with the swing, but the next four Padres made outs, assuring Chicago's eighth straight victory.
Dickerson played his college baseball at the University of Indiana -- where many of his friends and former teammates were "die-hard Cubs fans." A handful attended the game, and Dickerson had 35 text messages by the time he took a seat at his locker afterward.
This series marks Dickerson's first trip to Wrigley Field -- as a fan or a player -- and the significance of the setting for home run No. 1 was not lost on him.
"[You] never really think about it until it happens, but it's a really historic place, a very big spot in baseball," he said. "A lot of famous players have played here, and it's very special to be able to make my mark in my career at a place like this."
AJ Cassavell covers the Padres for MLB.com. Follow him on Twitter @ajcassavell. This story was not subject to the approval of Major League Baseball or its clubs.