Depleted Yankees manage 10-run output
Despite missing Tex, Ellsbury and A-Rod, bats come up big in win vs. Royals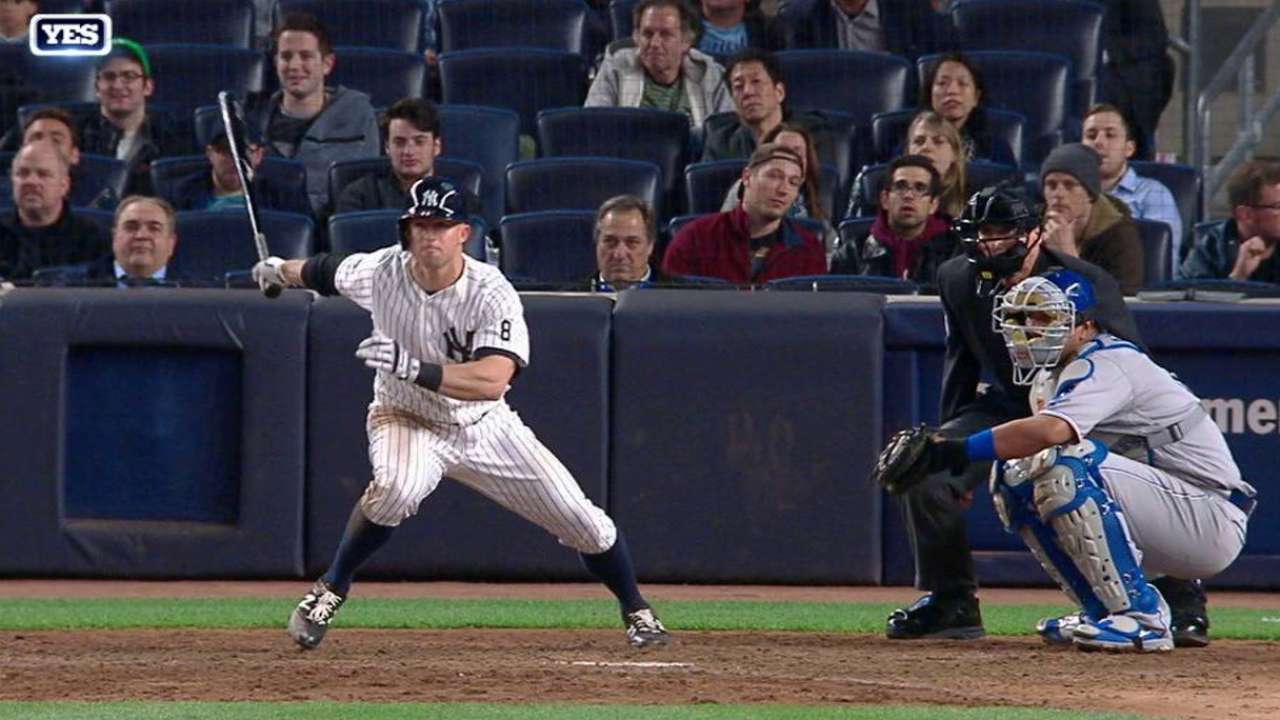 NEW YORK -- If the Yankees knew that the formula to score 10 runs would be to field a lineup without Jacoby Ellsbury, Alex Rodriguez and Mark Teixeira, maybe they would have tried it weeks ago. At the very least, this week is proving that they actually can score runs in bunches.
It took a double-digit output to withstand Lorenzo Cain's three-homer barrage, and the Yankees proved to be up to the task, stroking 13 hits in a 10-7 victory over the Royals on Tuesday. The 10 runs scored were the Yanks' most since the second day of the season, when they hung 16 on the Astros.
"It's kind of a crazy game," Brett Gardner said. "Sometimes you have what you think is your best lineup and you struggle to score runs for a week straight, then you're missing three of your best players and you score a bunch of runs. Baseball has a funny way of working out like that."
There was some extra satisfaction in picking up their ace, Masahiro Tanaka, on what had been a rare off night for the right-hander. Tanaka tied a career high with six runs allowed, battling to work through seven innings, but unlike in his stronger outings of the year, the run support showed up.
"I think right now we're just trying to do what we can to win games; play as a team," said Aaron Hicks, who delivered a key seventh-inning double. "Situations come up, and you need to be able to drive runners in. That's what we're trying to do."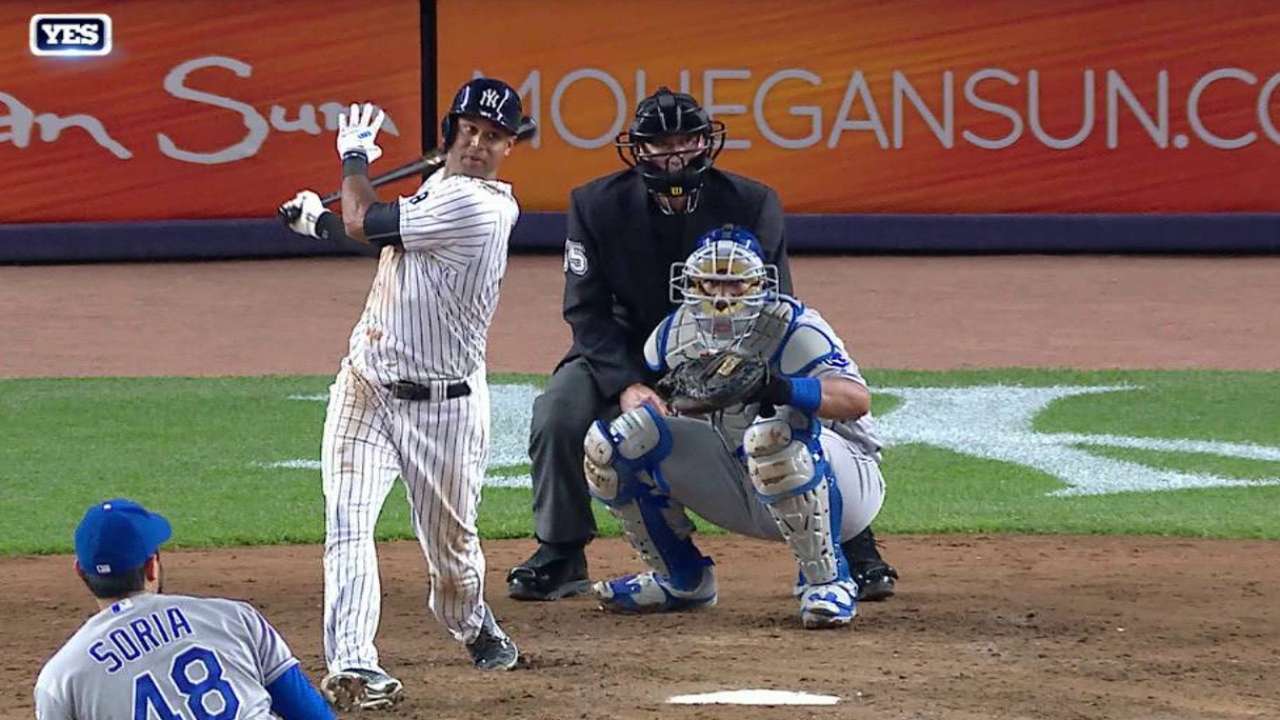 Dustin Ackley and Chase Headley picked up RBIs in the first two innings, and Didi Gregorius cleared the bases with a three-run double after the Yanks chased Kris Medlen in the third.
They still had to battle back against Kansas City's bullpen, piecing together a pair of runs to reclaim the lead in the seventh. Joakim Soria balked Brian McCann to second base and Ackley chased him home with a game-tying single, setting up Hicks' go-ahead double that made it 7-6.
"All of a sudden, we're swinging the bats like we're capable of, and you're getting contributions up and down the lineup," manager Joe Girardi said.
Cain's third homer knotted the game again in the eighth, marking the first run surrendered by Andrew Miller all year, but the Yanks punched right back to take advantage as Gold Glove shortstop Alcides Escobar booted a grounder with rookie Ben Gamel hustling down the line.
"Guys like Ackley, Hicks and Gamel, we need those guys," Gardner said. "They're only going to get better if they get at-bats on a consistent basis, which they have recently. Those guys are really good players and they're a big part of the reason we've been winning the past few days."
Gardner collected the deciding hit, a double to left that chased home Gamel, and McCann added an exclamation mark with a two-run double off the center-field wall. McCann said this seemed like the first game that the '16 Yankees battled back multiple times, a good sign as they try to return to their expected level of performance.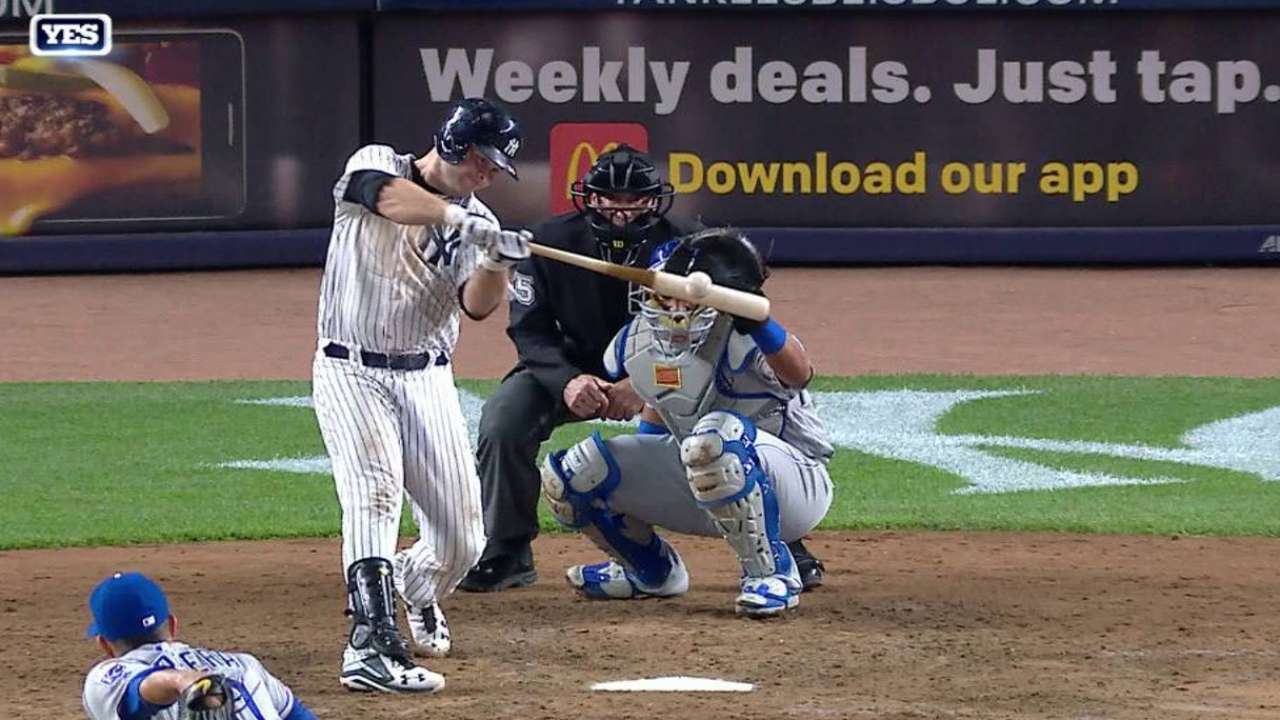 "It goes in waves. You play good, you play bad and you try to minimize when you're playing bad," McCann said. "We didn't do that for a while. Now it's time to make up some games. It's got to be day by day, it's got to be win series, and get back in this thing."
Bryan Hoch has covered the Yankees for MLB.com since 2007. Follow him on Twitter @bryanhoch, on Facebook and read his MLBlog, Bombers Beat. This story was not subject to the approval of Major League Baseball or its clubs.