Hard-working Tigers relieved to see streak end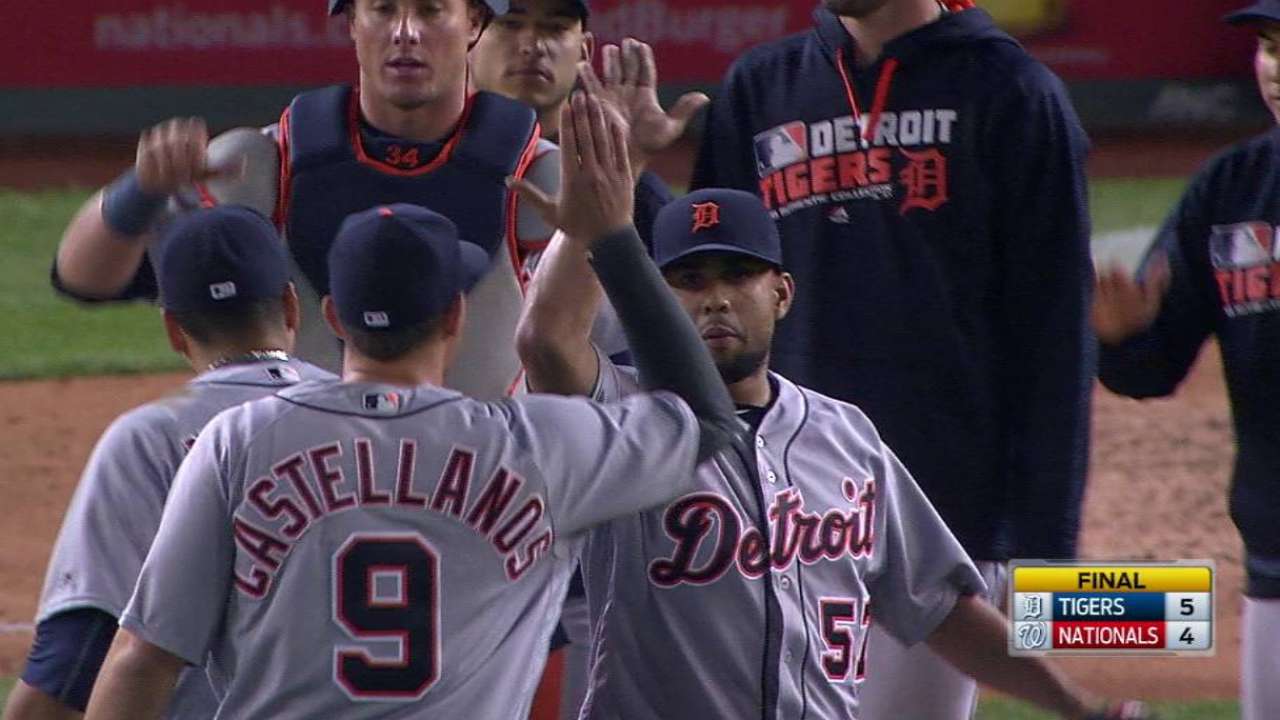 WASHINGTON -- The Tigers ended their losing streak at seven games with Tuesday's 5-4 win over the Nationals. They felt like it was coming, the way they had played the last few games.
They still weren't ashamed to express a sense of relief.
"We started playing better and better the past three games," Nick Castellanos said. "We played well the past three days, and it's a relief that we were able to get this win."
Considering what they had to encounter to finish it off, they were entitled to that.
The Tigers had to finish off four innings with a short bullpen that was going through a struggle of late, including 1 2/3 innings from Drew VerHagen through the middle of the Nationals' lineup.
They had to pull off a perfect relay to the plate to deny Clint Robinson a second lead-changing pinch-hit in as many nights.
Last but not least, they had to show the fortitude to put the potential winning run on base with Bryce Harper and face Ryan Zimmerman, who had homered twice on the night, not to mention the leading hitter in the Majors after that in Daniel Murphy.
"You're talking about a one-run game and you have to go through the heart of the order in the last inning," manager Brad Ausmus said. "It wasn't easy. But the fact that we got it done and everyone contributed, to put [the skid] behind you is the biggest step."
Or as Victor Martinez put it, "Nothing comes easy to us."
The Tigers didn't expect Robinson, author of Monday's walk-off homer, to haunt them again. Yet as his eighth-inning line drive rolled to the wall in left-center field, sending Wilson Ramos around third with the potential tying run, a play at the plate was more of a glimmer of hope than an expectation.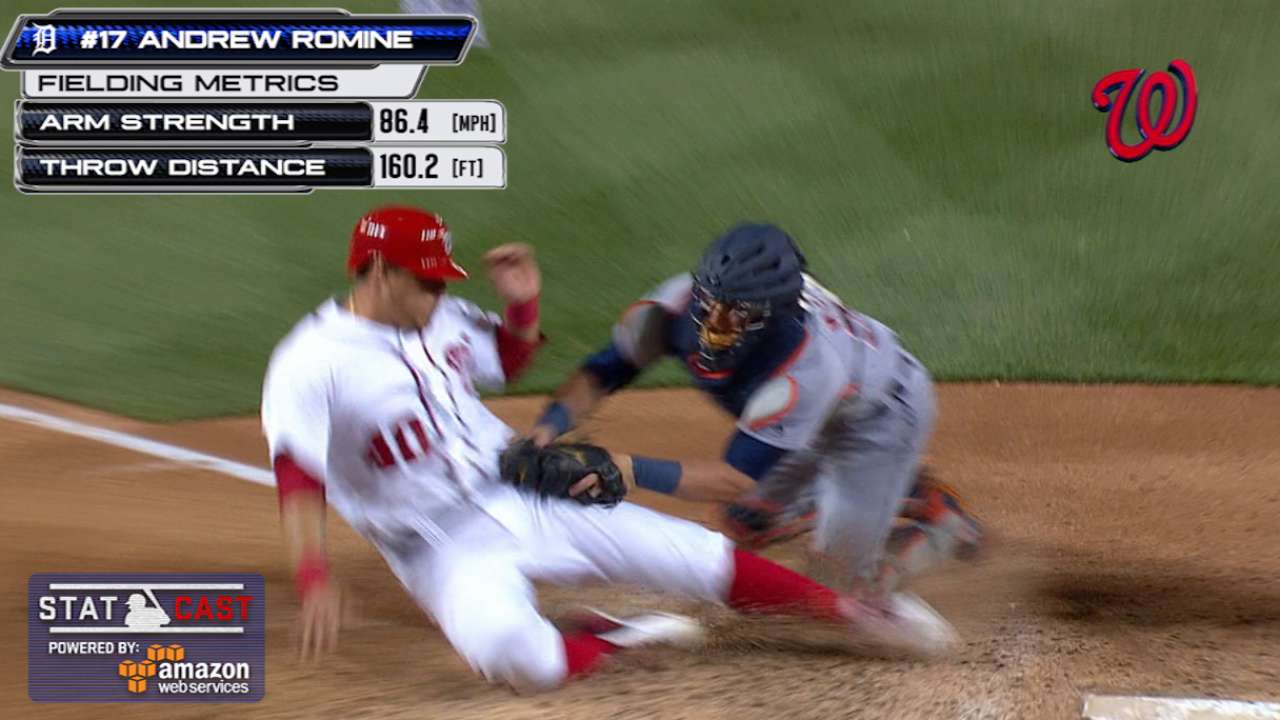 "With the short wall and we were shaded towards right a little bit, I knew it was going to be trouble," reliever Alex Wilson said. "You just never know. I knew they had their catcher running at first base, so that gives us a little bit of a chance there."
Said catcher James McCann: "I don't think I knew for sure we had a chance until I saw how quickly [center fielder Anthony] Gose was able to get it off the wall, and how cleanly he was able to pick it up. You could tell he knew he wasn't going to be able to cut it off, and he immediately started to create that angle for how the ball was going to bounce off the wall. He played it perfectly."
When Tyler Collins and Ian Kinsler executed a similar relay in Pittsburgh a month ago, Kinsler said he just needed Collins to get the ball in as quickly as possible. For Romine, the accuracy was just as important.
"He's got a great arm," Romine said of Gose, "so I tried to stretch his arm out as far as I could without making him have to bounce it to me, and then put whatever I had left on it into home."
Romine had his back to the plate when he caught it, but he was at deep short. He pivoted and threw a strike home that McCann could catch and swipe tag in one motion.
"He couldn't throw a better strike to me at the plate," McCann said. "He made my job pretty easy."
That might have been the only easy part of the night.
Jason Beck has covered the Tigers for MLB.com since 2002. Read Beck's Blog, follow him on Twitter @beckjason and listen to his podcast. This story was not subject to the approval of Major League Baseball or its clubs.