Chapman wins battle with Cain for first save
New Yankees closer retires Royals outfielder, who had 3 homers, to complete ninth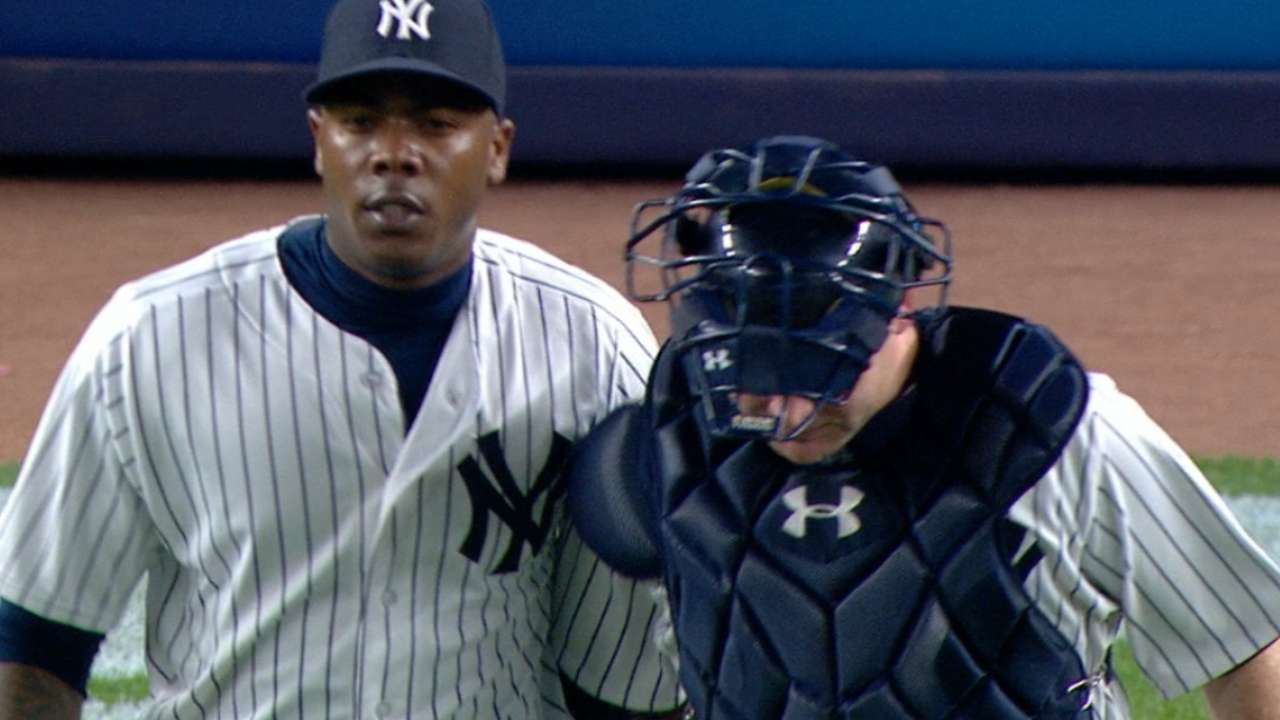 NEW YORK -- Not even Lorenzo Cain, who had already homered three times when he stepped to the plate with a runner on in the ninth inning Tuesday, could stop Aroldis Chapman from fireballing his way to his first save as a Yankee.
After an eight-pitch at-bat, during which Cain fouled off two-strike pitches clocked at 102, 99 and 100 mph, Chapman forced a weak popup to second on a 101-mph fastball to seal New York's 10-7 win over the Royals at Yankee Stadium. The buzz in the crowd, as when Chapman pitched on Monday in his first appearance, was audible.
"Because of his velocity," manager Joe Girardi said. "It's been well advertised how hard he throws, and people are excited about it."
• Bloom: Royals relive Chapman experience
The Yankees' new closer, in his first save situation since serving his 30-game suspension, picked up the man he replaced. Andrew Miller, having ceded the ninth inning to Chapman, entered Tuesday's game in the eighth and promptly surrendered a game-tying shot to Cain.
It was the first run charged to Miller in 2016, in his 13th appearance, and his first blown save in the Bronx since joining the Yankees in 2015.
"For me, it's one pitch," Miller said. "I don't feel exactly as sharp as I should right now, but that's the way the season goes, it's ups and downs, and I'll figure it out tomorrow."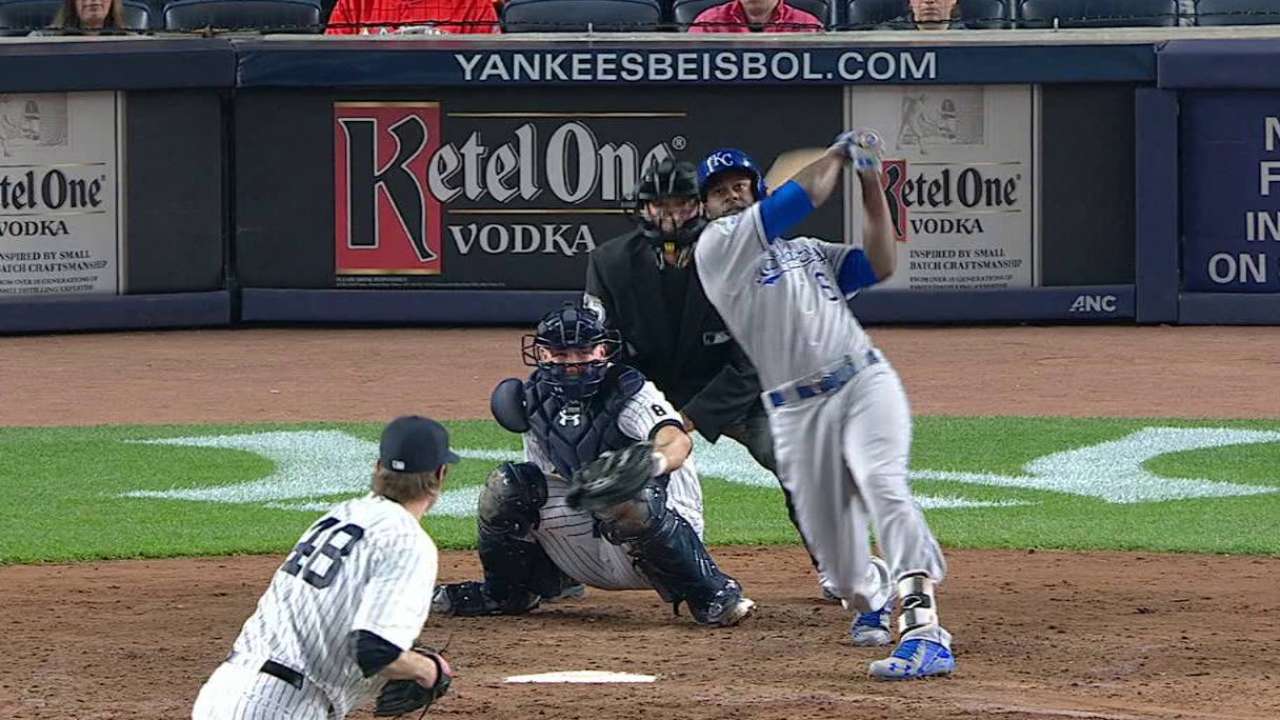 That lack of sharpness, Miller added, isn't because he's adjusting to a new relief role. He just isn't getting ahead of hitters like he wants to.
Still, after Cain's home run, Miller held the score with three strikeouts of the contact-hitting Royals. The Yankees retook the lead in the bottom of the eighth, then Chapman jogged in from the bullpen to his New York introduction -- flames blazing around the strip of video board that rings the bottom of the upper deck.
"There's a lot of fire," Chapman said. "But I like it. I like it a lot."
It suits him. Two innings into his season, Chapman has already thrown the four hardest pitches in the Major Leagues this year, according to Statcast™. The fastest of those was a 102.1-mph heater on Tuesday night.
"A lot of fans like to see triple digits," Chapman said. "I'm happy that I'm able to do that, too."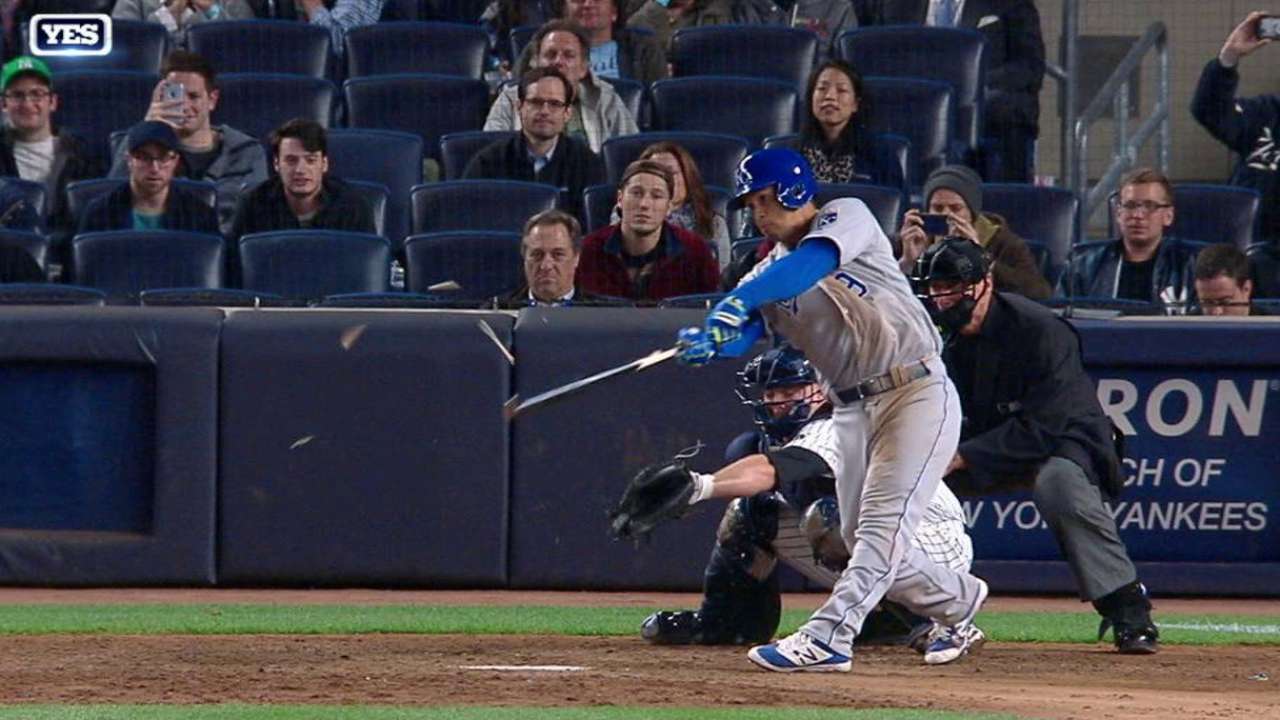 Even though Tuesday's game didn't go exactly according to plan, with Miller faltering, these two games since Chapman's activation have already exhibited the flexibility of a third pitcher added to the Yankees' bullpen monster. Of Chapman, Miller and Dellin Betances, the Yankees could theoretically have at least two available almost every game.
The past two games, Betances has been relegated to a looming threat, warming up but not pitching. Miller was loose during Monday's series opener but never needed to come into the game. That means on Wednesday, though Chapman might not be able to pitch after two days of hard work, Betances and Miller can.
"Yeah, ideally we have a lead, and get Dellin in the game for sure -- it's been a few days for him," Miller said, running through the Yankees' bullpen availability. "And obviously I'll be available. So I'd like to say we're in good shape if we play well tomorrow."
David Adler is a reporter for MLB.com based in New York. Follow him on Twitter at @_dadler. This story was not subject to the approval of Major League Baseball or its clubs.