Taming Coors Field: De La Rosa sharp vs. Rox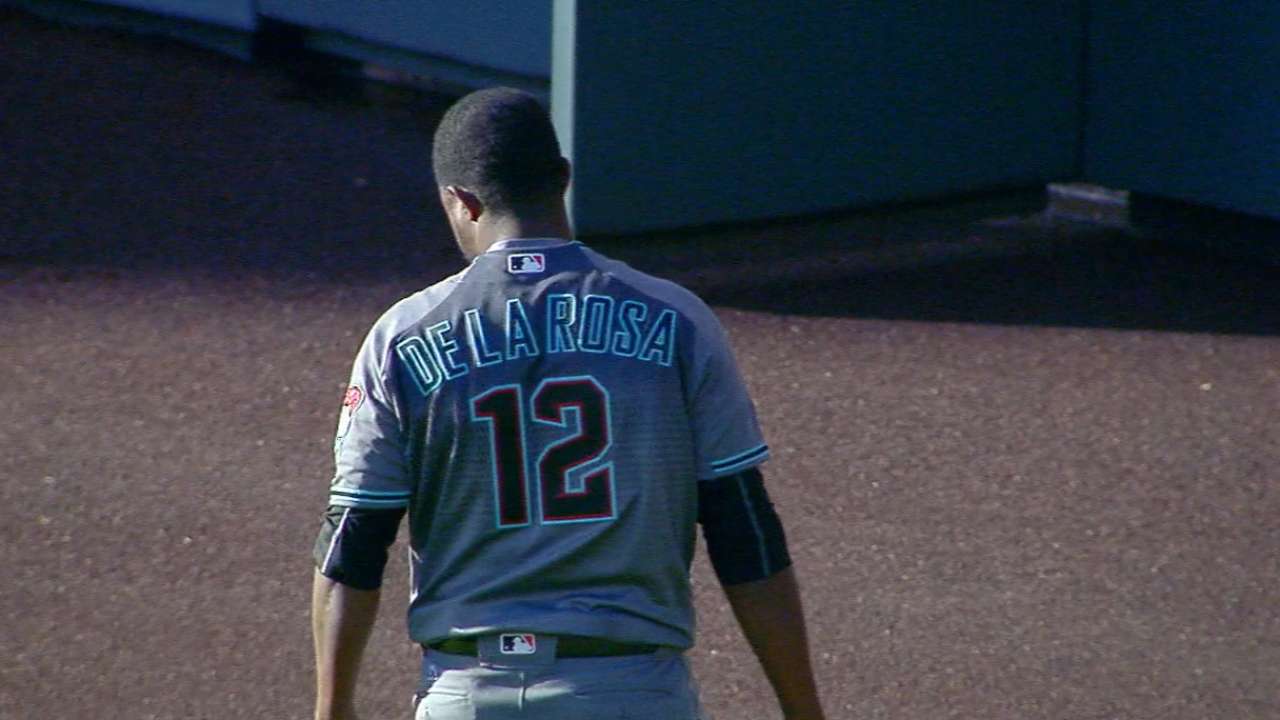 DENVER -- Don't try to tell Rubby De La Rosa that Coors Field is a hitter's park.
The right-hander continued his dominance in the Mile High City by allowing just one run over 7 1/3 innings to lead the D-backs past the Rockies, 5-1, on Tuesday night.
With the win, De La Rosa is now 3-0 with a 2.73 ERA in five career games (four starts) at Coors Field, which has been a nightmare for many pitchers since it opened.
"I just put in my mind to try and keep the ball down here and use all three of my pitches," De La Rosa said. "It's Colorado: breaking balls don't move the same as other cities, but tonight my breaking ball was awesome so I was able to have that working."
De La Rosa allowed a leadoff single to Charlie Blackmon and then retired the next six Colorado hitters.
Through seven innings De La Rosa had allowed just three hits and not walked a batter.
Finally in the eighth, Tony Wolters coaxed a leadoff walk and Mark Reynolds followed with a broken-bat grounder to right for a single. After De La Rosa uncorked a wild pitch with Blackmon at the plate to allow Wolters to score from third, D-backs manager Chip Hale went to take him out of the game, but was not allowed to because pitching coach Mike Butcher had visited the mound at the start of Blackmon's at-bat.
You can't have two mound visits in the same at-bat, so De La Rosa had to face Blackmon, who grounded out.
"Very impressive," Hale said of De La Rosa's performance. "He established inside which really allowed him the ability to throw the slider, get away with maybe some sliders that weren't as good as others because they were looking in."
Getting De La Rosa to trust his stuff was something the D-backs tried to get across to him earlier this year when he struggled. Hall of Fame pitcher Pedro Martinez also reached out to De La Rosa with a similar message.
"Just be aggressive and throw my fastball in the zone and see what happens," De La Rosa said of his mindset the last four starts. "Before I didn't have that confidence in my fastball."
While he may succeed at getting hitters out at Coors Field, there is one weakness to De La Rosa's game in Denver. For the second straight start at Coors he had a bizarre balk where he flinched with his back foot on the rubber.
"That's a Coors Field thing," he said with a smile. "I don't know what happened."
Steve Gilbert is a reporter for MLB.com. Follow him on Twitter @SteveGilbertMLB. This story was not subject to the approval of Major League Baseball or its clubs.