Stroman-MadBum, Zimm-Max top MLB.TV slate
For anyone who enjoys pitchers' duels, there are plenty of marquee matchups to choose from today.
In San Francisco, Giants left-hander Madison Bumgarner will take on Blue Jays righty Marcus Stroman, while the Mariners' Taijuan Walker will put his sub-2.00 ERA on the line against Chris Archer's Rays in Seattle.
The evening brings more intrigue on both coasts. Jordan Zimmermann, now with Detroit, makes his return to Washington to face former Tigers righty Max Scherzer, while electric Mets hurler Noah Syndergaard takes on impressive Dodgers rookie Kenta Maeda at Chavez Ravine.
It's all part of an MLB.TV slate that features 16 games, thanks to a Padres-Cubs doubleheader.
MLB.TV Premium returns with the same features as last year, but at $109.99, it is a full $20 cheaper than the 2015 cost. This package has the best value and provides access to more than 400 devices and a free subscription to the MLB.com At Bat Premium app (a $19.99 value). It offers the best picture quality ever -- a new 60 frames per second -- for supported devices. Monthly signups for MLB.TV Premium are now underway as well for $24.99.
The new MLB.TV Single Team package is also now available as an $84.99 yearly subscription. You can watch a single team's live out-of-market games in full HD.
Here is a look at what to watch for today in the Majors (all times ET):
Power righties tangle: TB@SEA, 3:40 p.m.
Archer and Walker both average better than 94 mph with their four-seam fastballs, ranking among the top 20 starters in the Majors. After struggling early this season, Archer seems to have found his rhythm by posting three consecutive quality starts, allowing two runs on 11 hits with a 20-to-6 strikeout-to-walk ratio in that span. Walker (1.97 ERA) sports a 29-to-3 K-to-BB ratio over 32 innings this season but exited his his start on Friday at Houston after two innings due to a sore neck, which he said came from sleeping awkwardly.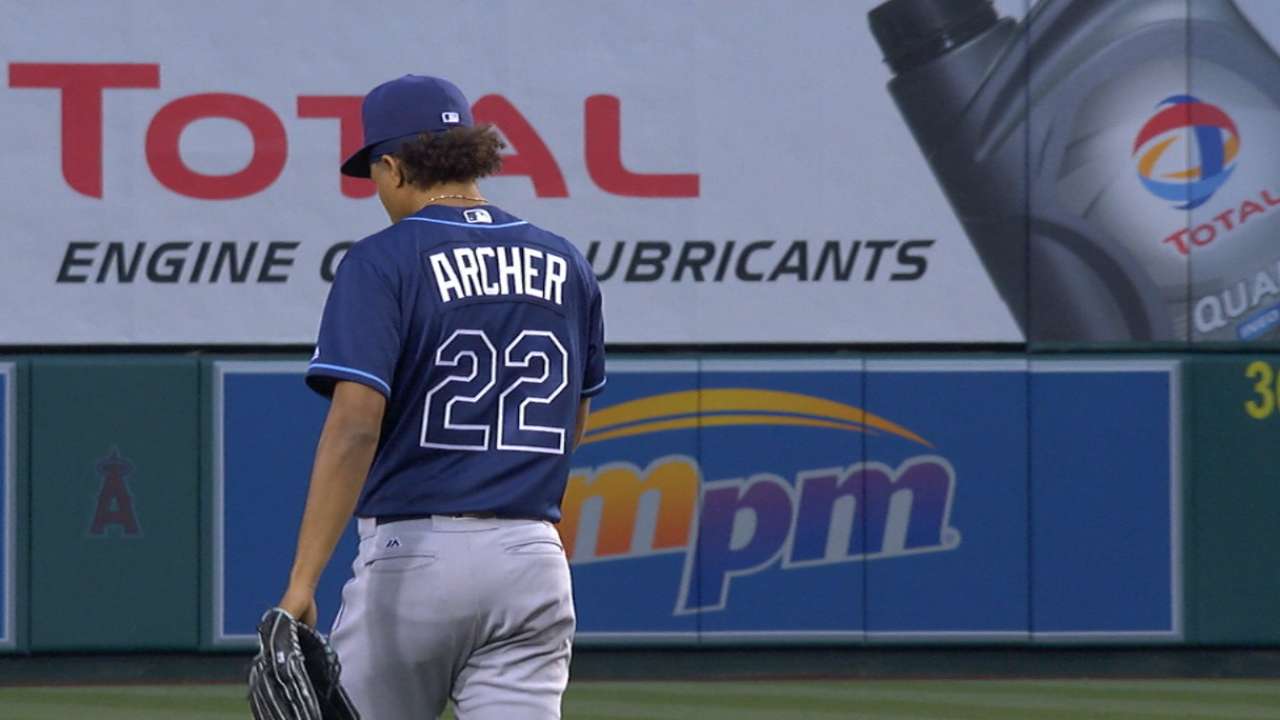 "I was really hoping it would loosen up once the game started," said Walker, who recovered in time to prepare for today's start on regular rest. "It did a little bit, but not enough."
Stat that matters: Right-handed batters have managed a .475 batting average on balls in play against Walker, but he has also posted a 30.6 percent strikeout rate in same-side matchups.
Marcus and MadBum: TOR@SF, 3:45 p.m.
Stroman will try to handle another National League West club after limiting the Dodgers to two runs over seven innings on Friday. The 25-year-old righty has completed at least 6 2/3 innings in six of his seven starts, and he has almost as many strikeouts in his past two starts (17) as in his first five (19). His counterpart today has struck out a career-high 11.5 batters per nine innings so far this season, including a season-high 10 over 7 1/3 innings against Colorado on Friday. Bumgarner is almost always tough at AT&T Park, where he owns a 2.84 career ERA. His ERA at home this year is 2.33.
Stat that matters: Stroman's swinging-strike rate was 6% through five starts but 13% in the two outings since.
Homecoming: DET@WSH, 7:05 p.m.
Zimmermann was a second-round pick by the Nationals in 2007, debuted for the club two years later and went on to make 180 starts in a Nats uniform, including two postseason outings and one no-hitter. He returns to Washington as the team's all-time leader in starts, innings, wins and pitching wins above replacement. Zimmermann (5-1, 1.10 ERA) is coming off his first Tigers loss but still held Texas to three runs over eight innings in that game. He'll try to get back in the win column against his former teammate Scherzer, who left Detroit to sign a seven-year, $210 million deal with Washington one offseason before Zimmermann headed the other direction for five years and $110 million.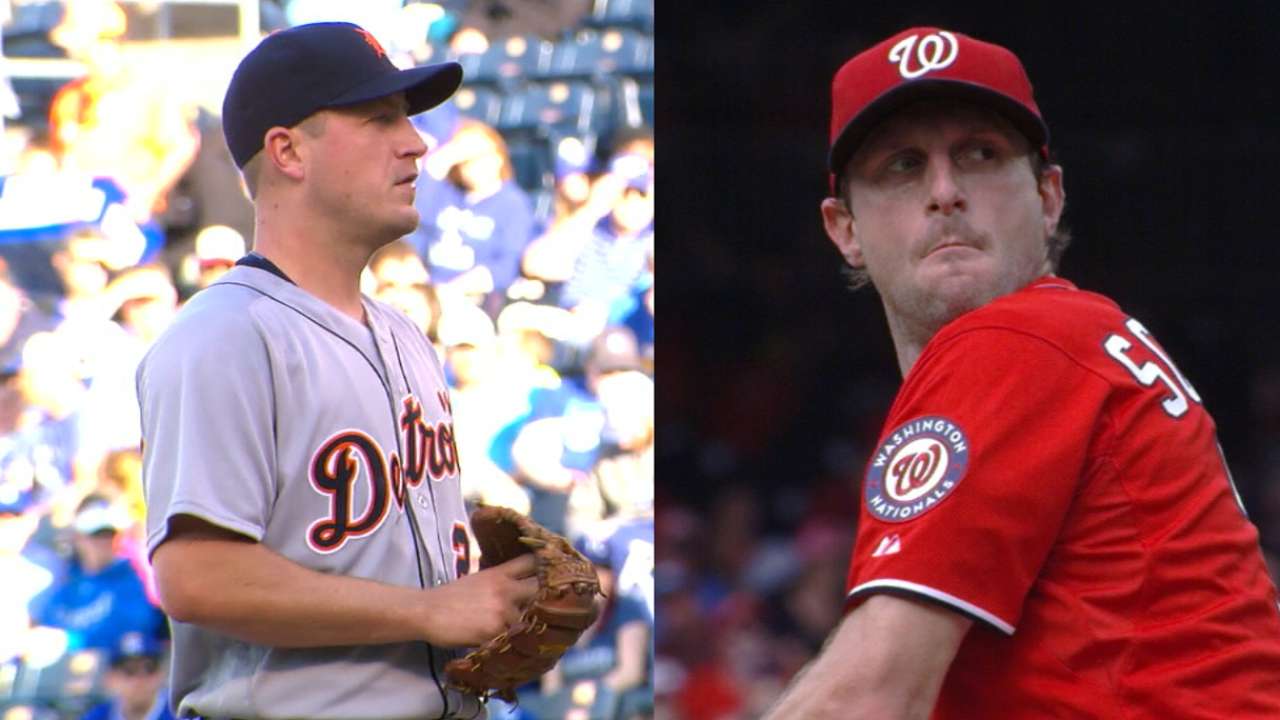 "I can't wait," Zimmermann said on Monday. "It's going to be fun, and we'll see what happens. I'm pretty sure I'll be amped up and try to calm those emotions, go out there and pitch my game."
Stat that matters: Scherzer tied a career high by serving up four homers in his last start, on Friday at Wrigley Field, and the righty has allowed the most big flies (33) in the Majors since last June 1, a span of 30 outings.
Return to L.A.: NYM@LAD, 10:10 p.m.
The last time Syndergaard pitched at Dodger Stadium, it was as a reliever, as he tossed a scoreless inning to help the Mets hold on to a 3-2 lead in a winner-take-all Game 5 in last fall's National League Division Series. The 23-year-old righty, who has a 2.58 ERA and 11.5 strikeouts per nine, will get the start tonight. Syndergaard has looked just a bit more hittable than usual of late, allowing nine runs on 18 hits over 18 1/3 innings across his last three outings. Similarly, Maeda has slipped a tad from the unsustainable pace he set early this season. Still, the Dodgers rookie handled a tough assignment capably on Friday, holding the Blue Jays to two runs on two hits over six innings at Rogers Centre, bringing his ERA to 1.66.
Stat that matters: In terms of average exit velocity allowed, Maeda (83.9 mph) and Syndergaard (84.4 mph) rank first and second, respectively, in the Majors this season (minimum 75 balls in play).
MLB.TV Premium subscribers get the Mosaic View -- split screen or quad, available on PC or Mac only. That always comes in handy, especially when scoreboard-watching looms. MLB.TV Premium and MLB.TV Single Team subscribers both enjoy HD and both will get real-time highlights and player stats automatically loaded moments after they occur (only for the game you are watching with MLB.TV Single Team, and for all games with MLB.TV Premium).
Andrew Simon is a reporter for MLB.com. Follow him on Twitter @AndrewSimonMLB. This story was not subject to the approval of Major League Baseball or its clubs.