MLB.com Columnist
Barry M. Bloom
Rapid recall: Royals relive Aroldis return
Hitters talk about unique triple-digit-fastball challenge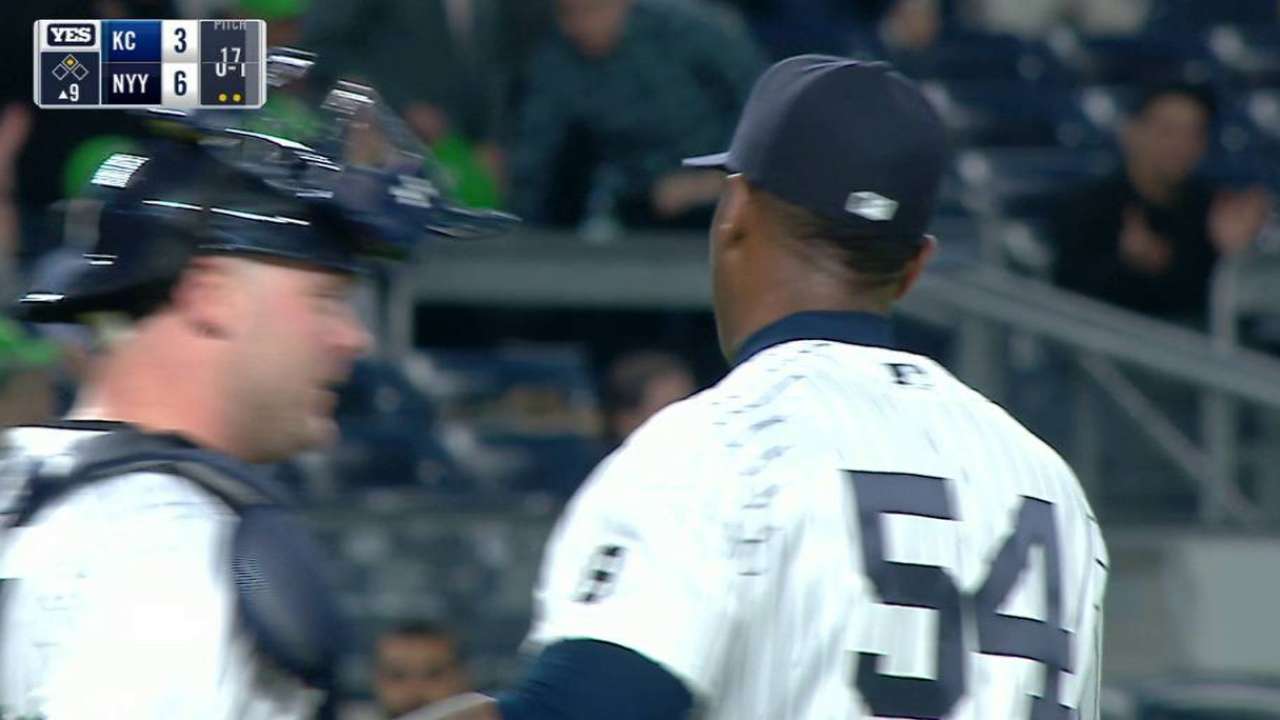 NEW YORK -- The five Royals hitters who faced Yankees fireball-throwing closer Aroldis Chapman on Monday night said, to a man, that they'd never seen anything like it.
Chapman threw 17 pitches, 11 of them fastballs, the rest sliders, and seven of those four-seamers at 100 mph or better.
"He hasn't changed. He's the same guy he's always been," Royals manager Ned Yost said. "He's still throwing 100 mph. He's coming at you with it. You can see him one time, you can see it 100 times, it's not going to make it any easier."
Because of the heat, Chapman is a singular reliever.
"He throws it from the left-hand side, which makes him unique," Yost said.
Any advice to his hitters?
"Just look for the fastball," Yost said sagely.
It mostly didn't help. Chapman faced Omar Infante, Cheslor Cuthbert, Paulo Orlando, Alcides Escobar and Lorenzo Cain. His line was K, K, double, RBI single and grounder back to the mound to end the 6-3 Yankees victory.
And then on Tuesday night, it happened again against virtually the same group: Cuthbert, Christian Colon, Escobar and Cain. This time, Chapman issued Escobar a two-out walk and had to face Cain, who'd already hit three homers in the game. Chapman said he was well aware of the epic night Cain was experiencing.
"I tried to block that out and just make a good pitch," he said.
On the eighth pitch of that at-bat, Cain popped out to second and Chapman had his first save as a Yankee in their come-from-behind 10-7 win.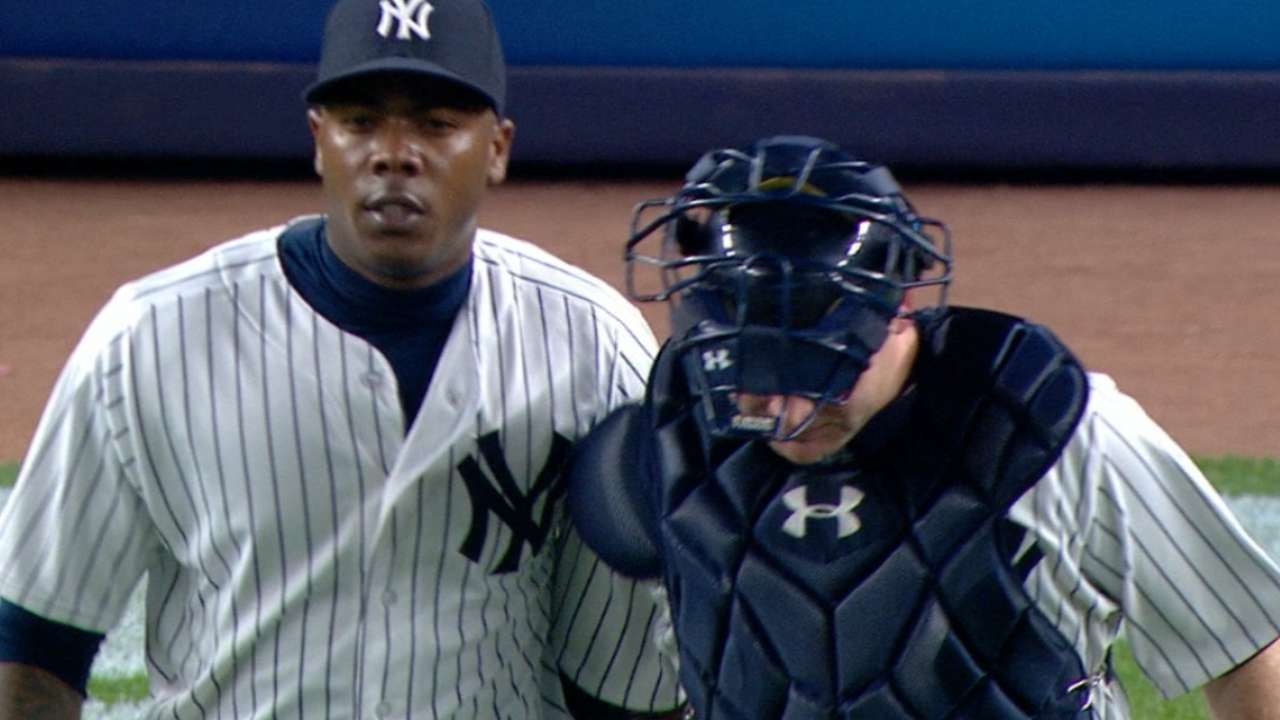 On Monday night, the Yankee Stadium crowd of 41,243 was all charged up, watching the Cuban left-hander's disappearing fastball as the triple-digit numbers kept revolving on the upper left corner of the giant center-field video board. Chapman recorded 146 saves in six seasons pitching for the Reds, and now he's brought his act to the American League.
It was a rare spectacle, and the Royals obliged. Nine of their 12 active position players have faced Chapman now a total of 17 times, with four hits and an RBI. On Monday night, Orlando and Cuthbert faced him for the first time, Infante and Escobar the second.
Infante started it off by working the count full before swinging through a 97 mph fastball for strike three. Chapman started him off with four-seamers registering 100, 101, 101 and 101 on the radar gun before mixing in a slider and then finishing him off with the fastball.
"He threw hard, man," Infante said with a giggle. "He had very good command. I was looking up at the scoreboard. Yeah, I pay attention to that. I was watching it: 100, 101. I haven't faced that kind of fastball in a long time."
Infante hit against Chapman in the National League with the same results.
"I struck out," he said. "You've got to get lucky and just run into one."
Cuthbert suffered a similar fate, striking out on four pitches -- three fastballs and a slider. Two of the four-seamers, including the last one, were 101.
Cuthbert said he was baffled.
"I've never seen that kind of fastball," he said. "The next time I go up there, I'm going to try not to do too much, just make contact."
That's exactly what Cuthbert learned watching Orlando, who pinch-hit for Jarrod Dyson. Chapman threw Orlando three pitches, two of them sliders. Orlando drove the second slider over the head of center fielder Aaron Hicks for a double.
"I just went up there with a two-strike approach against him," Orlando said. "I just shortened up my swing, tried to see the ball and hit it. I watched our first two guys hit against him and knew I wouldn't have a chance unless I took a shorter swing. He threw me a breaking ball that I was able to put a good swing on."
Escobar followed by taking a ball and then driving the second pitch, a 98 mph fastball, on the ground just to the right of shortstop Didi Gregorius for a single that scored Orlando.
Did Escobar use the same approach as Orlando?
"I know that guy was throwing 100 mph easy," Escobar said. "I just tried to put the ball in play. I hit the ball good, and it went straight up the middle and I got a base hit. I was just looking for one pitch, a fastball. I knew he was throwing over 100. I tried to throw my hands to the ball, and I got a good cut."
That left it up to Cain, a veteran against Chapman, having faced him three previous times, with a base hit. Chapman threw him two sliders, the second one he bounced back to the pitcher, ending the game.
"That wasn't my first time facing him," Cain said. "I faced him a few times a couple of years ago. He's a dominant pitcher, who has good stuff. I wouldn't expect anything less. The ball gets on you so fast, you just try to shorten up and drive a pitch on him. It's all about shortening up because he throws so hard."
Was it at least a moral victory to get his bat on the ball?
"I tried to put it in play," Cain said. "What can you do? The back of their bullpen is really good."
Barry M. Bloom is a national reporter for MLB.com and writes an MLBlog, Boomskie on Baseball. Follow @boomskie on Twitter. This story was not subject to the approval of Major League Baseball or its clubs.