McCullers raring to return from sidelines
'All signs pointing' to righty making start in weekend series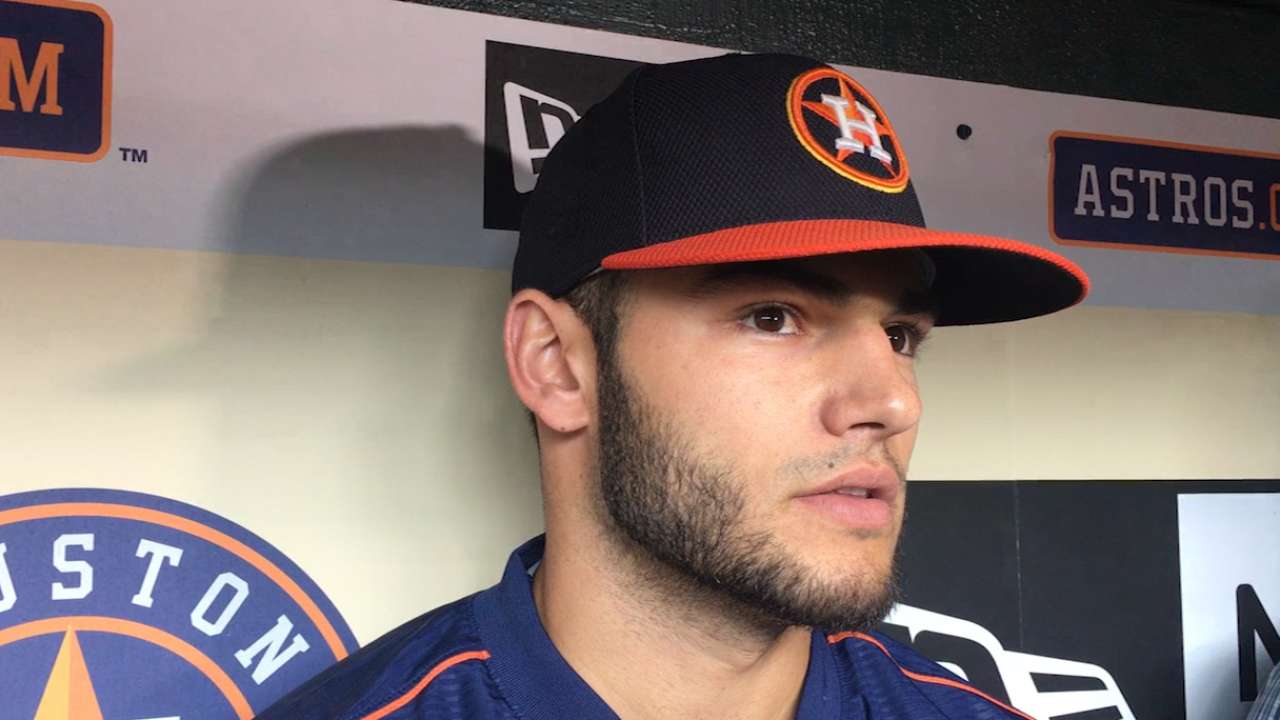 HOUSTON -- Astros right-hander Lance McCullers Jr. has had enough watching from the sidelines. He's tired of answering questions about his shoulder and tired of throwing in games that don't matter. McCullers is ready to take the ball and compete, something he could do as early as this weekend.
McCullers, who's been recovering from a sore shoulder since the spring, threw in the bullpen Tuesday at Minute Maid Park without any complications. The next time he gets on the mound could be in a game for the first time this year, and it can't some soon enough.
"I'm a competitor, and it's tough for me to sit on the sideline and watch the guys play," he said. "Win or lose, I want to be out there with the guys. I'm pretty emotional when I'm out there, and I want to have that feeling of fighting for my guys again. I think that's probably what I'm looking to forward to the most."
The Astros have yet to activate McCullers from the disabled list or lay out their pitching plan for the upcoming series against the Red Sox in Boston, but it's likely McCullers will make his 2016 debut at Fenway Park.
"Tomorrow's a big day in terms of recovery," manager A.J. Hinch said. "We built this up as every day is a test for him to see if he's going to feel well enough to rejoin us. All signs are pointing that way, but there won't be an announcement until [Wednesday]."
McCullers, who went 6-7 with a 3.22 ERA in 22 starts as a rookie last year, has been missed. He has a sharp curveball and slider and can throw his fastball in the upper 90s, making him the hardest thrower in the Astros rotation by far. McCullers said Tuesday the breaking stuff is where it needs to be, but 95 percent of his work in the bullpen was on fastball location.
"My fastball is always kind of a work in in progress, just because of the adjustments that I throw with and how fine I want to be with it," he said. "Once I get to that point in my career where I just kind of let things happen more naturally, I'll take off. Until then, I continue to fight myself on that. That's always going to be something I'm harping on and try to get cleaned up. It's not that I'm not where I need to be. It's always a work in progress for me in particular."
McCullers ready for things to get back to normal pic.twitter.com/QZPuRMIDbZ

— Brian McTaggart (@brianmctaggart) May 10, 2016
Worth noting
Evan Gattis was scheduled to be at designated hitter Tuesday at Double-A Corpus Christi after catching 16 innings in three games, going 3-for-11 with a double, a homer and two RBIs. Hinch said Gattis will be off Wednesday before catching two consecutive games and could perhaps join the team next Tuesday in Boston.
"We'd like him back as soon as possible, but he's got to be ready, especially if he's going to catch," Hinch said. "To get him back on this roster is going to take a decision on how to maneuver the roster."
Brian McTaggart has covered the Astros since 2004, and for MLB.com since 2009. Follow @brianmctaggart on Twitter and listen to his podcast. This story was not subject to the approval of Major League Baseball or its clubs.