Rays keep Forsythe out of lineup after HBP
X-rays negative, but second baseman 'still sore' from being hit on shoulder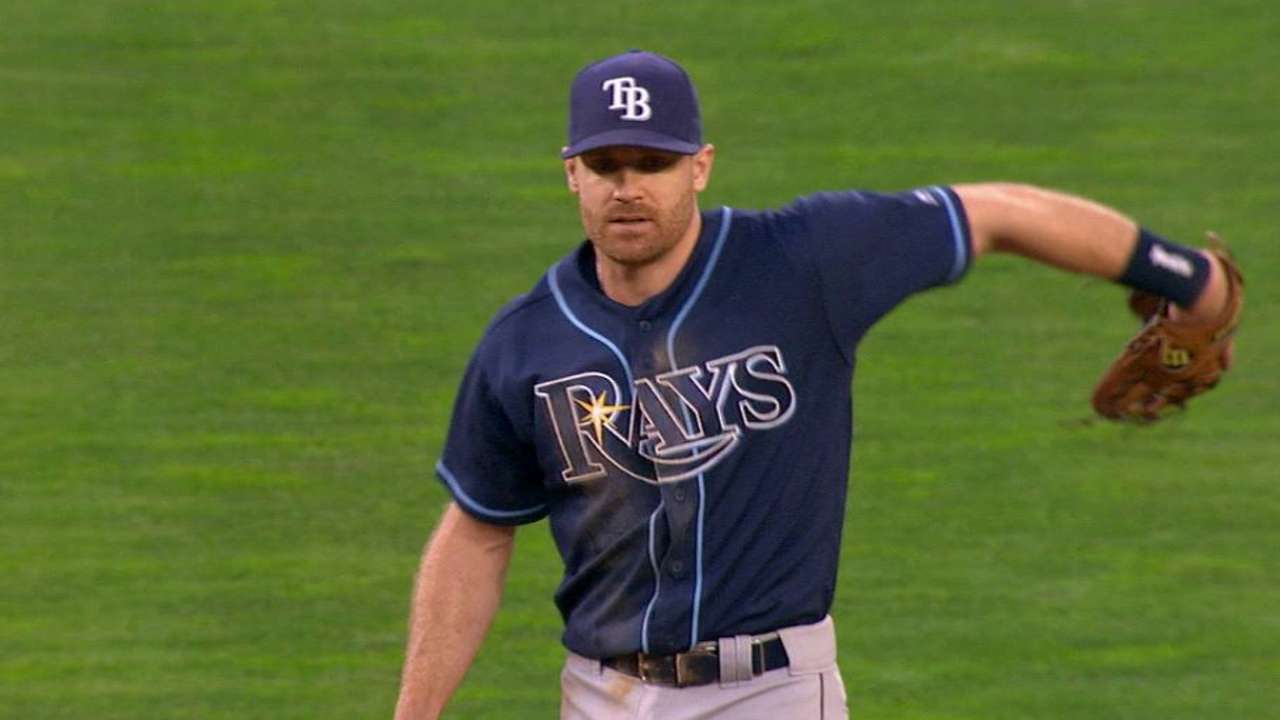 SEATTLE -- Second baseman Logan Forsythe was available for duty Tuesday night, a day after getting hit on the back of his left shoulder, but he was not in the lineup and the Rays would prefer to not have to use him.
"He's still sore," Rays manager Kevin Cash said. "... If we can figure out how to win a ballgame without him, that would be good, too."
Forsythe didn't play in the Rays' 6-4 loss to the Mariners.
Monday night, Felix Hernandez hit Forsythe on the left shoulder with two outs in the top of the third. At the end of the inning, he came out of the game before playing defense.
Forsythe has been the Rays' best offensive player this season. He is hitting .308 with four home runs and 12 RBIs.
"It's right off the shoulder blade," Forsythe said. "Back of the rotator cuff. There's a lot of soft tissue and nerves back there."
Forsythe said his altered ability to field concerned him most.
"I couldn't reach over my head or stretch out too much with the glove," Forsythe said. "I didn't want to be a liability out there defensively, so I thought it was time to get out."
X-rays of Forsythe's shoulder came up negative.
"It was sore [Tuesday morning] as expected," Forsythe said. "But it is better. The range of motion is getting back."
The plan was for Forsythe to be available off the bench, but it sounded as though the Rays would be fine if he took the night off Tuesday and Wednesday's matinee before having an off-day on Thursday. That would give him plenty of recovery time prior to Friday night's game against the Athletics at Tropicana Field.
"I think we're available for the next couple of days and the off-day works in our favor," Forsythe said. "That's how we're going to play it."
Bill Chastain has covered the Rays for MLB.com since 2005. This story was not subject to the approval of Major League Baseball or its clubs.