Padres claim Hessler off waivers from D-backs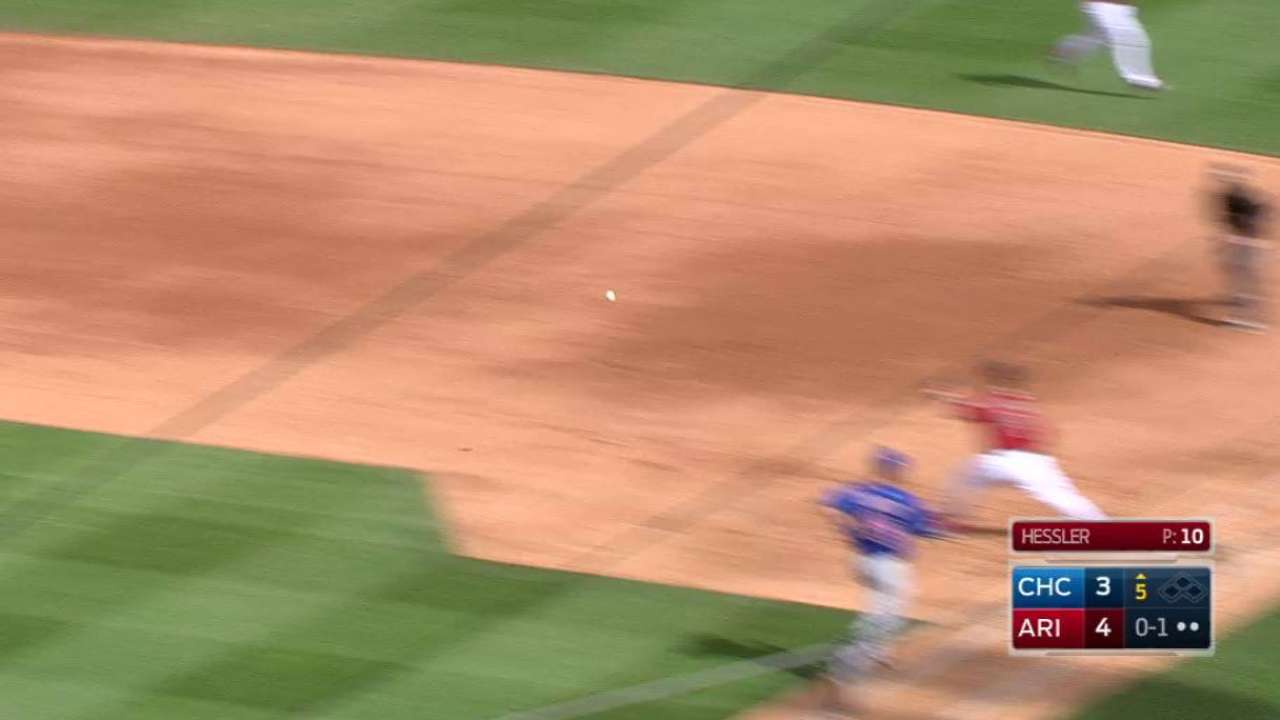 CHICAGO -- The Padres claimed left-handed reliever Keith Hessler off waivers from Arizona on Tuesday. Hessler, who has options remaining, could become the 26th man on the roster for Wednesday's doubleheader.
In 20 career big league appearances with the D-backs, the 27-year-old Hessler posted an 8.22 ERA -- including three runs in three innings this season. He was very sharp in the Minors last year, making the jump from Class A to the big leagues, posting a 2.14 ERA and 65 strikeouts in 59 innings.
There isn't much history between Hessler and Padres skipper Andy Green, who spent time as both a manager in the D-backs' system and as their third-base coach last year. Green didn't get a chance to see Hessler pitch until he was called up last September.
"[He] was in the 92-96 mph range from a velo perspective," Green said. "It's a live-arm lefty with options, so it gives us some depth from a reliever perspective."
If Hessler is, indeed, the 26th man on the roster for Wednesday's doubleheader, the Padres could option him to the Minors after those games, but it remains unclear how they'll proceed with their pitching staff past Wednesday.
Padres mum on Milwaukee rotation: Monday's rainout threw a wrench into the Padres' rotation plans. The club has no designs on pitching Tuesday starter Cesar Vargas on short rest, which leaves open a spot in the starting five -- potentially for Saturday's game in Milwaukee.
But instead of waiting until Saturday, the Padres could choose to give James Shields and Andrew Cashner an extra day of rest by filling that rotation void as early as Thursday. (Or they could give Cashner alone an extra day, as he was removed from his previous start because of a cramp in his right hamstring.)
"If we choose to inject somebody a little bit sooner into the rotation, then that would push [Shields and Cashner] back to give them a little bit of rest before the day off -- or maybe one of the two of them," Green said.
Relievers Brad Hand and Carlos Villanueva are options to start later this week. The Padres could also call up a hurler from the Minors, even though they do not have open space on the 40-man roster. Robbie Erlin -- who is awaiting Tommy John surgery -- could easily be moved to the 60-day DL to clear room.
One option is right-hander Brandon Morrow, who had his best start for Triple-A El Paso on Monday, going six innings and allowing three runs. Morrow is recovering from shoulder surgery last August and was the Padres' best starter during the first month last season before going down with the injury.
But if the Padres were to add Morrow, they would not be able to option him after his start without his permission because of his total service time.
On the mend
• Left-handed reliever Matt Thornton will throw a batting-practice session on Wednesday, his first since going on the DL in early April with tendinitis in his left Achilles. Thornton has built his arm back to full strength, but the club still must be certain he can run without potentially inflicting further damage on the Achilles.
• Alexi Amarista and Yangervis Solarte, both of whom are dealing with strained hamstrings, are rehabbing in Arizona. There's a possibility they could get at-bats there instead of in Minor League rehab stints. Amarista remains ahead of Solarte in his recovery.
• The picture from Monday's MRI on Jemile Weeks' strained right hamstring was unclear, and Weeks was forced to undergo a second MRI on Tuesday. The Padres are still awaiting those results.
AJ Cassavell covers the Padres for MLB.com. Follow him on Twitter @ajcassavell. This story was not subject to the approval of Major League Baseball or its clubs.