Bucs pull off impressive nab of speedy Hamilton
Cervelli, Mercer connect to deny Reds' center fielder a stolen base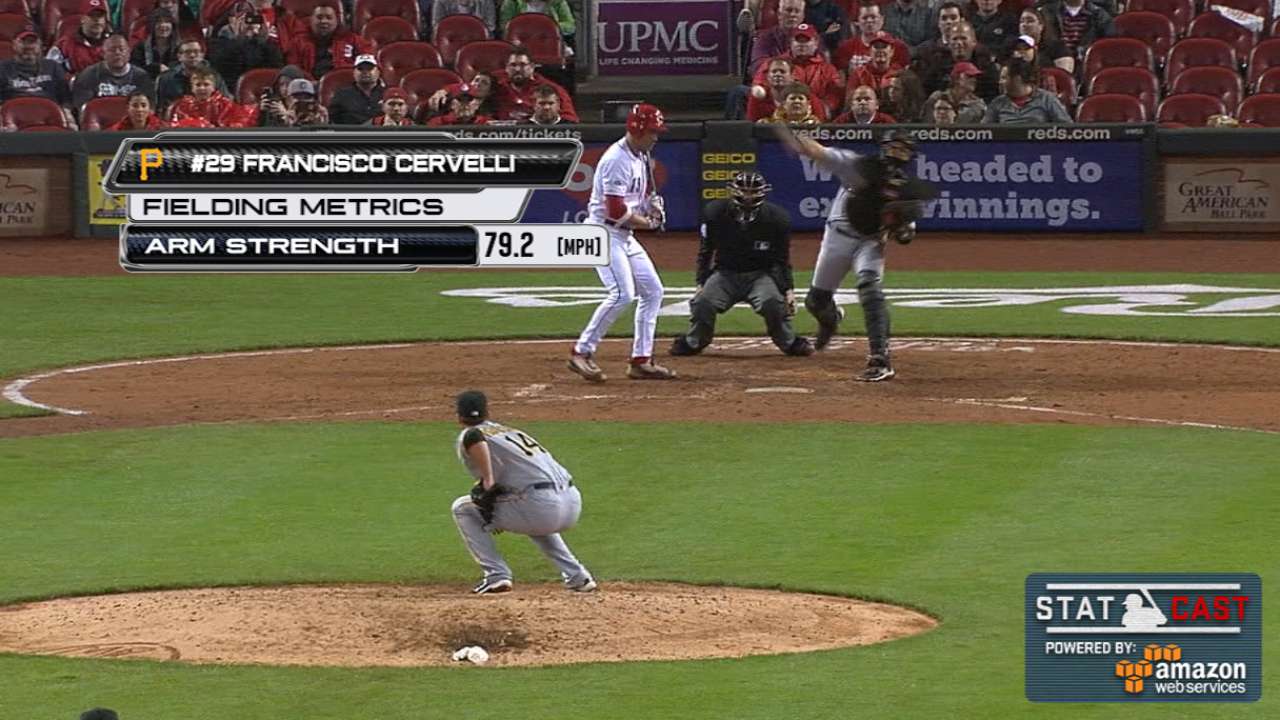 CINCINNATI -- The Pirates recorded one victory in Monday night's 3-2 loss to the Reds at Great American Ball Park: They caught Cincinnati speedster Billy Hamilton stealing second base.
The Pirates have struggled to keep Hamilton off first base -- entering Tuesday, he'd hit .320 with a .366 on-base percentage against the Bucs -- and it's hard for anyone to keep him there. Hamilton has stolen 133 bases over the past four years, 33 of them against Pittsburgh.
"He's hit the ball against us better than he has against other teams," Pirates manager Clint Hurdle said. "That puts him on base. You start there first. Outside of that, you take too much attention over there, you lose focus at the plate, you can get hurt worse there."
Hamilton tried to do it again in the eighth inning Monday night, taking off for second after a single to left field -- his third hit of the game. But he was denied his eighth steal of the season, as Francisco Cervelli connected with shortstop Jordy Mercer to throw him out.
"That's one of the best plays you'll see a catcher, pitcher and shortstop make," Hurdle said. "Good release time from [Ryan] Vogelsong. Extremely quick release and transfer from Cervelli. Great tag by Mercer."
Thanks to Statcast™'s tracking technology, we can see how everything came together for the Bucs to nail Hamilton at second.
Vogelsong is quick to the plate, which is a good start for anyone trying to halt Hamilton. Vogelsong's release time -- the time from his first movement out of the stretch to the release point of his pitch -- on the 1-0 fastball to Joey Votto was 1.13 seconds, which gave Cervelli a little more time.
Cervelli's exchange was 0.57 seconds. His "pop time" on the 79.2 mph throw to second base was 1.88 seconds. Hamilton, meanwhile, was off and running with a 0.29-second first step and reached a top speed of 21.9 mph, ultimately taking 3.7 seconds to get from first to second.
Mercer was well positioned in front of the bag, where he could receive the ball quicker, and slapped down a tag on Hamilton's left arm. The Reds challenged the call, but Hamilton must have known he was out -- he didn't hang around the bag, as most runners do when questioning a call.
"It's something that was fun to watch," Hurdle said. "Obviously, our dugout gets a little pumped up. That's a hard guy to catch. He's been a hard guy for us to catch."
Cervelli and Chris Stewart have caught nine runners stealing this season, Cervelli with seven.
Around the horn
• After the Cubs appealed the ruling, Major League Baseball changed Andrew McCutchen's error on May 4 into a two-out single for Anthony Rizzo . The initial ruling led McCutchen to say official scorer Tony Krizmanich should be fired, a comment for which he later apologized.
As a result, all three runs scored off Juan Nicasio that inning are now earned runs, so Nicasio's ERA subsequently climbed from 3.16 to 4.02.
• Lefty Steven Brault, the Pirates' No. 17 prospect and part of Triple-A Indianapolis' dominant rotation, was placed on the seven-day disabled list Tuesday due to a left hamstring strain. Brault, 24, is 1-2 with a 2.70 ERA and 35 strikeouts in 26 2/3 innings over six starts.
• In his first six starts, top prospect Tyler Glasnow is 2-1 with a 1.64 ERA, 1.03 WHIP and 48 strikeouts in 33 innings. No. 4 prospect Jameson Taillon is 2-1 with a 1.69 ERA, 0.78 WHIP and 32 strikeouts in 37 1/3 innings.
Adam Berry has covered the Pirates for MLB.com since 2015. Follow him on Twitter at @adamdberry. This story was not subject to the approval of Major League Baseball or its clubs.