White Sox bullpen takes first loss of season
ARLINGTON -- Even though the White Sox bullpen had been unbeatable all season, no group of relievers is immune to the occasional meltdown, as the Rangers reminded them Tuesday.
Chicago's was the only bullpen without a loss entering Tuesday, and the Sox had the lowest bullpen ERA of any Major League team. But the Rangers mounted a spirited comeback in a rain-delayed 13-11 loss that ended four hours and 40 minutes after the first pitch.
Matt Albers, who entered the game among the AL leaders with a 0.57 ERA, having surrendered only one earned run in 15 2/3 innings this season, blew the save and shouldered the loss in the eighth inning, when the Rangers scored seven runs to overcome a late five-run deficit.
"It's frustrating -- we should have won that game," said Albers, who allowed three earned runs in two-thirds of an inning. "Any time the bullpen loses a game like that, it's tough. We take pride in winning games we should win. We've been going good, but it still hurts."
With one out in the eighth, Albers relieved Zach Duke, who took over for Scott Carroll after Carroll -- who had entered with two outs in the seventh -- loaded the bases without recording an out in the eighth. Albers got Adrian Beltre to hit a sacrifice fly, but Ian Desmond tripled home two runs to pull the Rangers within 11-10. Prince Fielder walked, and Ryan Rua crushed a three-run homer to center to put Texas on top and eventually snap Chicago's four-game winning streak.
"I was able to get a Beltre sac fly, which was good, but I didn't make a pitch down and away to Desmond, tried to throw a slider down and away and it backed up on me over the plate," Albers said. "I kind of pitched around Prince on purpose. To Rua, I got him 1-2, was beating him in, was trying to go away, and the ball just slipped right back down the middle."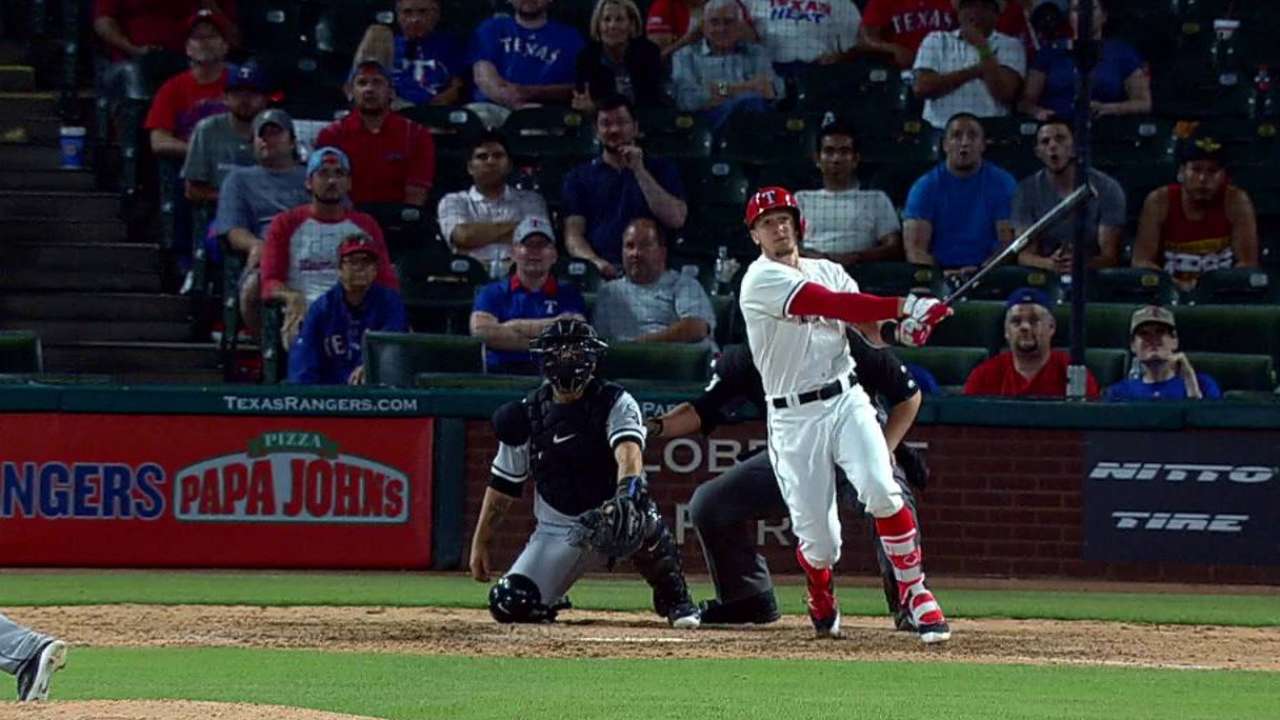 Starter Carlos Rodon battled through 6 2/3 innings despite a 78-minute rain delay after the second inning. He allowed six earned runs on 12 hits, but was in line for the win when he handed the ball over to Carroll and the previously unbeatable Sox bullpen to protect a 10-5 lead.
Instead, Carroll allowed three earned runs in one-third of an inning, while Duke gave up one earned run in one-third of an inning.
The Sox bullpen was shaky in their victory the night before, too. Nate Jones and closer David Robertson allowed the Rangers to tie the game in the eighth and ninth innings, respectively, but Chicago managed a win in 12 innings anyway. Tuesday night, their luck ran out.
"We've been using these guys a lot," White Sox manager Robin Ventura said. "You tip the cap to [the Rangers] -- they didn't give up, they didn't let up, they swung the bats, they were swinging it all night. Just an off night, I think, bullpen-wise, and that's going to happen in a long season. But as far as faith in these guys going forward, we have all that."
Dave Sessions is a contributor to MLB.com based in Dallas. This story was not subject to the approval of Major League Baseball or its clubs.