'Grind it out' style leads to Rangers' big rally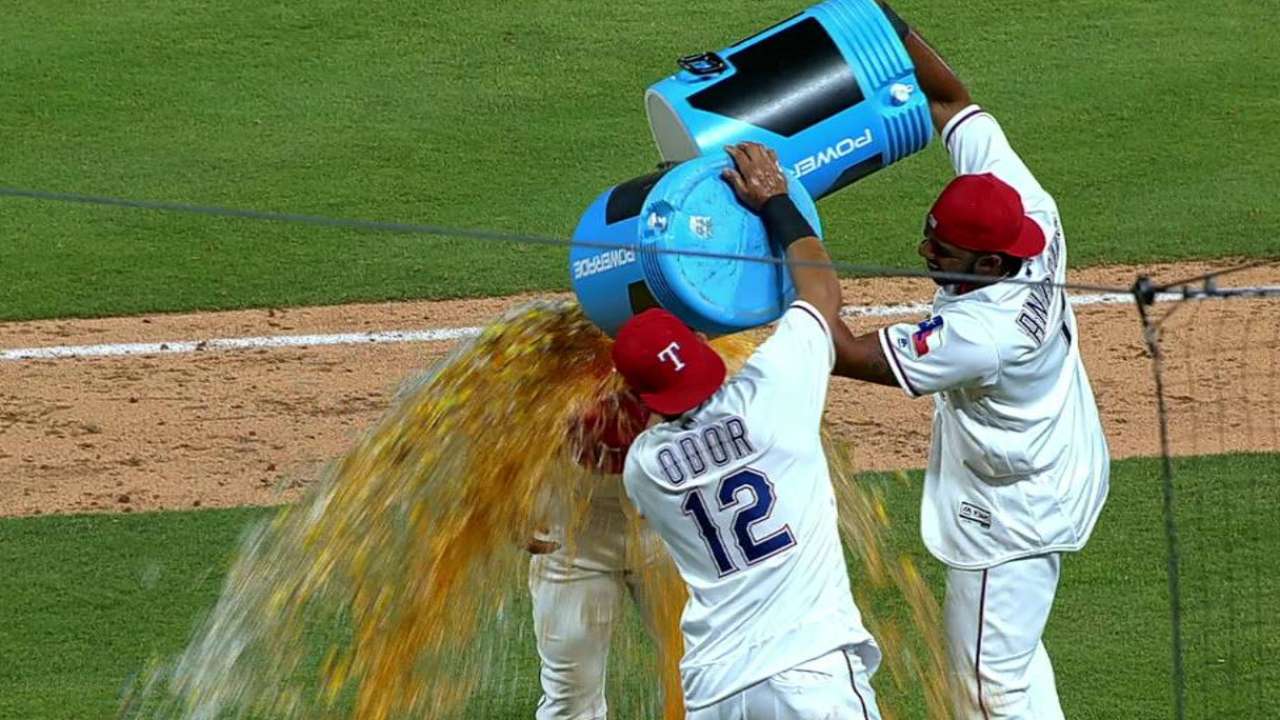 ARLINGTON -- The Rangers have come away with three late-inning comeback wins in the last four games. But Tuesday's 13-11 victory over the White Sox that ended four hours and 40 minutes after first pitch amazed even them.
The Rangers trailed, 11-6, going into the bottom of the eighth before rallying with seven runs. Ian Desmond had a two-run triple and Ryan Rua finished it off with a two-out, three-run home run.
"A great feeling, a great team win," Rua said.
"That was so sweet, actually," shortstop Elvis Andrus said. "It's in my top 10 wins of my whole career. An amazing team job. From top to bottom, we didn't give up."
This was the Rangers' largest comeback win since overcoming a six-run deficit against the Angels in an 11-10 victory on Aug. 1, 2012. Tuesday's game was delayed after the second inning for one hour and 18 minutes, and the Rangers trailed, 10-5, after four innings.
From that point on, it seemed like both teams just wanted to get the game over with until the Rangers struck hard in the eighth inning.
"That was awesome," first baseman Mitch Moreland said. "You can't draw it up like that. A complete team effort, grinding it out like that. … The rain delay, getting behind. We just continued to grind it out. We've done it before and we did it again against a good team.
"Everybody contributed. That's one you don't forget."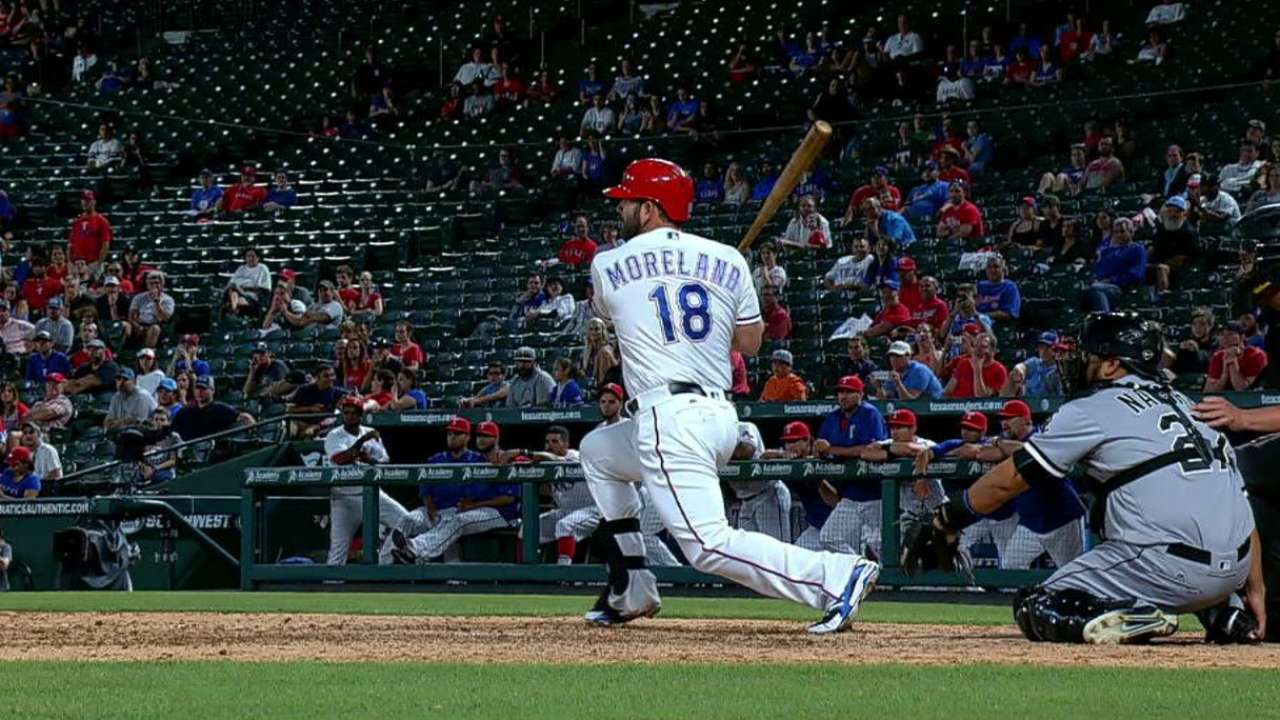 The Rangers wiped out a 5-2 deficit through five innings on Saturday against the Tigers and 2-0 deficit on Sunday to complete a three-game sweep in Detroit. They also put on game-tying rallies in the eighth and ninth on Monday against the White Sox before losing in extra innings. They finished off this comeback.
"It all started in Spring Training," Desmond said. "We made a commitment to grind it out, whether it's the first game or the 34th game. We're all in. It's going to be an exciting summer."
Desmond started the Rangers' comeback with a seventh-inning home run off White Sox starter Carlos Rodon. But the White Sox added one in the top of the eighth to regain a five-run lead with six outs to go.
Then came the Rally of the Year.
"It was a challenge, but this group is special," manager Jeff Banister said. "They feed off each other, the at-bats in front of them and the plays in the field. It's a belief system. They never felt at any time that they were out of it."
Andrus led off the eighth inning with a single off right-handed reliever Scott Carroll, and Bryan Holaday doubled down the left-field line. Nomar Mazara then pinch-hit for Drew Stubbs and worked a walk to load the bases.
Moreland pinch-hit for Delino DeShields, and the White Sox countered with left-hander Zach Duke. But Moreland singled up the middle to make it 11-7. It was the first hit by a Rangers pinch-hitter this year.
Duke struck out Rougned Odor, and right-hander Matt Albers took over. Adrian Beltre's sacrifice fly made it 11-8, and Desmond followed with a two-run triple before a walk to Prince Fielder brought up Rua.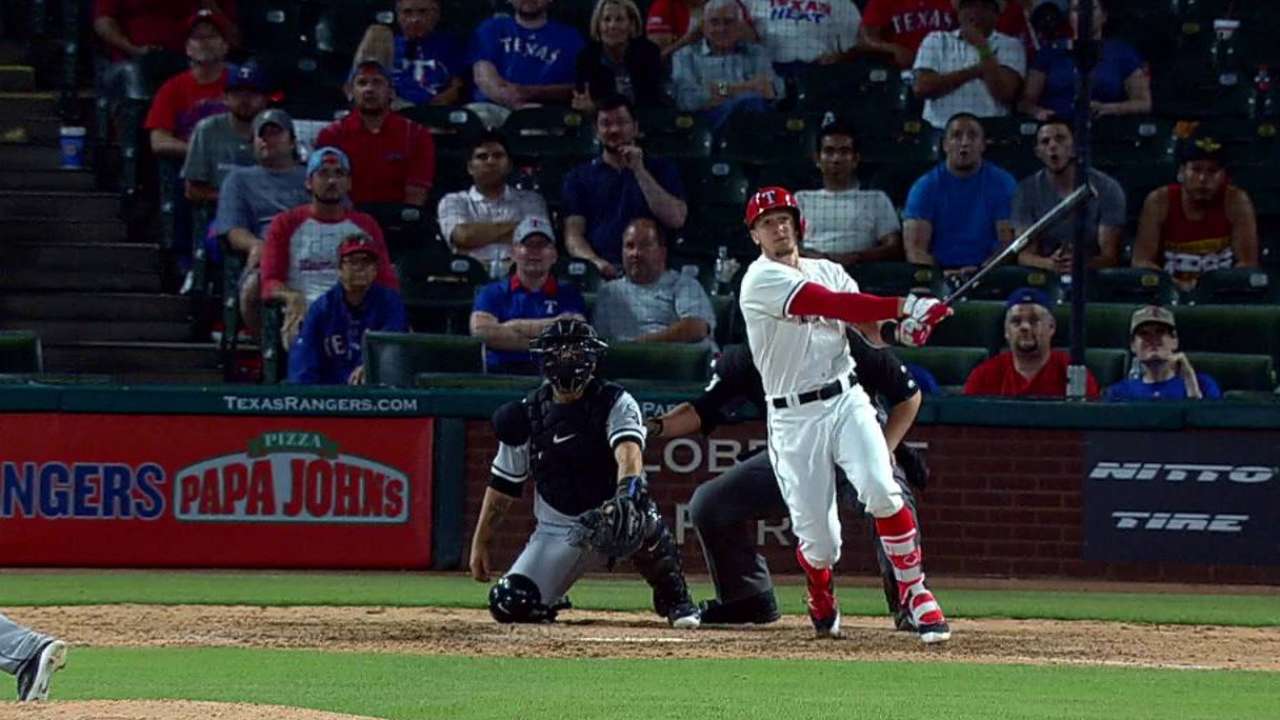 Rua fell behind before crushing a 1-2 sinker halfway up the hill beyond center field to put the Rangers ahead.
"An incredible at-bat from him," Banister said.
It was an incredible at-bat to finish off an incredible rally and an incredible win.
T.R. Sullivan has covered the Rangers since 1989, and for MLB.com since 2006. Follow him on Twitter @Sullivan_Ranger and listen to his podcast. This story was not subject to the approval of Major League Baseball or its clubs.