Confidence remains high in Rangers' bullpen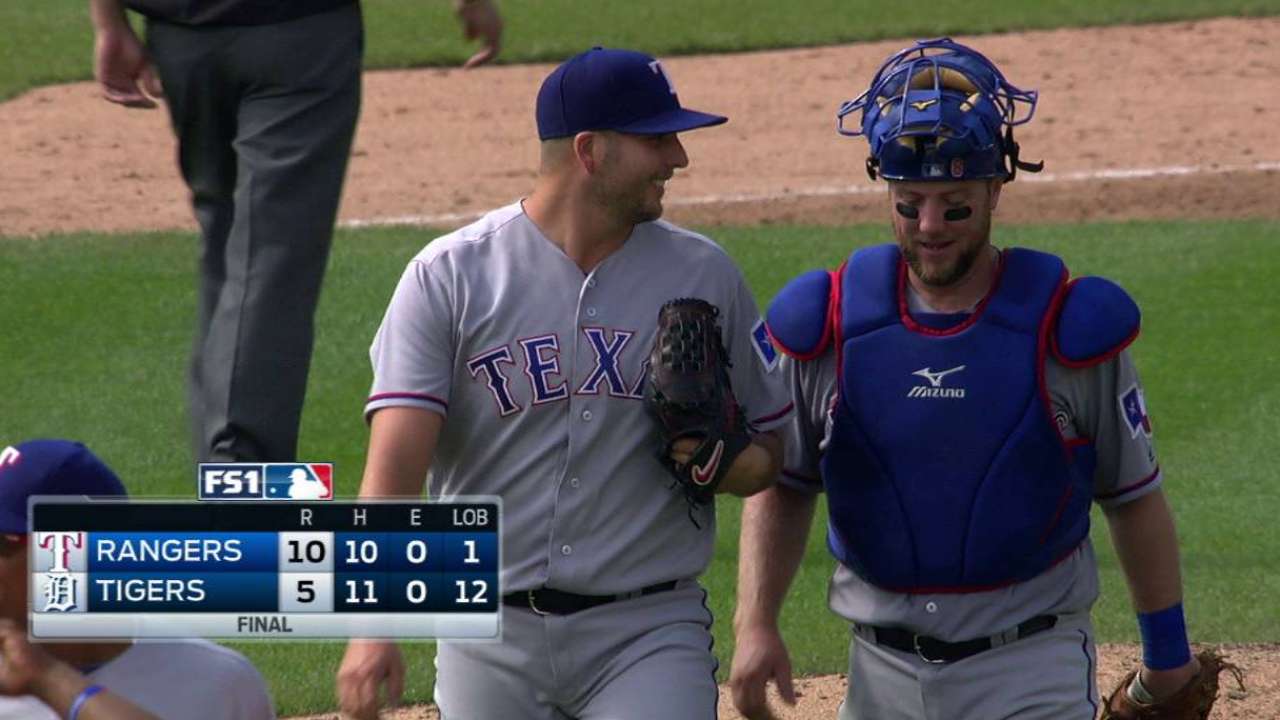 ARLINGTON -- Rangers relievers began the season with high expectations and confidence. That has not changed, even though their early-season performance has not been what was expected after what the Rangers received from their bullpen at the end of last season.
"We're definitely still confident, and it's fair to say we have high expectations," closer Shawn Tolleson said. "Yeah, I mean, I speak for myself, I haven't performed like I want to do to start the season. We're not worried. We are going to keep going out there and throwing, take care of ourselves, show up ready to pitch and expect the results to change."
Rangers relievers went into Tuesday's game against the White Sox with a collective ERA of 4.89, the highest in the American League. They had a 3.01 ERA in their final 56 games of the 2015 season. Rangers relievers had also allowed a .286 opponents' batting average and 1.75 home runs per nine innings through their first 33 games, as opposed to a .226 average and 0.84 home runs per nine innings in the final 56 contests last year.
The Rangers had lost three games when leading after seven, were 0-4 in extra innings games and 0-7 when the game was decided in the last at-bat. Their 10 relief losses were tied for the most in the Majors. Rangers starters were 13-5, while the bullpen was 5-10.
"We still have high expectations," manager Jeff Banister said. "We're one man short [Keone Kela] from that core group last year. Obviously if you look at the won-loss, our starters have done a good job. We've got to be able to hold on to games."
The Rangers have had to rely on their bullpen because they had scored just 11 more runs than their opponents through 33 games, and 18 of 33 games have been decided by three runs or fewer. Rangers relievers had made a combined 105 relief appearances, second most in the AL, going into Tuesday.
"These have been razor-thin games," Banister said. "They've been pitching quite a bit, and asked to do a lot. I look at it as the start of the second week of the second month of the season. Can we do a little better win-loss? Absolutely. Do we need to be better? Yes. The expectations are still there."
Some of the numbers are skewed by a few bad numbers. Rangers relievers have allowed six-plus runs in five of 33 games. Their relief ERA in the other 28 games is 2.44.
Tolleson has a 5.84 ERA on the season because he allowed five runs without retiring a batter in a blown save against the Mariners on April 6. He has a 2.38 ERA with one blown save in 11 appearances since then.
Rangers beat
• Outfielder Nomar Mazara was out of the starting lineup on Tuesday for only the second time since being called up on April 10. He had started in 26 of 27 games before Banister gave Drew Stubbs his first start on Tuesday. Banister wanted the extra right-handed hitter with left-hander Carlos Rodon pitching for the White Sox.
• Banister also dropped Prince Fielder to the No. 5 spot against the left-hander. It's the first time Fielder has batted lower than fourth in three seasons with the Rangers. Fielder snapped an 0-for-16 with a sixth-inning single on Monday but is hitting .180 in his last 16 games. His last home run was on April 19 against the Astros.
• Third baseman Adrian Beltre had an error reversed by Major League Baseball from Sunday's game in Detroit. James McCann was given a hit instead, and Beltre went into Tuesday with a restored 43-game errorless streak.
• Rangers outfielder Shin Soo Choo, on the disabled list with a strained right calf muscle, was 1-for-3 with a walk in his first extended spring game on Tuesday. Choo was running at about 70 percent.
T.R. Sullivan has covered the Rangers since 1989, and for MLB.com since 2006. Follow him on Twitter @Sullivan_Ranger and listen to his podcast. This story was not subject to the approval of Major League Baseball or its clubs.