Hamels donates $35K for Dallas-area students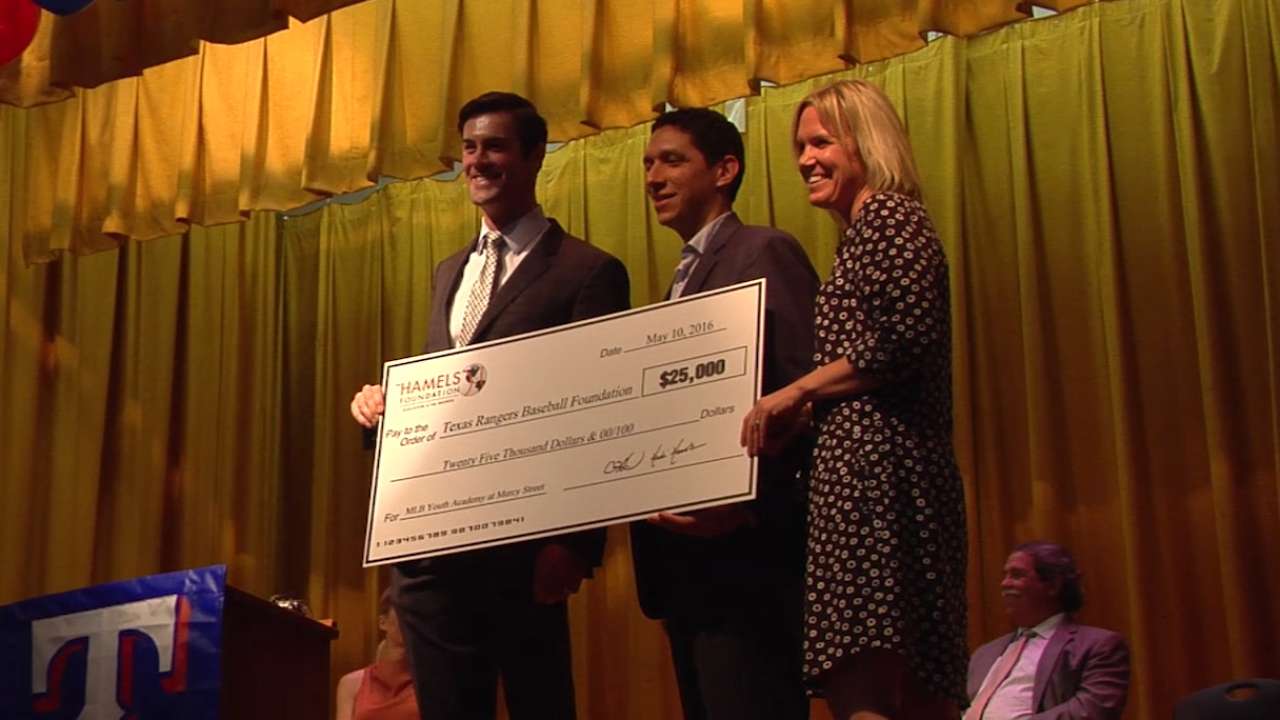 DALLAS -- Amid the tree-lined streets and historic beauty in the Dallas neighborhood of Oak Cliff, Texas, Rangers pitcher Cole Hamels and his wife, Heidi, introduced the first of what they expect to be many charitable endeavors in their new community.
Cole and staff members of the Hamels Foundation were at Winnetka Elementary School to present three educational grants. The Foundation presented a $5,000 grant to Winnetka Elementary for physical education equipment and supplies, $5,000 to Adelfa Botella Callejo Elementary School in East Dallas for a new counseling corner, and $25,000 for new educational classrooms at the MLB Urban Youth Academy in West Dallas.
"We are so thankful for the grant money that we are receiving for our new counseling center from the Hamels Foundation," said Sandra Fernandez, principal at Callejo Elementary. "The counseling center will be a haven for all students and parents to engage in purposeful interventions to bring about change and to empower students and parents to make decisions that impact them at school and beyond, positively."
Hamels made the presentation in the Winnetka Elementary auditorium filled with students. Rangers general manager Jon Daniels and Dallas schools superintendent Michael Hinojosa were among those in attendance in a culturally significant neighborhood -- the site of the first 7-Eleven convenience store -- that has enjoyed a tremendous revival and restoration over the past two decades.
To the side of the stage was the school's trophy case, filled with symbols of Winnetka's proud accomplishments in robotics, academics, baseball, chess and cheerleading. They are a reminder of what educational grants like the one from the Hamels Foundation can help accomplish.
"I can't thank the Hamels Foundation enough," said Cassandra Benavides, a teacher at Winnetka. "I am so excited and appreciative of this opportunity to improve my PE program and the lives of our students."
Hamels said the Foundation considered a number of inquiries before selecting Winnetka and Adelfa Botella Callejo to receive the grants.
"Both schools really stood out," Hamels said. "A lot has to do with the staff, teachers and principals. They are the ones that really make it happen. They don't have their hands out, but they are willing to accept our help, so we can help them achieve their goals."
The Hamels established their Foundation in 2009, and it has awarded over $3.6 million in grants, both here in the United States and in the African country of Malawai. Much of the grant money is directed toward educational needs for children.
"We want to reach the most people," Hamels said. "We thought that providing curriculum and [educational] programs really reach a far greater demographic than anything. We've had a lot of schools that have requested grants. The way we like to do it is we want to make sure it is sustainable. This is something we are excited about that we are able to introduce."
The Foundation had a strong presence in the Philadelphia area while Hamels was pitching for the Phillies. Cole and Heidi want to have a similar impact in the Dallas-Fort Worth area.
"We like to support where we are playing and where we are living," Hamels said. "Philadelphia is a tremendous city, and a tremendous start for my career and where we were living. We were able to accomplish some pretty great things. It was because of their support that made us want to give back and allowed us to bring up the Foundation and get it to where it is today.
"Now, being here in Dallas-Fort Worth area, we want to emulate what we were able to accomplish in Philadelphia. We have really been able to reach a lot of children. We have a huge potential for reach in this area, just because of the support they give the Rangers."
T.R. Sullivan has covered the Rangers since 1989, and for MLB.com since 2006. Follow him on Twitter @Sullivan_Ranger and listen to his podcast. This story was not subject to the approval of Major League Baseball or its clubs.