Sarah's Take: Dodgers' rotation has room for improvement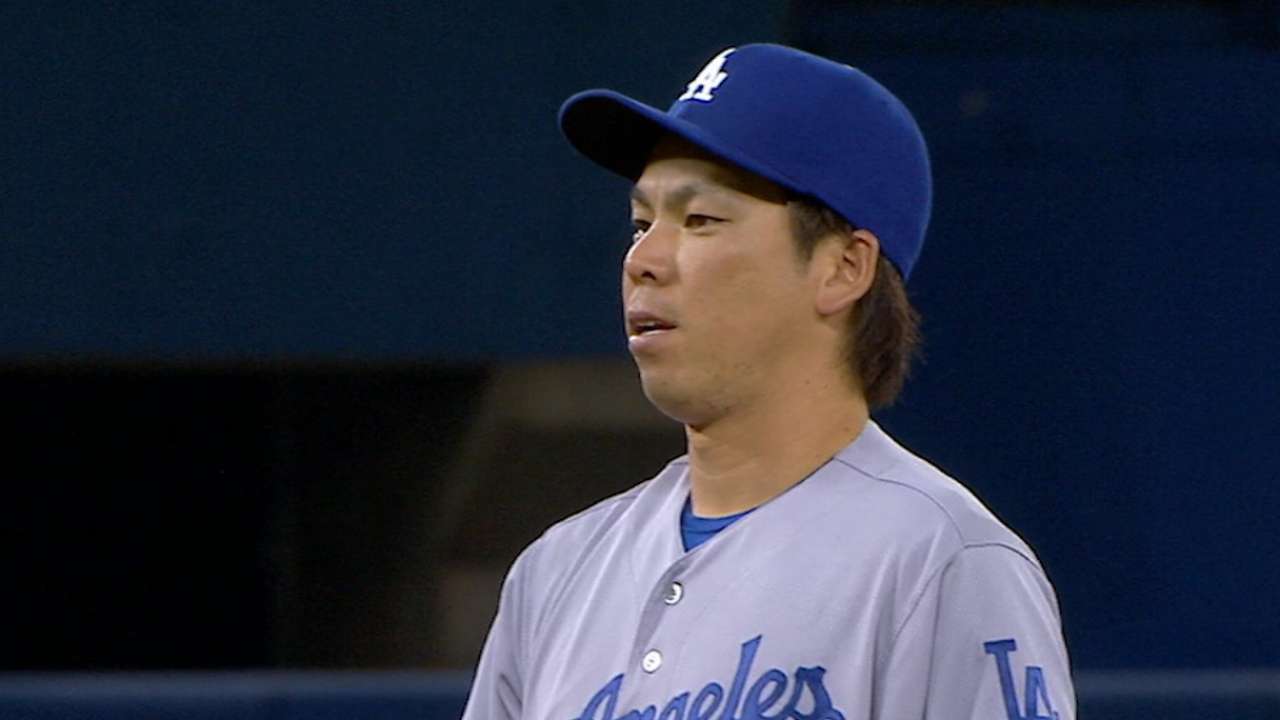 Since the Dodgers moved from Brooklyn to Los Angeles, they have relied on having good pitching. This season, after the first series with the San Diego Padres, they have had problems with their starting rotation. Although the Dodgers enter play Tuesday tied for first place with the San Francisco Giants, their starting pitching must improve as they enter a tough portion of their schedule.
The Dodgers have only one off day in the next four weeks.
Although the Dodgers' ERA is fourth lowest in the National League, this stats is misleading. Both Kenta Maeda (1.66) and Clayton Kershaw (2.04) are in the top five in the NL in ERA for starting pitchers.
Maeda has been a pleasant surprise for the Dodgers. Japanese pitchers who come to the Majors can face a tough adjustment period, but Maeda has had an successful transition. The likable 28-year-old has adapted to a five-day rotation. In his first two starts, he didn't allow a run. Pitching in Colorado didn't seem to faze Maeda as he didn't allow a run in 6 1/3 innings.
The key to Maeda's early success has been his amazing control. Over 38 innings, he has issued 10 walks. He knows how to change speeds effectively to keep the batters off balance. His sharp 12-to-6 curveball is his best pitch, but his four-seam fastball complements it well. Although Maeda is classified as a rookie by MLB, his experience in Japan has taught him to have a feel for his pitches. If something isn't working, he quickly adapts.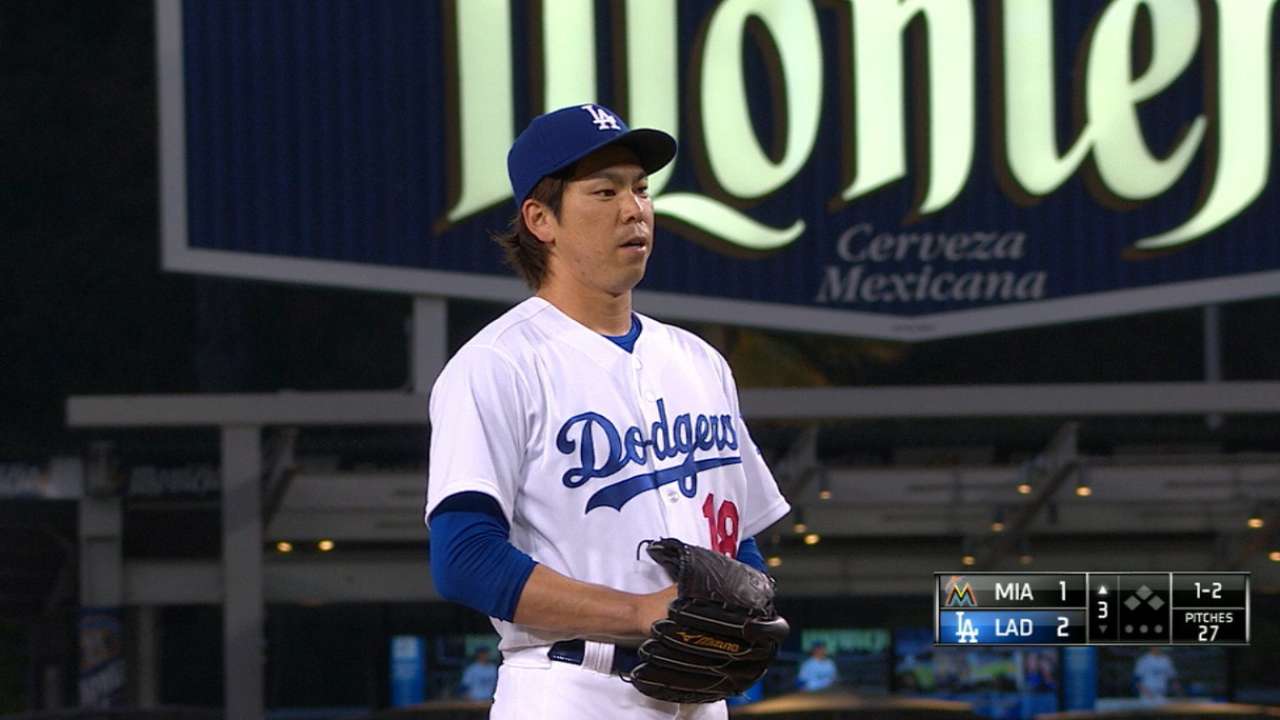 Kershaw is still proving why most baseball people think he is the best pitcher on the planet. Even when he struggles, he finds a way to keep his team in the game. If the Dodgers score at least 4 runs in a game that he has pitched, the Dodgers haven't lost during his career. Although Kershaw gets many strike outs, he doesn't waste pitches enabling him to go at least six innings a game, and this gives the Dodgers bullpen a break.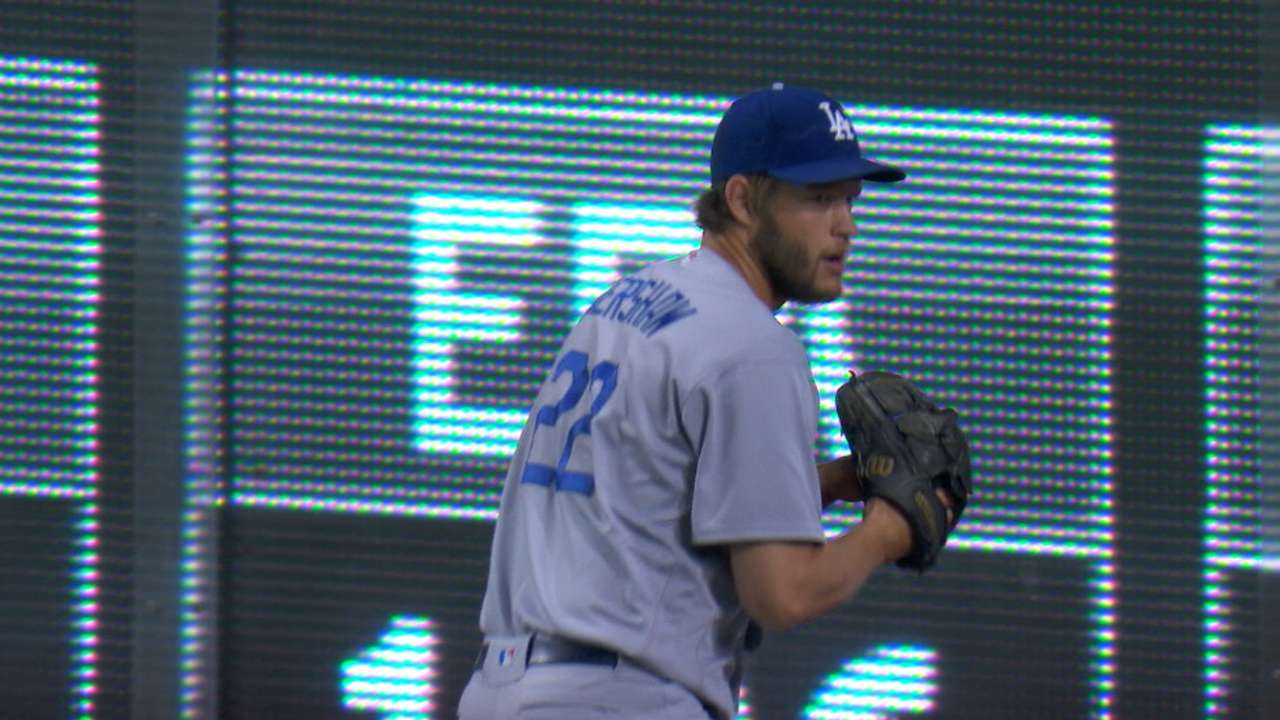 This past offseason, the biggest acquisition to the Dodgers' starting rotation was Scott Kazmir. After the 2015 season when he had the fourth lowest ERA in the American League, giving Kazmir a three-year, $48 million contract seemed to be a smart move for the Dodgers. However, he he's stuggled in a Dodger uniform. He has a 5.54 ERA and has averaged only 5.3 innings per start. Although people thought Kazmir had completed a successful transition from a power pitcher to a finesse pitcher, he hasn't looked comfortable on the mound this season.
Since Kazmir's velocity is down, many people have questioned if he's healthy. Kazmir insists he is. Knowing he has had a difficult adjustment throwing to unfamiliar catchers, the Dodgers have been patient with him. Many pitchers have had trouble adjusting to a different league, and Kazmir has spent his entire career in the AL. He needs to improve quickly since he is the last veteran in the Dodgers' starting rotation.
Injuries have forced the Dodgers to use two youngsters in the rotation. Both Alex Wood and Ross Stripling have been good at times and toiled at times. Both have talent but don't want to attack the strike zone, so they use a lot of pitches to retire each batter. Allowing the batter to see many pitches diminishes the mystery, so the batters hit them hard. Nibbling at the strike zone doesn't let them go deep in the game, putting more stress on the bullpen.
The Dodgers have several injured starters, but no one knows when or if they will return to the rotation. The Dodgers may need to consider signing Tim Lincecum. Although he has struggled in the recent past, he appears to have recovered from a hip injury. He has experience and knows how to get hitters out. If the Dodgers want to return to the postseason, they must improve their starting rotation soon.
Sarah D. Morris can be reached at sarahmorris27@gmail.com. This story was not subject to the approval of Major League Baseball or its clubs.