Rangers' frustration vs. White Sox continues
Texas winless vs. Chicago this season; dropped two in extra innings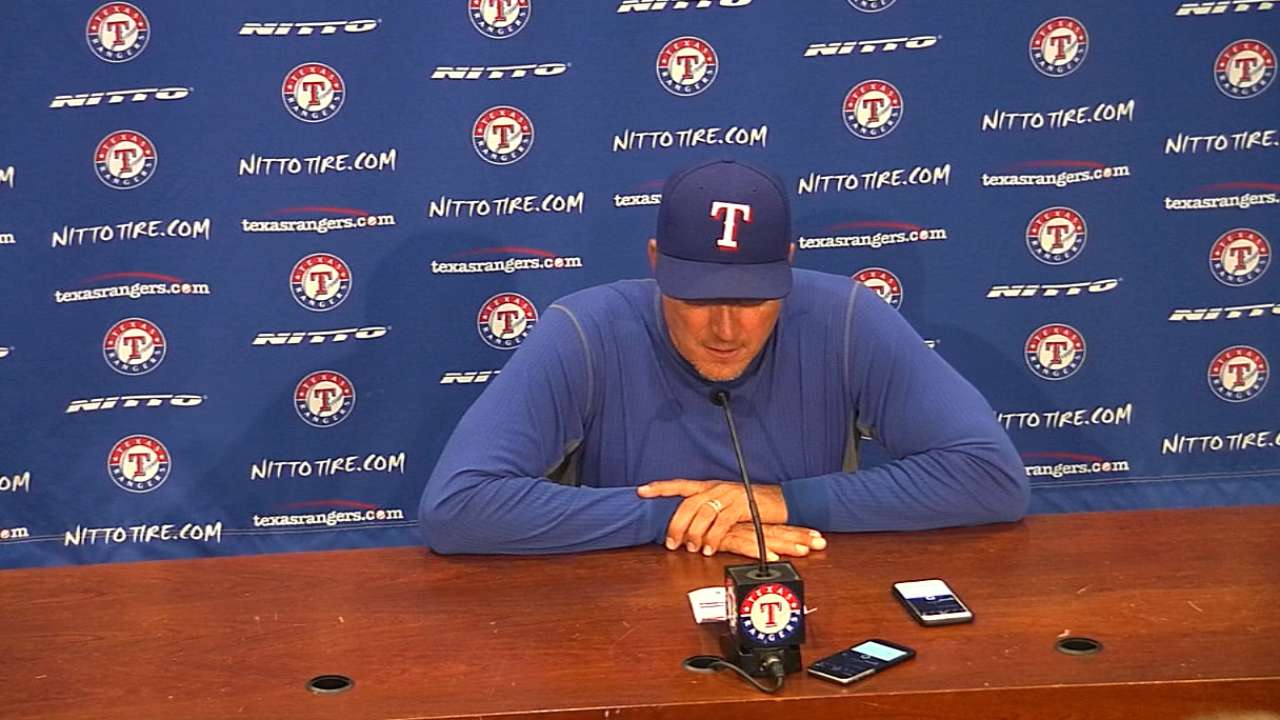 ARLINGTON -- Rangers-White Sox games have been some of the best played and most intense games of the season. The problem for the Rangers is they keep coming up short against the hottest team in the American League.
The Rangers on Monday night rallied in both the eighth and ninth innings to tie the game, but ended up losing 8-4 in 12 innings after Todd Frazier hit a grand slam off left-hander Cesar Ramos.
The Rangers have now lost four straight to the White Sox this season, including two in extra innings.
"Our guys continue to fight back," Rangers manager Jeff Banister said. "It's a challenge. Obviously, our guys are resilient enough to come out and play tomorrow and not let this one affect them. I believe in those guys, but it's definitely a challenge."
The loss came after the Rangers had two come-from-behind wins in Detroit as part of their three-game sweep of the Tigers over the weekend.
"I don't think we're too concerned," starter Colby Lewis said. "We went to Detroit and did what we did there. We're always good about bouncing back and showing our worth. I'm not concerned."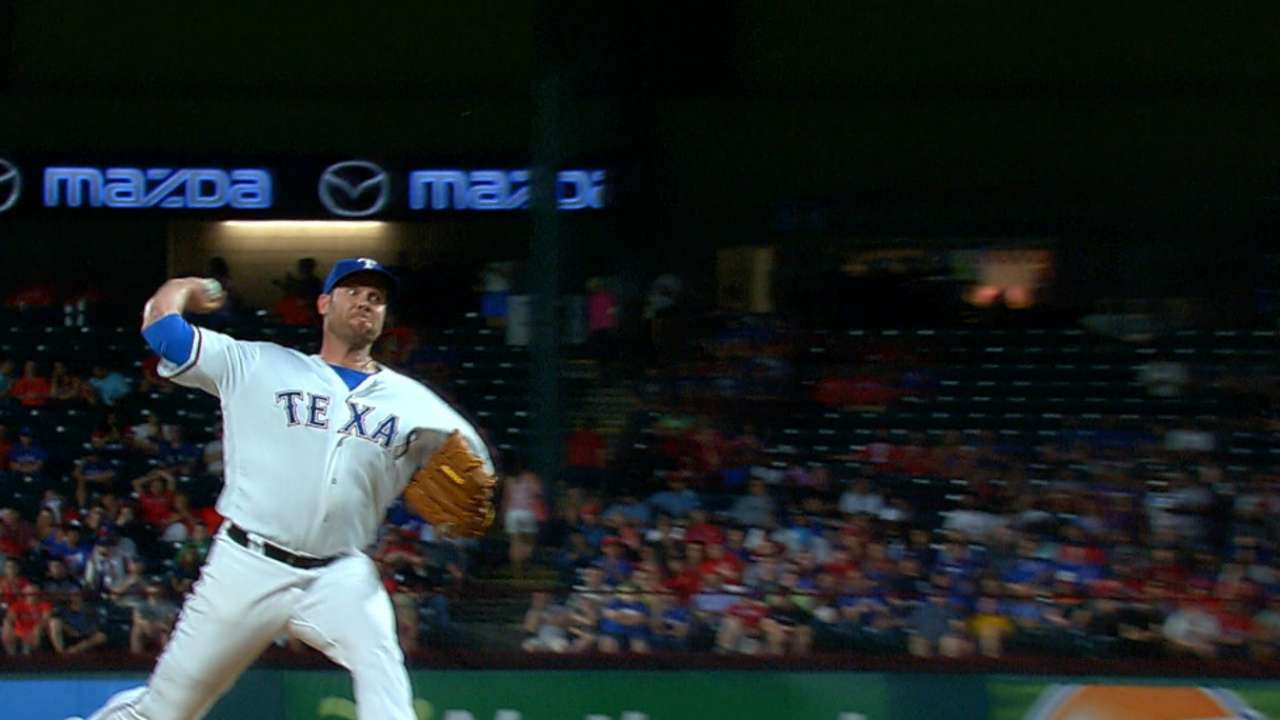 The Rangers are now 3-9 in games decided in the seventh inning or later and 0-7 in games decided in the final at-bat. They are 0-4 in extra-inning games, including the two to the White Sox.
"We didn't give it away, they took it," designated hitter Prince Fielder said. "It was a good game all-around, we just didn't come out on the right end."
Banister was not around for the end. He was ejected in the ninth inning for arguing balls and strikes with home-plate umpire Laz Diaz. Banister was upset that a 2-2 changeup by reliever Shawn Tolleson to Alex Avila wasn't called a third strike.
"You guys look at the game on the monitor," Banister said. "You can come up with your own opinion what I was upset about. I felt our guy executed a good pitch and didn't get the pitch called."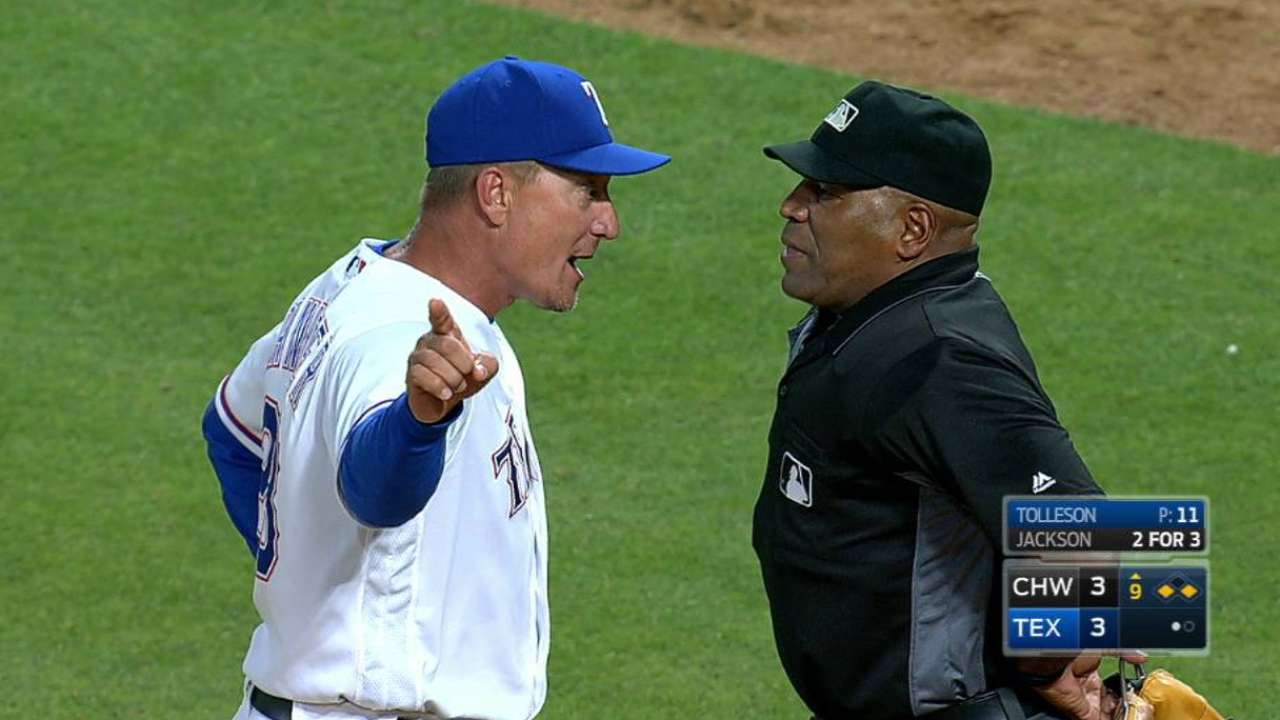 It was just one small drama over the final five innings in a game that really became intense during the Rangers' eighth-inning rally. The Rangers trailed, 3-1, going into the inning but tied the game on a leadoff triple by Rougned Odor, a one-out single by Adrian Beltre and a two-out double by Ian Desmond.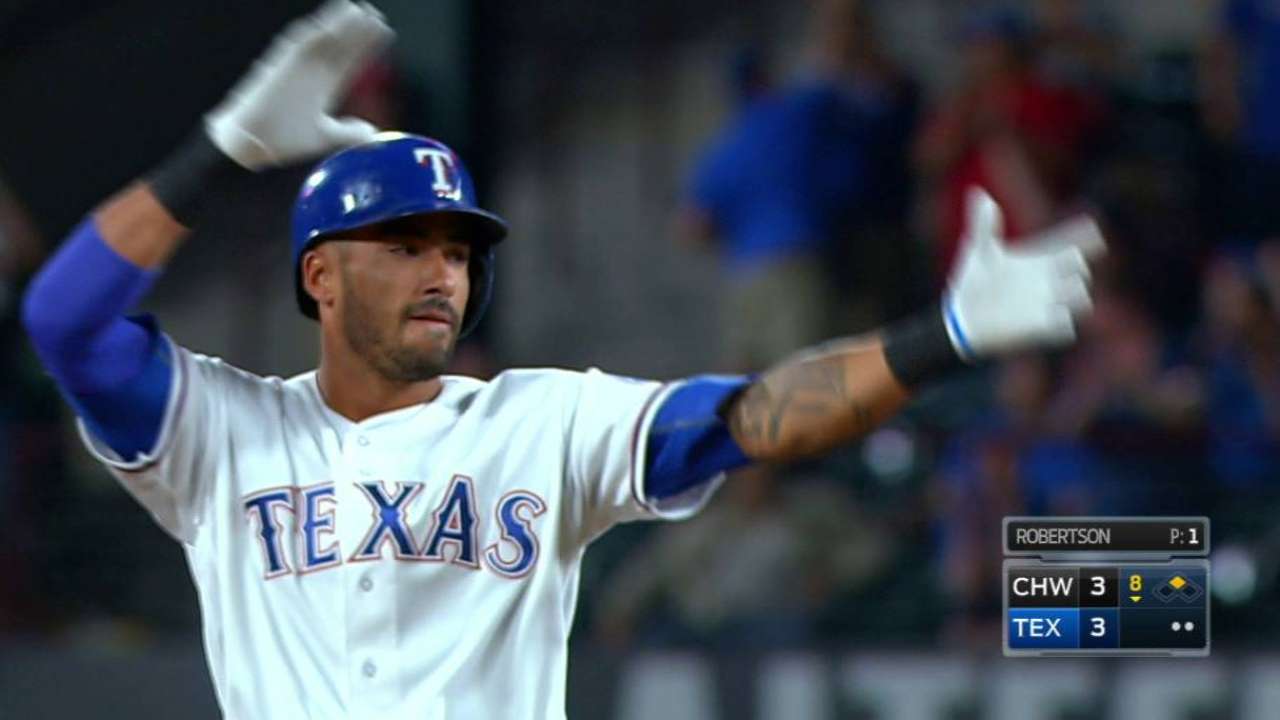 Banister brought in Tolleson for the ninth to keep it tied, but Avisail Garcia got the White Sox started with a one-out single. That brought up Avila and led to the 2-2 changeup that wasn't called a strike.
"I threw a 2-2 changeup up in the zone and he called it a ball," Tolleson said. "I'm a competitor, I'm pitching, I wanted the strike called. I didn't get it. That's all there was to it."
Instead the count went full and Avila ended up with a single to right, putting runners on the corner with one out. Austin Jackson's squeeze bunt brought home the go-ahead run. But the Rangers tied it back up in the bottom of the ninth against White Sox closer David Robertson when Elvis Andrus walked, was bunted to second by Bobby Wilson and scored on a single by Hanser Alberto.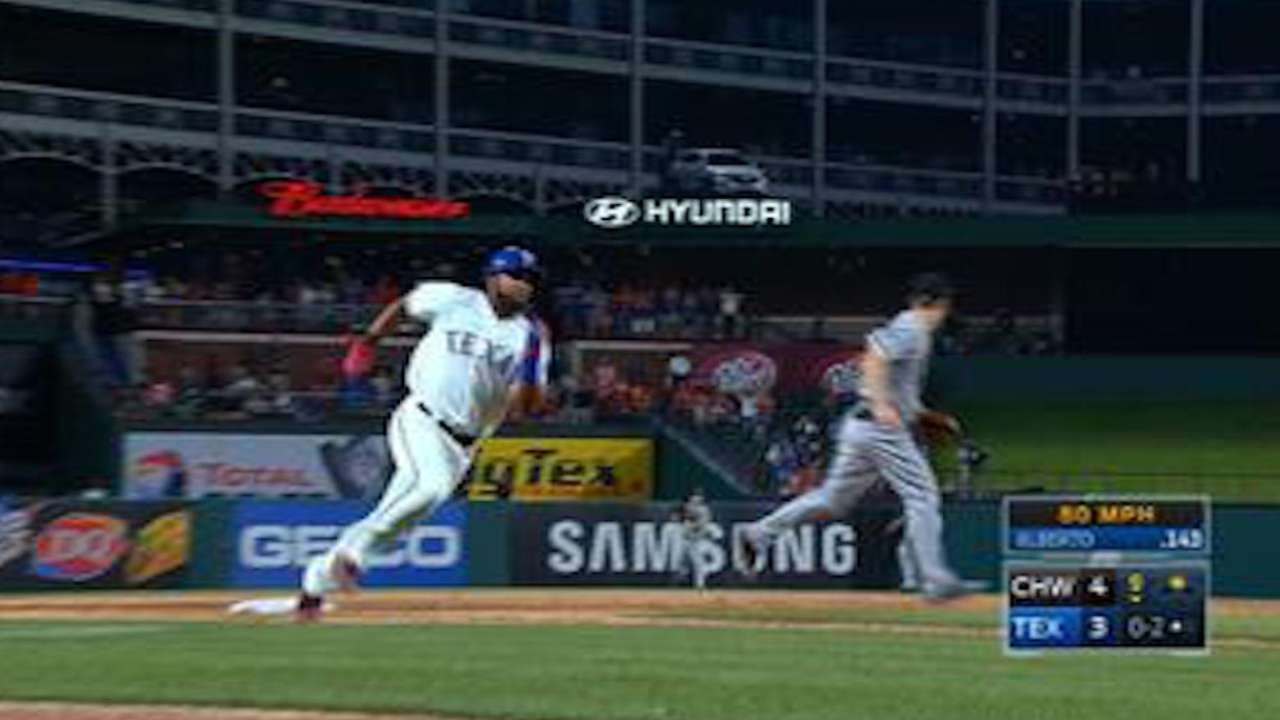 The Rangers also had a chance to win it in the 10th when Mitch Moreland came up with runners at the corners and one out against reliever Dan Jennings. The White Sox brought the infield in and Jennings missed with two fastballs to fall behind 2-0 in the count. He threw one more fastball and Moreland grounded sharply to second baseman Brett Lawrie, who started an inning-ending double play.
"I got in a great position, exactly where I wanted to be, and got the pitch I wanted," Moreland said. "It had a little late sink and I got on top of it. If it had been two steps on either side, it would have been a lot better."
It wasn't and the Rangers came up short against the White Sox again. The two teams have two games left against each other.
"We're a pretty resilient group," Desmond said. "It's all about winning series. We played well tonight, we just didn't get enough."
T.R. Sullivan has covered the Rangers since 1989, and for MLB.com since 2006. Follow him on Twitter @Sullivan_Ranger and listen to his podcast. This story was not subject to the approval of Major League Baseball or its clubs.