MLB.com Columnist
Mike Bauman
Legend of Strasburg grows with contract extension
Nationals open up their checkbook to keep ace for forseeable future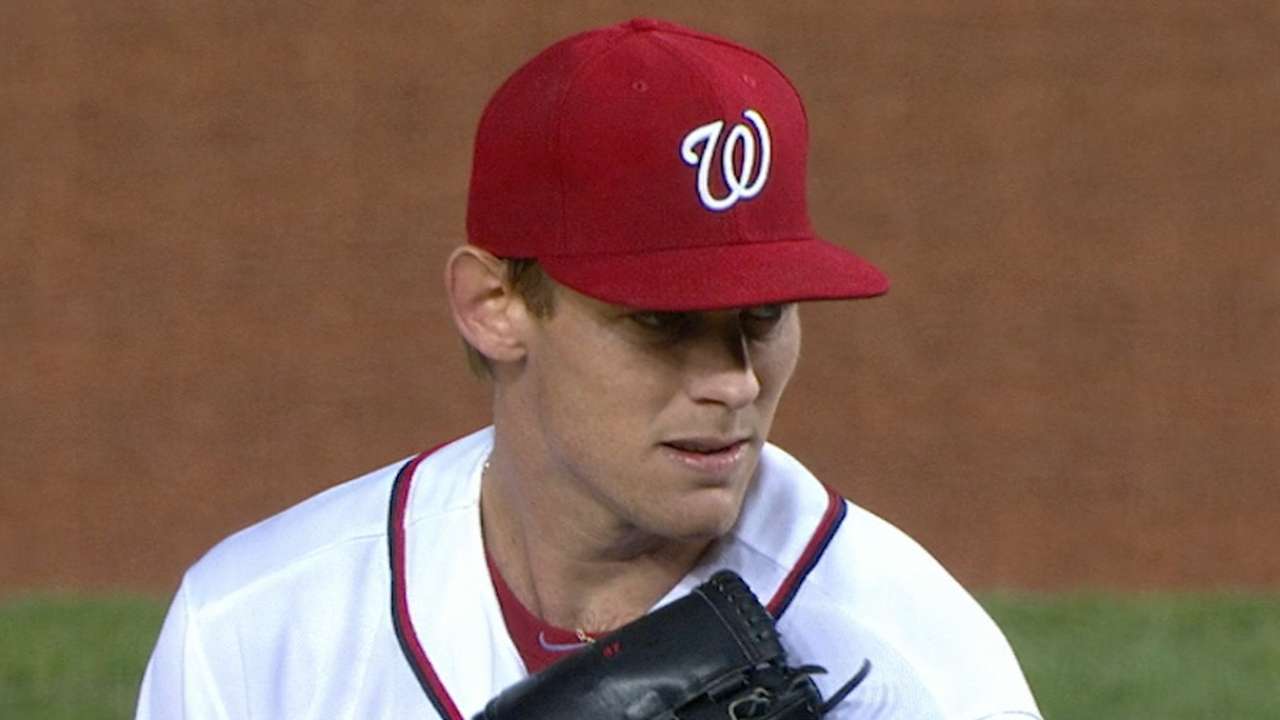 WASHINGTON -- The career of Stephen Strasburg was supposed to be the stuff of legend. There is still time for this to happen.
In any case, the Washington Nationals are going to pay Strasburg the kind of money that the near-great pitchers of this era are paid. He has agreed to a seven-year, $175 million contract extension with the club. Without the extension, Strasburg could have become a free agent after this season.
It is not quite Max Scherzer money, or Clayton Kershaw money, or Zack Greinke money. But this deal has an average annual value of $25 million. It will very comfortably take Strasburg, who will turn 28 in July, into his mid-30s.
This might seem a tad generous for a pitcher who has made more than 30 starts in just one season and has pitched more than 200 innings in just one season. But this is Strasburg, the No. 1 Draft choice in 2009, who came out of San Diego State proclaimed as the best starting pitching prospect in a decade.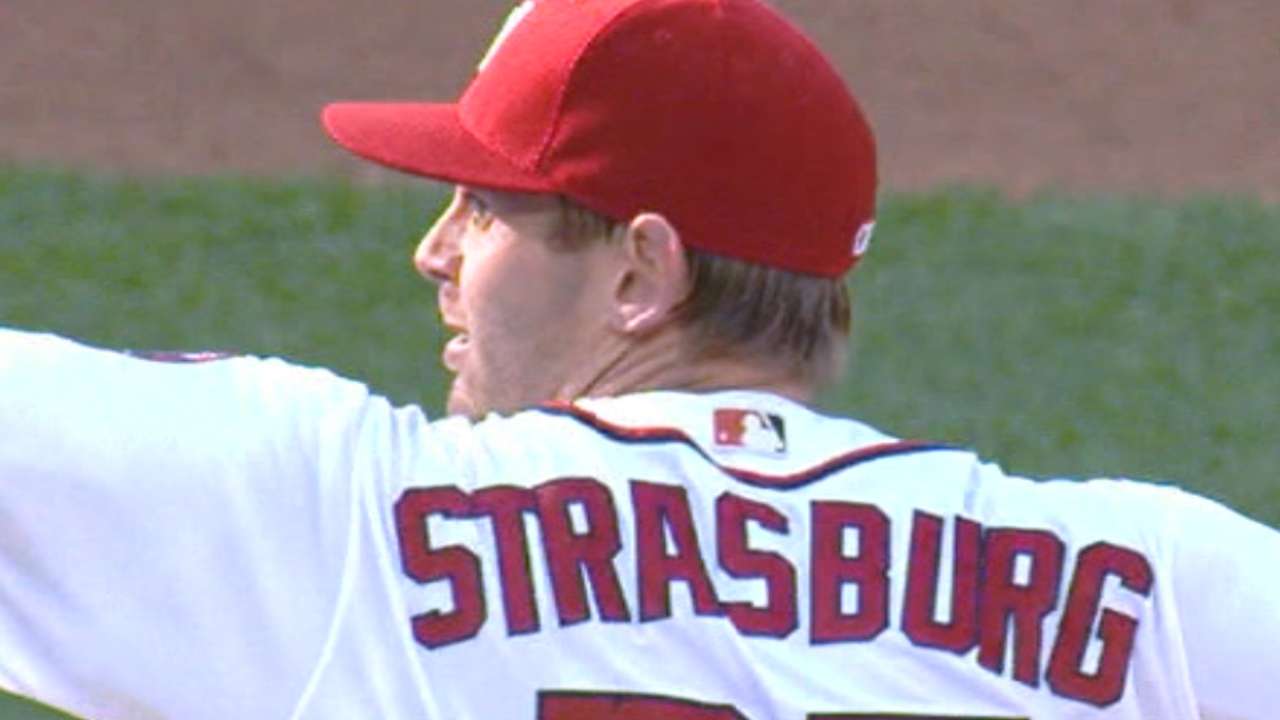 And what weighs in on Strasburg's side of the argument is the fact that he is having the best beginning to a season in his Major League career. He is 5-0 with a 2.76 ERA in seven starts. Strasburg has struck out 59 in 49 innings. Even more to the point, the Nationals are 7-0 in those starts.
Monday night, with the Nats returning from a four-game sweep at the hands of the Chicago Cubs, Strasburg had to play the role of the stopper against the Detroit Tigers. The Tigers were coming in hungry themselves. They had been seen, as usual, as legitimate contenders, but had lost their past six games.
Strasburg was not great here, but he was a portrait of persistence. He gave up a pair of two-run homers; one in the first and one in the fifth. But Strasburg stayed through the seventh and faced one batter in the eighth. He was still strong enough to strike out the side in the seventh, finishing the night with 11 strikeouts. Strasburg has averaged seven innings per outing this season, an invaluable contribution that is deeply appreciated by his manager, Dusty Baker.
"The main thing is that he's throwing strikes," Baker said. "He's throwing a good changeup. He's got a good breaking ball. He's throwing well with everything. And he's sticking around long enough in the game to get a decision, which I think is very, very important. What I think he's done, as much as anything, is to save our bullpen."
Clint Robinson won the game, 5-4, for the Nationals with a walk-off pinch-hit homer, capping a comeback from a 4-1 deficit.
"It was a grind," Strasburg said of his performance. "I had a couple of pitches that I definitely want back. But I kept trying to turn the page and do everything I can to keep the score where it was. We came back great there at the end.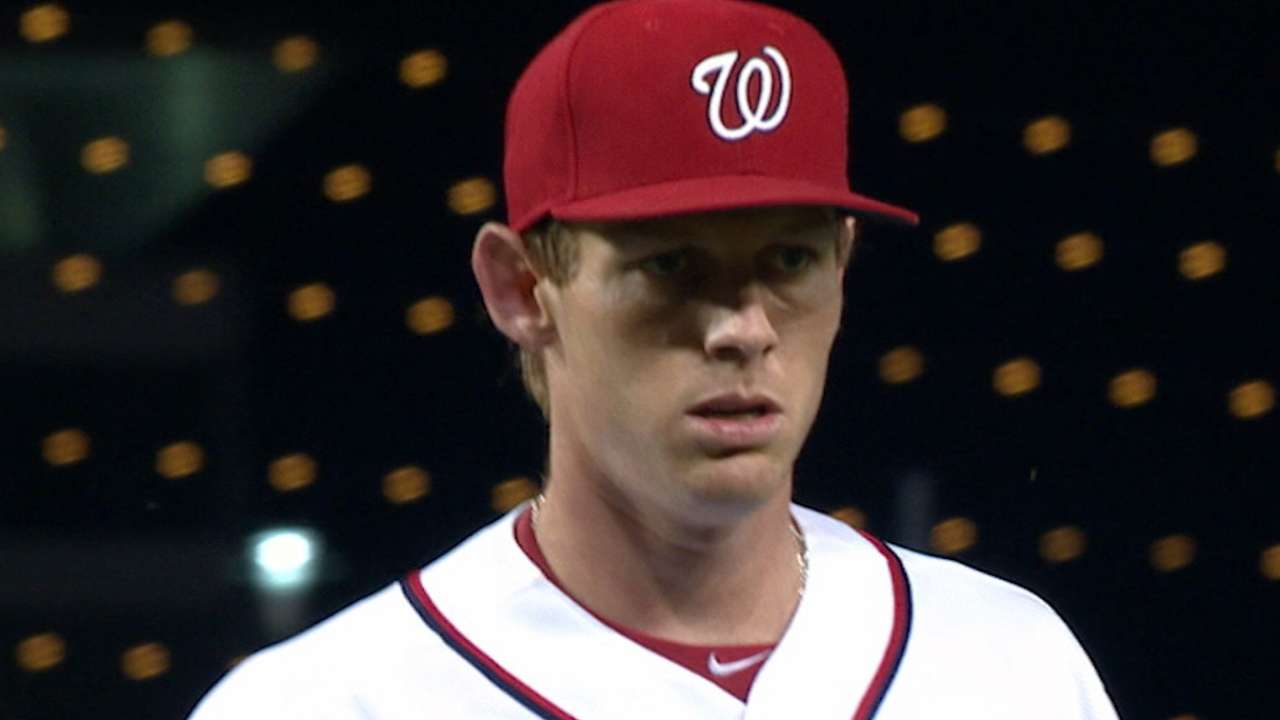 "I don't really have a comment on [the contract extension] right now. I'm just really excited about this game. It was a lot of fun to watch and it was a mental test for all of us. I think we showed that if we stick together and keep playing hard, good things are going to happen for us."
Baker said that Strasburg was still maturing as a pitcher, and making improvements.
"I think he's built some momentum over the offseason," the manager said. "He's come in in outstanding shape. His state of mind is calm, a whole lot better than it used to be, I've heard, where some of the little things don't affect him as much. We had a conversation in the spring about he's no longer an underclassman."
Baker said that he was not aware of the contract extension, but he said he would be extremely glad if the Nationals could retain Strasburg.
"If that's the case, then I'm very, very happy," Baker said.
There is enough happiness to go around with Strasburg's contract extension -- for the pitcher, for the club, for the future of the franchise.
Mike Bauman is a national columnist for MLB.com. This story was not subject to the approval of Major League Baseball or its clubs.