Yanks' offensive outburst could provide spark
'Maybe this gets us going,' Girardi says of New York's 5-homer night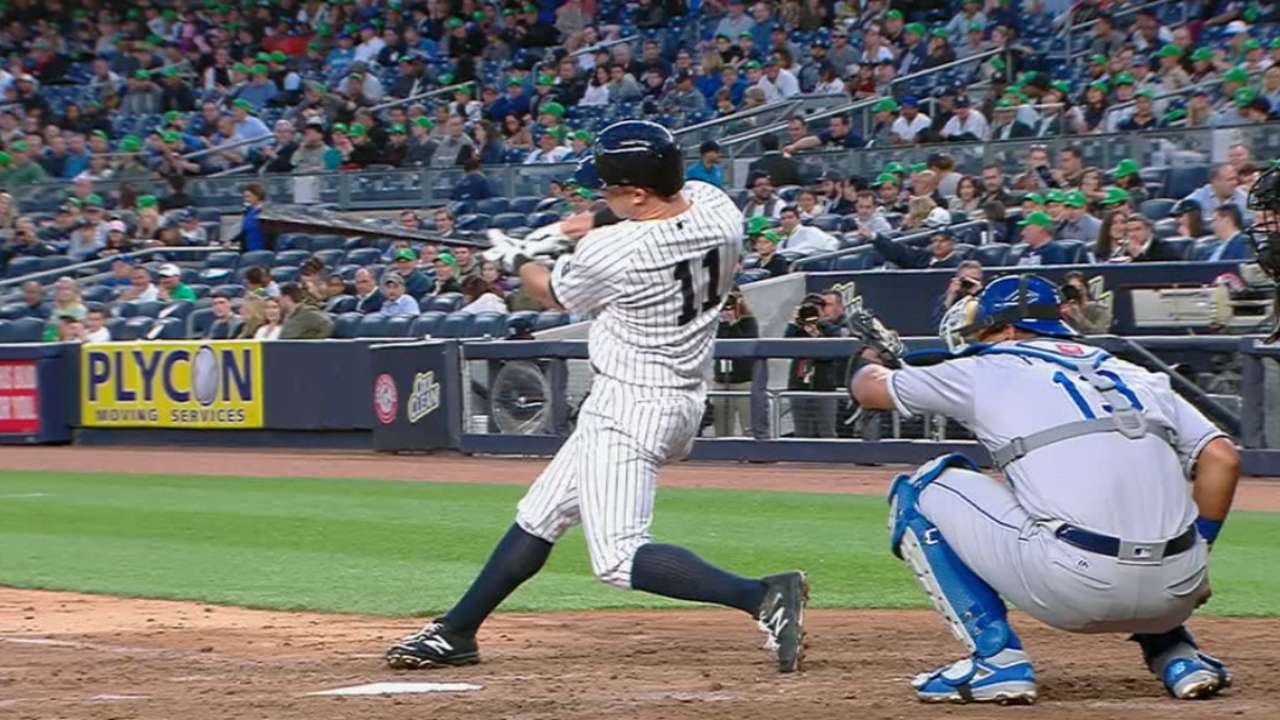 NEW YORK -- If you looked away during the first three innings of the Yankees' 6-3 win over the Royals on Monday night, chances are you missed a home run.
The Yankees' bats clobbered Royals starter Chris Young on Monday night, smacking five home runs to right field and chasing the veteran out of the game after just 2 2/3 innings. Brian McCann started the night off with a solo shot in the first, followed by Carlos Beltran slugging one of his own in the second, Brett Gardner and Aaron Hicks going back-to-back in the third, and finally Beltran crushing another one for good measure. All five blasts were solo, but they provided enough firepower to put the Royals in a deficit from which they could never catch up.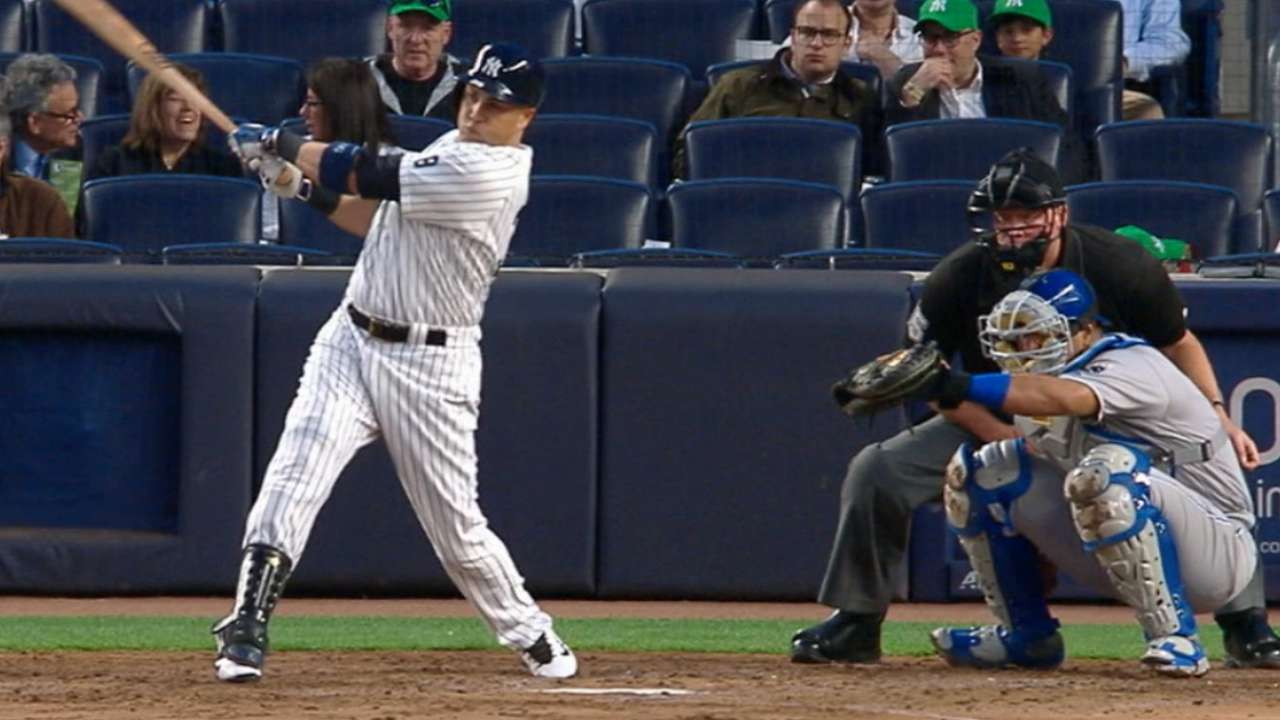 For a Yankees team that had been struggling to produce offensively in recent weeks -- the Yanks had hit five home runs in their past 10 games prior to Monday's win -- the outburst could've been exactly what it needed to break out of a collective team slump.
"That was nice to see," manager Joe Girardi said. "You look up and you have five solo shots and you have a 5-1 lead in the third inning, that's nice to see. It's something that we hit a lot of last year. We have not this year up to this point, but maybe this gets us going."
Through 30 games this season, the Yankees have scored 107 runs and hit 30 home runs. By comparison, through 30 games in 2015, they had already scored 141 runs and hit 36 home runs, meaning this year they're scoring more than one fewer run per game and hitting one fewer home run per five games.
In a lot of ways, this decrease in power and offensive output has been the difference between a team destined for the postseason and a team sitting in last place in the American League East; last year's Yankees were 19-11 through 30 games, while this year's team is 12-18.
But in Beltran's mind, the team shouldn't take the field looking for home runs. Instead, the team needs to ensure consistency in the mental areas of the game.
"Our game is not a home run approach," Beltran said. "Our game is trying to put quality at-bats. Today was a game where we hit homers, but tomorrow we can't come with the mentality of trying to hit homers. We have to have a good approach."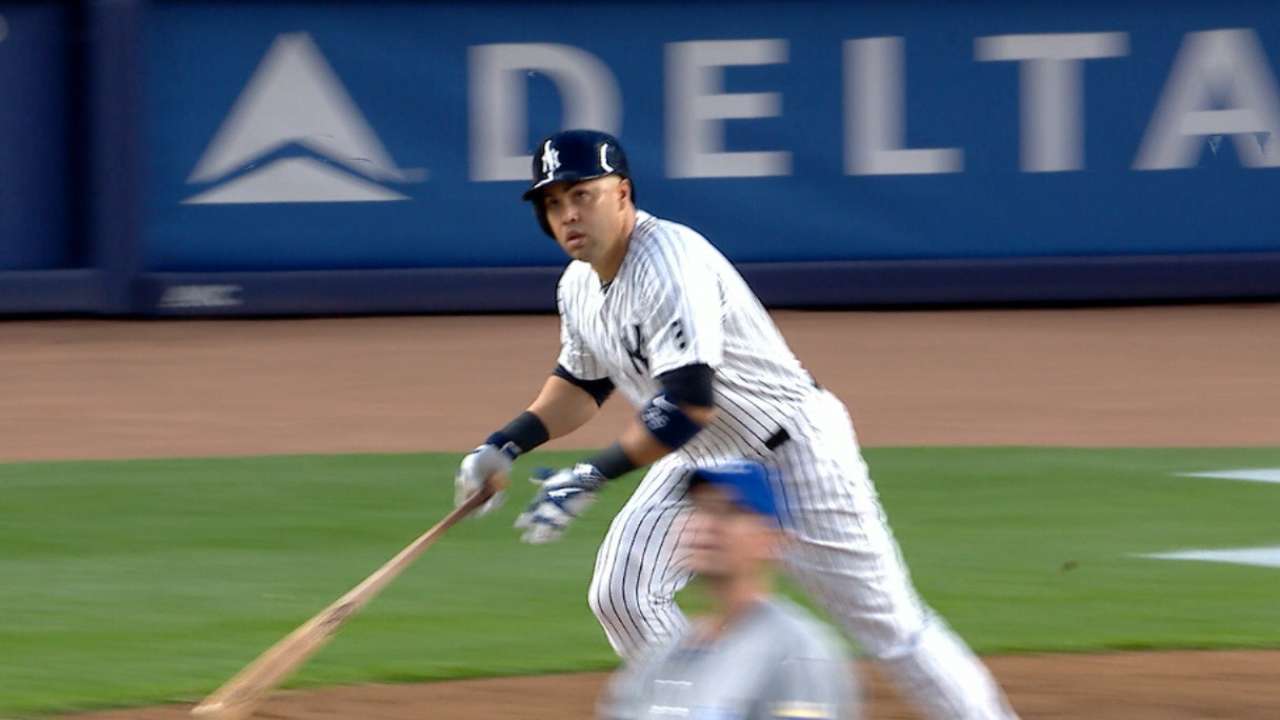 That being said, Monday was a day in particular that the Yankees needed runs any way they could get them, especially early. Ivan Nova was making his first start of the season and was limited on how many pitches he could throw, so providing him an early lead to work with was a huge factor in getting the veteran right-hander into a rhythm.
"I think that helps," Girardi said. "I think it always helps any starting pitcher to know that if you make a mistake, it's not the end of the game."
But just as much as Nova needed the support, the Yankees' offense needed a catalyst for May to go much more smoothly than did April, and McCann thinks Monday might have been it.
"We needed it," McCann said. "We needed to come out and swing the bats. I think we're going to start heating up here soon."
Nick Suss is a reporter for MLB.com based in New York. This story was not subject to the approval of Major League Baseball or its clubs.