High five: D-backs' big 5th inning tops Rox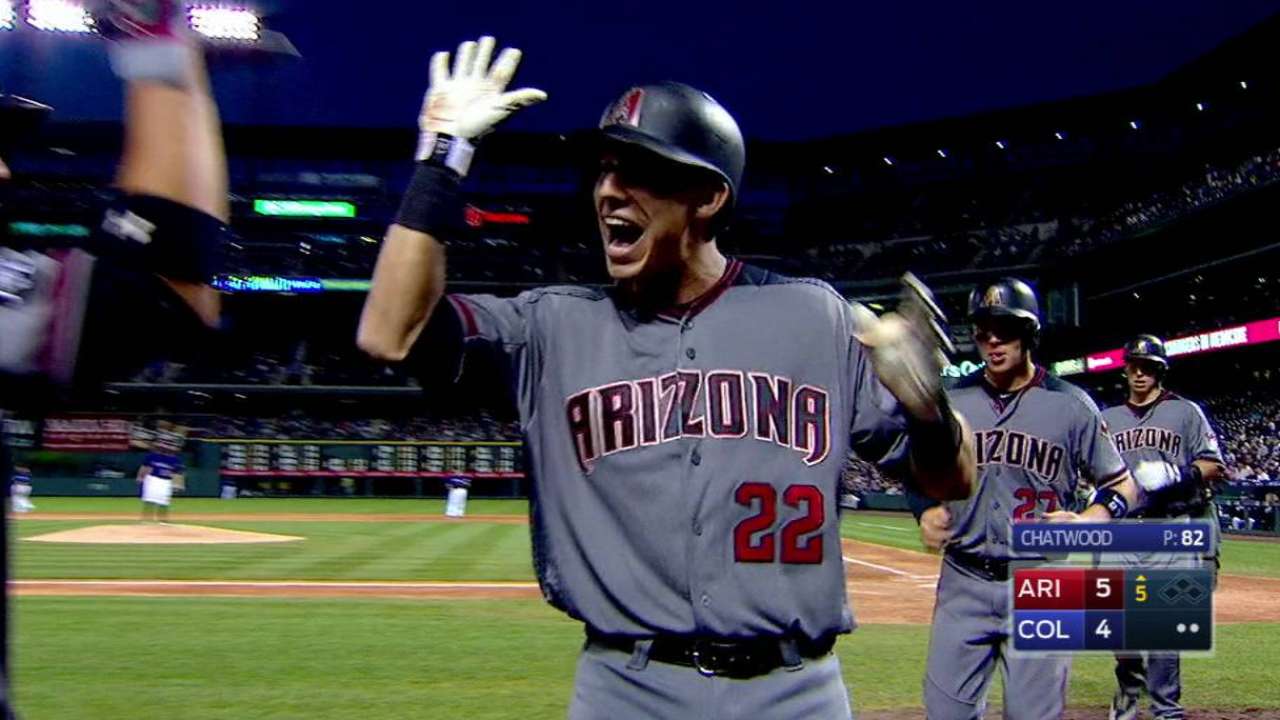 DENVER -- When D-backs manager Chip Hale talked to Archie Bradley before his spot start Monday night he told the rookie that pitching at Coors Field was like being in a prize fight where you have to keep throwing punches and try to hang in there.
If it truly was a fight then it was the D-backs offense that delivered the knockout blow in a five-run fifth inning that helped propel them to a 10-5 win over the Rockies.
"Can't say enough about the offense tonight," said Bradley, who was optioned back to Triple-A Reno following the game. "They picked me up and then I was able to ride it out those last two innings."
The Rockies led 4-1 thanks to a three-run fourth and it looked like they might just be on their way to their sixth victory in seven games against the D-backs.
But that changed quickly a half-inning later when the D-backs put together their five-run fifth off Tyler Chatwood, who had been cruising to that point in the game.
In fact, Chatwood retired the first two batters of the inning before the wheels came off.
Jean Segura homered. Brandon Drury walked and Paul Goldschmidt singled and Jake Lamb brought them both home with a three-run homer. The homer by Lamb was especially nice considering it came on an inside pitch, which has given him trouble during his time in the big leagues.
"I still don't want to swing at it," Lamb said of the inside pitch. "But if teams are going to go there over and over and over and over, there are there are situations like that where if I think they're going to steal a strike inside I'm going to be aggressive. That's kind what I've been working on. Maybe like a first-pitch, they're trying to steal a strike inside and I can pull it and get my barrel there."
Chris Herrmann capped the inning with an RBI triple and the D-backs were able to tack on a pair of runs in the seventh and ninth innings as well.
"Just a good answer back," Hale said of the fifth inning. "We fell behind there 4-1, Archie had some tough luck there with our defense. We just didn't play like we usually do. That wasn't the best that we could do. He came back and threw the heck out of it. Offense came out of it. That one inning was beautiful. Lamb hit the home run, just a lot of good at-bats. That's a good game for us here in this ballpark."
Steve Gilbert is a reporter for MLB.com. Follow him on Twitter @SteveGilbertMLB. This story was not subject to the approval of Major League Baseball or its clubs.