Despite homers, Niese puts together strong start
Starter choosing to 'run with' positives, build momentum from outing vs. Reds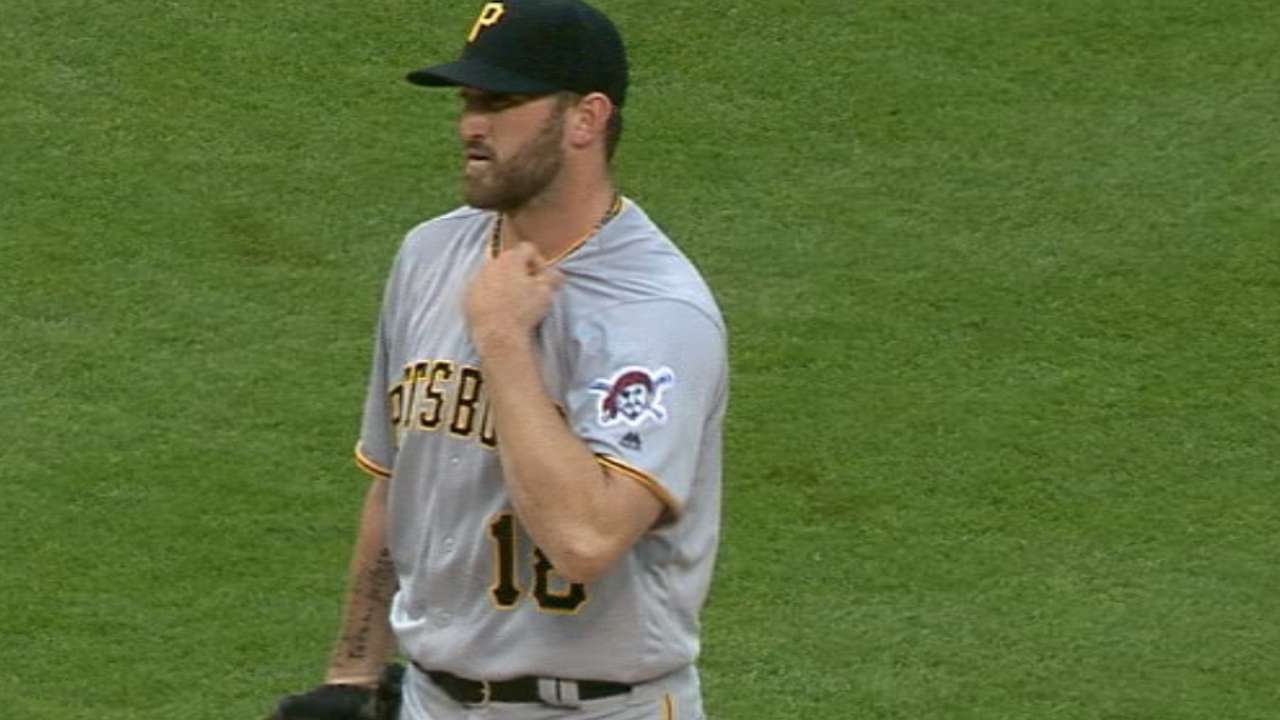 CINCINNATI -- Does Jonathon Niese have a home run problem? Or has he been a victim of circumstance, paying the price for serving up homers in hitter-friendly ballparks?
Niese allowed three solo home runs in the Pirates' 3-2 loss to the Reds on Monday night, a trio of wall-scrapers that went a combined four rows deep into the left-field stands. He's given up 10 homers this season, and seven of them have come in pronounced hitters' parks: Chase Field, Coors Field and Great American Ball Park.
"Obviously 10 is a lot, but I'm not really looking at that stat," Niese said. "I need to get that down -- I can't get it down because it already happened, but I have to eliminate them. Just continue working on keeping the ball down."
Reds leadoff man Zack Cozart launched a curveball two rows deep to left field. In the sixth, Joey Votto lined an outside fastball just over the left-field fence. The next inning, catcher Tucker Barnhart barely cleared the wall for his first homer of the year.
"Not deep, wasn't like they were blasted, but they found the seats," Pirates manager Clint Hurdle said. "That's the reality of it. I thought he pitched so well."
The homers came at an odd time for Niese, who otherwise put together his best start since throwing seven scoreless innings on April 16.
Over his previous three outings, he gave up 15 runs on 29 hits and nine walks over 15 1/3 innings. Niese felt his problems were rooted in issues with his delivery, and he spent the last week trying to fix them.
"Just kept working at it, working at my release point and my mechanics," Niese said. "It's been a long process, but hopefully going forward I can start being a little more consistent with it and get better results."
But what to make of his high home run total? In 40 innings, he's allowed half as many homers as he surrendered in 176 2/3 innings last year.
His home run to fly ball ratio is an unsustainably high 23.3 percent, well above his career average of 11.4 percent. As Niese said, he can't get back the homers he's already allowed -- but there is reason to believe his numbers may even out over time.
Aside from the homers, Niese was pleased with the way he pitched Monday night. His cutter was effective, working in concert with his changeup. He commanded his fastball and mixed in a few curveballs.
He scattered seven hits in 6 2/3 innings, walked one batter and struck out four. But three of those seven hits cleared the fence, and that was enough for the Reds to beat him.
"There's too many positives in this outing to dwell on the negatives," Niese said. "The biggest negative was we lost. But there were a lot of positives. I'm going to take those and run with them and build off them for my next start."
Adam Berry has covered the Pirates for MLB.com since 2015. Follow him on Twitter at @adamdberry. This story was not subject to the approval of Major League Baseball or its clubs.