Marte notches 4 hits, falls 3B shy of cycle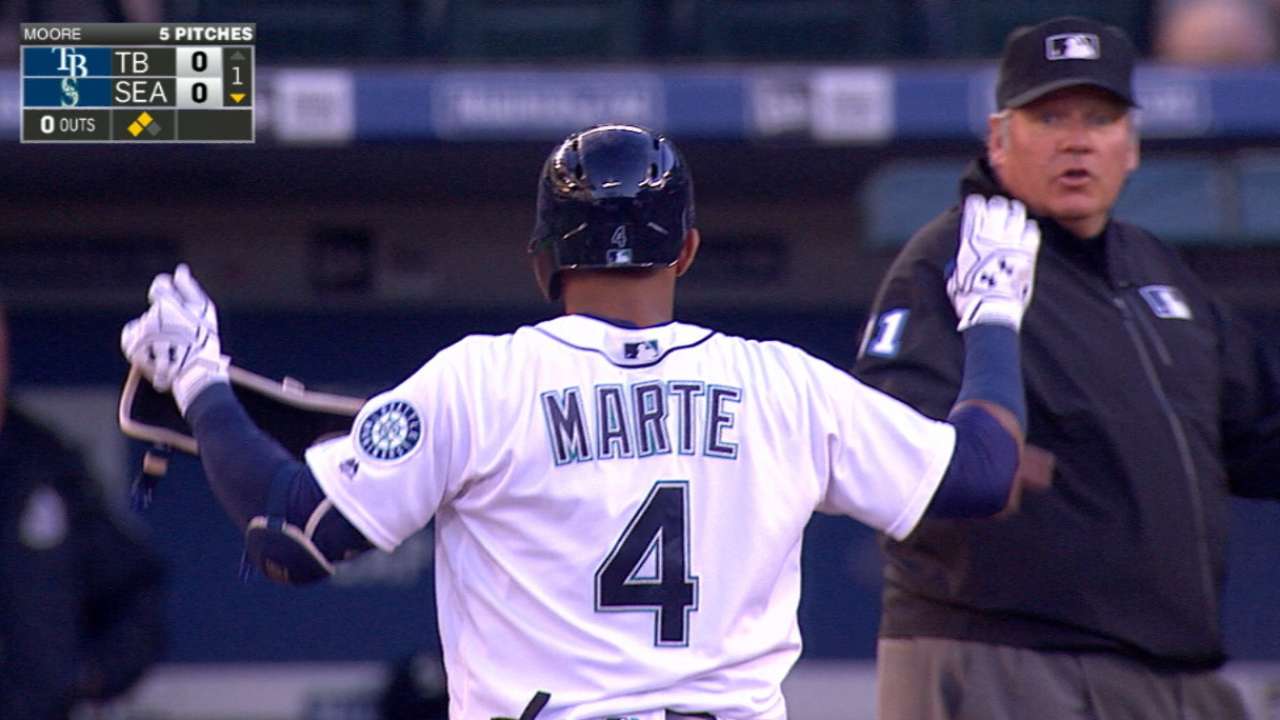 SEATTLE -- Ketel Marte brings speed to the Mariners' lineup, and he flashed that in abundance in Monday's 5-2 win over the Rays. But it was some surprising pop from the 22-year-old shortstop that proved the difference, as Marte's three-run homer in the sixth capped off one of the best all-around games imaginable.
Marte's homer -- his first of the season -- came on the first pitch he saw from reliever Steve Geltz. Marte did have two homers in 219 at-bats last year as a rookie, but the 6-foot-1, 165-pounder isn't going to win many home run contests.
Marte will win a lot of foot races, however, and he already has helped the Mariners win several games just with his speed this season. That was evidenced again Monday when the youngster raced home on a sacrifice fly by Nelson Cruz in the third and then scored on a wild pitch in the fifth.
• Cast your Esurance All-Star ballot for Marte and other #ASGWorthy players
The sacrifice fly was a thing of beauty, as Marte outraced a rocket throw from Rays center fielder Kevin Kiermaier, who has one of the premier throwing arms in the game. For good measure, Marte beat out an infield single to second in the fifth before racing home on the wild pitch, then flashed his baseball instincts by slipping behind Brandon Guyer to help catcher Chris Iannetta pick the Rays' left fielder off second in the sixth.
Those moments you live for. #GoMariners pic.twitter.com/kQ3bay9V0V

— Seattle Mariners (@Mariners) May 10, 2016
All that even before he performed his home run heroics to help Felix Hernandez gets his Mariners-record 146th victory as Marte went 4-for-5 with two doubles and three runs scored to lift his season average to .297.
"That's pretty much everything you can do," manager Scott Servais said. "That's about as hard as you can hit a few balls tonight. The second double he hit over [Evan] Longoria's head down the line was absolutely smoked.
"He did everything. The nice pickoff play by Iannetta -- his head's in the game at the right spot, right time -- and then jumping on the first pitch [from Geltz] when we had a little rally started in the sixth. Huge game. What can you say? That's about all you can do in a baseball game."
Marte said he had a four-hit night last year for Triple-A Tacoma, but he didn't get the home run in that one. Marte isn't lacking for confidence, and the only thing that surprised him was seeing the ball go over the wall in his sixth-inning at-bat, as he didn't think that was gone off the bat.
"No chance," he said. "When you don't hit a lot of homers, it's not going to happen. I just tried to put a good swing and then use my legs."
Those legs were on display early when he blazed home on the sacrifice fly as Statcast™ recorded his top speed at 21 mph, the eighth-fastest clocking by an MLB player between third base and home this season.
"That was close, but I'm too fast, you know?" Marte said. "I watched video of him. He's got a good arm."
"That's the kind of electric player he is," Servais said. "The confidence is the biggest thing with where he's at. He does it right-handed [on his first three hits], then he jumps in there left-handed. That's hard to do and hit the ball like that. Very talented player."
Marte said he wasn't thinking about the cycle when he grounded out in his last at-bat in the eighth, drawing a standing ovation from the Safeco crowd. He's never hit for the cycle anywhere in his professional career, but he doesn't figure it's out of his reach.
"I'm looking for the cycle tomorrow," he said with a smile.
Greg Johns has covered the Mariners since 1997, and for MLB.com since 2011. Follow him on Twitter @GregJohnsMLB and listen to his podcast. This story was not subject to the approval of Major League Baseball or its clubs.