MLB.com Columnist
Jon Paul Morosi
Strasburg deal could open trade floodgates
With ace staying with Nationals, teams may have to deal for a No. 1 starter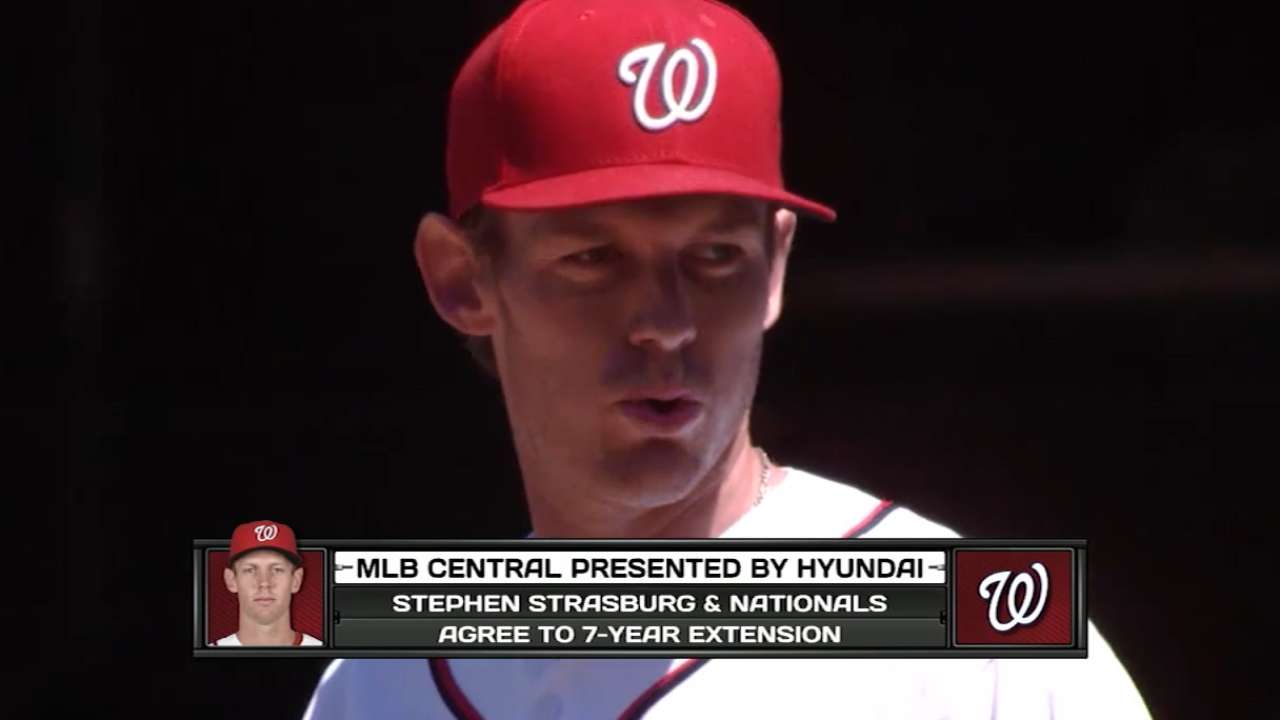 The Washington Nationals are committed to paying Stephen Strasburg through 2023 -- or at least 2019, if he exercises the first of his two opt-out clauses.
The seven-year, $175 million extension the two sides agreed to on Monday night is the largest contractual guarantee for a Tommy John surgery recipient, surpassing the mark set last winter by Strasburg's former teammate, Jordan Zimmermann. The Nationals announced the deal, which was first reported by The Washington Post, on Tuesday.
The agreement is a certifiable stunner, given the infinitesimal percentage of elite Scott Boras clients who have chosen to sign extensions this close to free-agent paydays. And the deal will have massive ramifications on the Aug. 1 non-waiver Trade Deadline and 2016-17 offseason market.
Strasburg's sudden absence from the upcoming free-agent class effectively removes the possibility of any Major League Baseball franchise signing a No. 1 starter and perhaps even a solid No. 2. Japanese right-hander Shohei Otani -- the Yu Darvish-like ace of the Hokkaido Nippon-Ham Fighters -- is unlikely to be posted this winter, and the domestic free-agent pool is devoid of top-end talent.
Among the 75 most valuable starters in baseball in 2016, according to FanGraphs.com, only five will be free agents after this season: Bartolo Colon, Rich Hill, Juan Nicasio, R.A. Dickey and Mat Latos. And two of them -- Colon and Dickey -- are over 40 years old.
Meanwhile, several large-market teams -- notably the New York Yankees, Boston Red Sox and Los Angeles Dodgers -- have clear rotation needs that in an ordinary offseason would be addressed by spending lavishly on free agents. Instead, prospects -- not cash -- will become the industry's currency of choice.
For that reason, upon digesting Monday's news, a number of general managers undoubtedly asked themselves, "Why wait for winter?" If they're going to give up elite prospects for Sonny Gray, Jose Fernandez or Danny Salazar, why not acquire the top-end arm early enough to impact the 2016 pennant race and postseason?
A midsummer trade involving Gray has become more plausible, given Oakland's 4-11 stretch entering Monday night. Miami's Fernandez and Cleveland's Salazar are pitching for contenders, at least at the moment; that would need to change for them to become strong trade candidates.

Matt Harvey is almost certainly an offseason trade candidate; even though he's stumbled early this season, the Mets can't invite the public-relations catastrophe of trading their World Series Game 1 starter while defending the National League pennant. On that note, the Strasburg deal doesn't portend a Harvey extension in New York; while both are Boras clients, they have vastly different personalities, and Strasburg's extension was likely his personal preference much more than Boras' recommendation. Atlanta's Julio Teheran will be available, and the Tampa Bay Rays -- with Chris Archer, Matt Moore and Jake Odorizzi -- frequently are active in trade discussions, given their market situation.
But there are no "rental aces" this summer, because there will be no "free-agent aces" this offseason. Andrew Cashner, Jeremy Hellickson and Doug Fister could be moved, but it's difficult to imagine any of them starting Game 3 of a playoff series this October, to say nothing of Games 1 or 2.
Where once there was one elite starter available on the open market this offseason, now there are none. And so let the trading begin, far earlier than anyone expected.
Jon Paul Morosi is a national columnist for MLB.com. This story was not subject to the approval of Major League Baseball or its clubs.