Colome thriving as Rays' closer
Right-hander has converted all nine save opportunities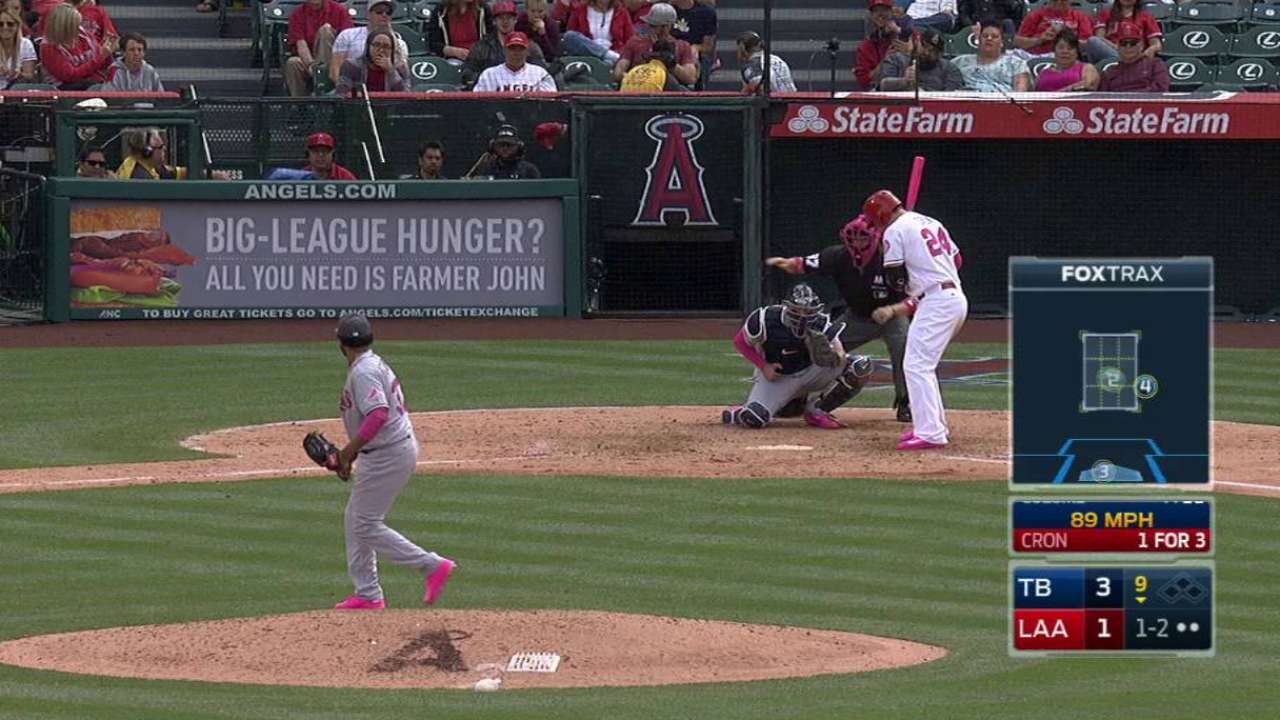 SEATTLE -- Alex Colome has stepped up to fill a need, and he's done so in admirable fashion.
After converting a save in four consecutive games, the second pitcher in club history to do so, the Rays' closer had the night off Monday in Seattle, allowing a moment for reflection about how effective the right-hander has been this season.
Colome stepped into the closer's role once the news broke during Spring Training that Brad Boxberger would be out until at least mid-May or early June due to abductor surgery.
Colome's save in the Rays' 3-1 win over the Angels on Sunday moved him to nine saves in nine chances this season.
"I feel comfortable ... It's fun to be the closer for the first time in my career," said Colome. "Makes me feel happy that I can go out and do the best job that I can do."
Colome allowed that he's been using primarily a fastball and a cutter, noting: "It's only one inning."
The Dominican native said there is a difference pitching in the ninth as opposed to other innings.
"The adrenalin is different than when you throw in the seventh or sixth inning," Colome said. "They give you the game and you have to close. To do the job."
Rays manager Kevin Cash noted that he thought "most pitchers in any bullpen, they're all adrenalin junkies."
"They come in and they want to feed off the magnitude of the game at that point," Cash said. "Nobody wants to be throwing the so-called meaningless innings. They all want to be throwing the high-leveraged innings. ... I do think he's been feeding off that a little bit, but it's been impressive the way he's handled it. He's not shown any extra anxiety."
The Rays should have a good late-inning situation once Boxberger returns.
Colome has "handled it tremendously well," Cash said. "When Box gets back, when he closes games out, Alex is still going to play a huge role. We're so fortunate that he's kind of taken to this role. Even as a starting pitcher, the presence that he carried to mound, he seemed to be pretty calm."
Worth noting
• Boxberger threw another batting-practice session Monday in Port Charlotte, Fla. The Rays will see how he feels on Tuesday before coming up with the next step. If he does not have any setbacks, he'll likely pitch in an extended spring camp game before beginning his rehab assignment.
• Steven Souza Jr. addressed the Cascade High School's baseball team on Monday and brought along Chris Archer with him. Souza graduated from Cascade, which is in Everett, Wash., just outside Seattle. Cascade was to play in a district playoff game on Monday.
Bill Chastain has covered the Rays for MLB.com since 2005. This story was not subject to the approval of Major League Baseball or its clubs.