McCullers might return during Red Sox series
Young Astros right-hander has been sidelined this season with sore shoulder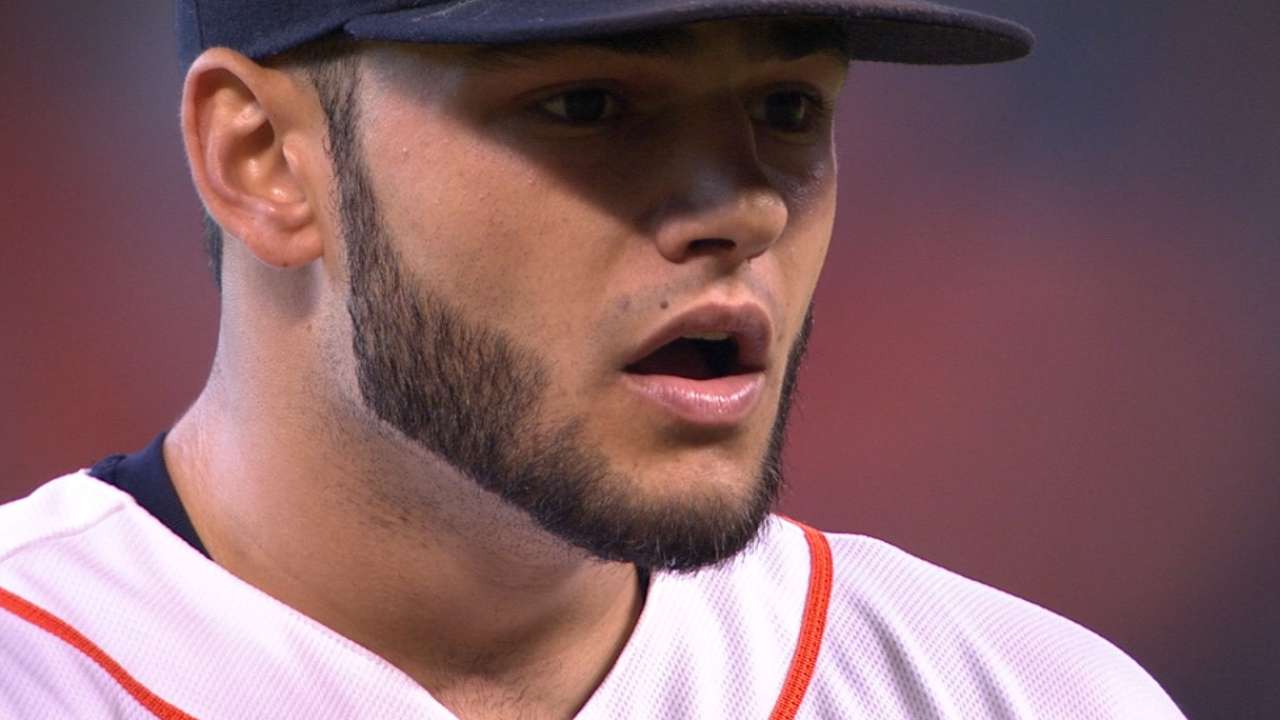 HOUSTON -- Due to a flight delay, Lance McCullers is scheduled to throw a bullpen session in Houston on Tuesday instead of Monday. The 22-year-old right-hander is nearing a return to the Astros' rotation, where he was key factor in the team's postseason run last year.
McCullers began the 2016 season on the disabled list with a sore shoulder. If there are no setbacks on Tuesday, McCullers could start for the Astros as soon as Friday in Boston, a day after Dallas Keuchel is expected to make his normal start in the rotation.
"Depending on how he feels after that bullpen, and where we think we might be able to stick him in the rotation, we'll come up with a plan to get him going with the big league club," Astros general manager Jeff Luhnow said on Monday.
The sooner, the better, Luhnow said. In 22 starts with Houston last year, McCullers held the opposition to three earned runs or fewer in 20 starts. He was 6-7 with a 3.22 ERA for the Astros in his rookie season.
"Lance was a key part of this team last year," Luhnow said. "He pitched in the playoffs for us. We need him in this rotation. He provides a different look and he's got an electric arm, and he's going to really help this team."
It's up to manager A.J. Hinch when McCullers pitches for the Astros, but Friday is a possibility, and if not Friday, then Saturday. McCullers pitched five shutout innings this past Saturday in a start for Triple-A Fresno, allowing only two hits with seven strikeouts and two walks. McCullers threw 64 pitches, 38 for strikes.
"We'll keep Keuchel on the same cycle," Luhnow said. "Keuchel will stay in his slot, and then any time after that we'll be open for Lance. It will be up to A.J. to decide based on matchups and what the other guys are doing."
Luhnow also wants to get catcher Max Stassi up to the Astros as soon as possible. Over the weekend, Stassi was reinstated from the 15-day disabled list and optioned to Fresno, where he is playing every day.
In his fourth season in the organization, Stassi had surgery on his left wrist in Spring Training to repair a fractured hamate bone.
"He missed a lot of Spring Training, so this is like his Spring Training," Luhnow said. "We want to see him get some reps, and there's a chance he'll get an opportunity to do his work here in the near future."
Richard Dean is a contributor to MLB.com based in Houston. This story was not subject to the approval of Major League Baseball or its clubs.