De La Rosa makes Triple-A rehab start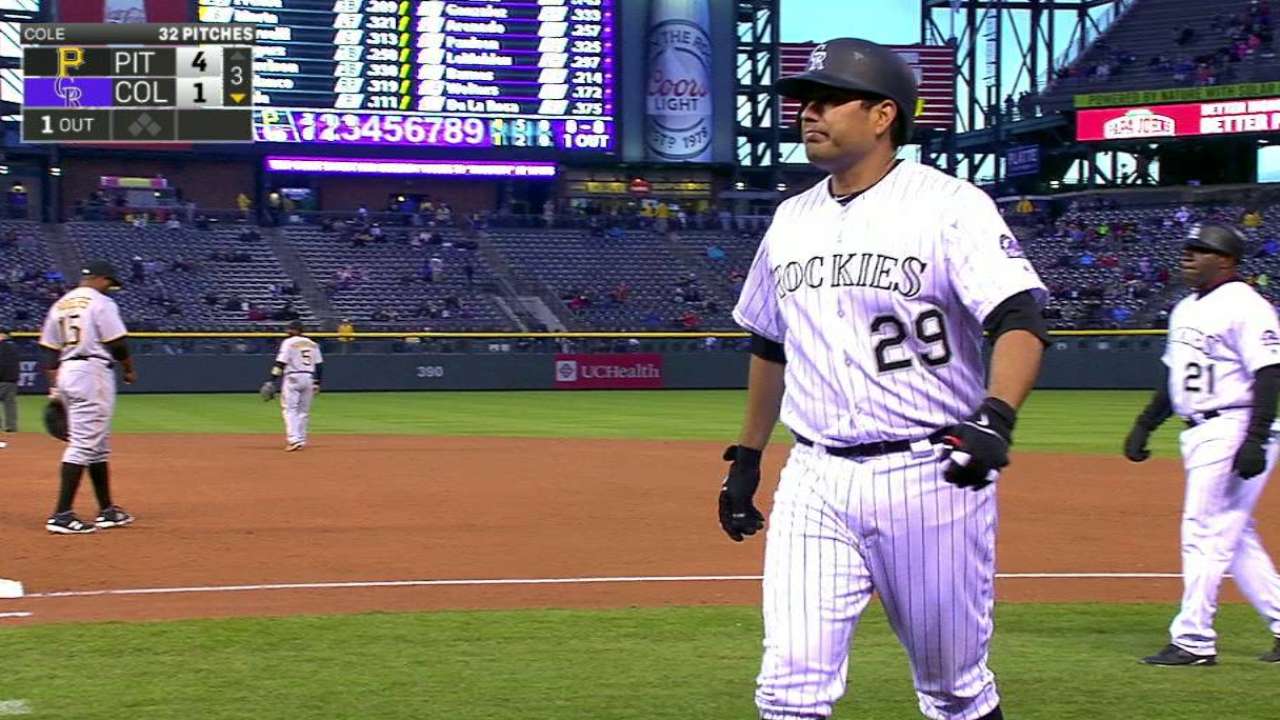 DENVER -- Rockies Opening Day starter Jorge De La Rosa was back in action Monday, making a four-inning start for Triple-A Albuquerque in his first game action since going on the disabled list April 27 with a strained left groin.
"De La threw about 75 pitches," Rockies manager Walt Weiss said. "He's healthy. He'll probably make another start."
De La Rosa allowed three hits and two runs, one earned, leaving the game with a 3-2 lead and not factoring in the decision in Albuquerque's eventual 4-3 victory over Tacoma.
De La Rosa got off to a rocky start with the Rockies this season, going 1-3 with a 10.18 ERA in his first five starts. He threw just 20 1/3 innings, yielding 23 earned runs on 30 hits and 12 walks while striking out 28. He's allowed seven home runs, including six at Coors Field.
De La Rosa's numbers are actually a bit better at home, posting a 9.22 ERA in three starts spanning 13 2/3 innings.
The Rockies patchwork rotation stepped up on a just-completed 6-4 road trip, with starters picking up four of the six wins. If De La Rosa finds his form again, the return of the Rockies all-time wins leader could bolster the rotation.
In other rehab news, left-handed pitcher Tyler Anderson was reinstated from the disabled list Monday and optioned to Double-A Hartford. Anderson began the season on the DL with a right oblique strain. Anderson made a rehab start with Class A Advanced Modesto on Sunday. He pitched 3 2/3 innings for the Nuts, allowing two runs and two hits while walking five and striking out six.
The Rockies last roster move was Friday, when they placed catcher Nick Hundley on the DL with a left oblique strain. Hundley had previously pulled his right oblique in 2011 and missed a month of the season, but felt this was not nearly as serious.
"I did that in a game, and tried to stay in," Hundley recalled. "I did this one in batting practice, so I was able to stop right away. Hopefully, it's shorter rather than longer. You don't want to leave your teammates out there. I do everything I can to stay on the field. I've been rather healthy in my career, and I'm thankful for that."
Hundley has made three other trips to the DL in his career. He had a left wrist contusion in his sophomore season with San Diego in 2009, he went a second time in that same 2011 season when he missed just over a month with a strained right elbow, and he missed most of the final month of the 2015 season when he suffered a cervical strain. He was also on the concussion list from April 16-25 this season.
Owen Perkins is a contributor for MLB.com based in Denver. This story was not subject to the approval of Major League Baseball or its clubs.