Fish 'n' trip around bases erases HR
Marlins catcher credited with single despite hitting ball over wall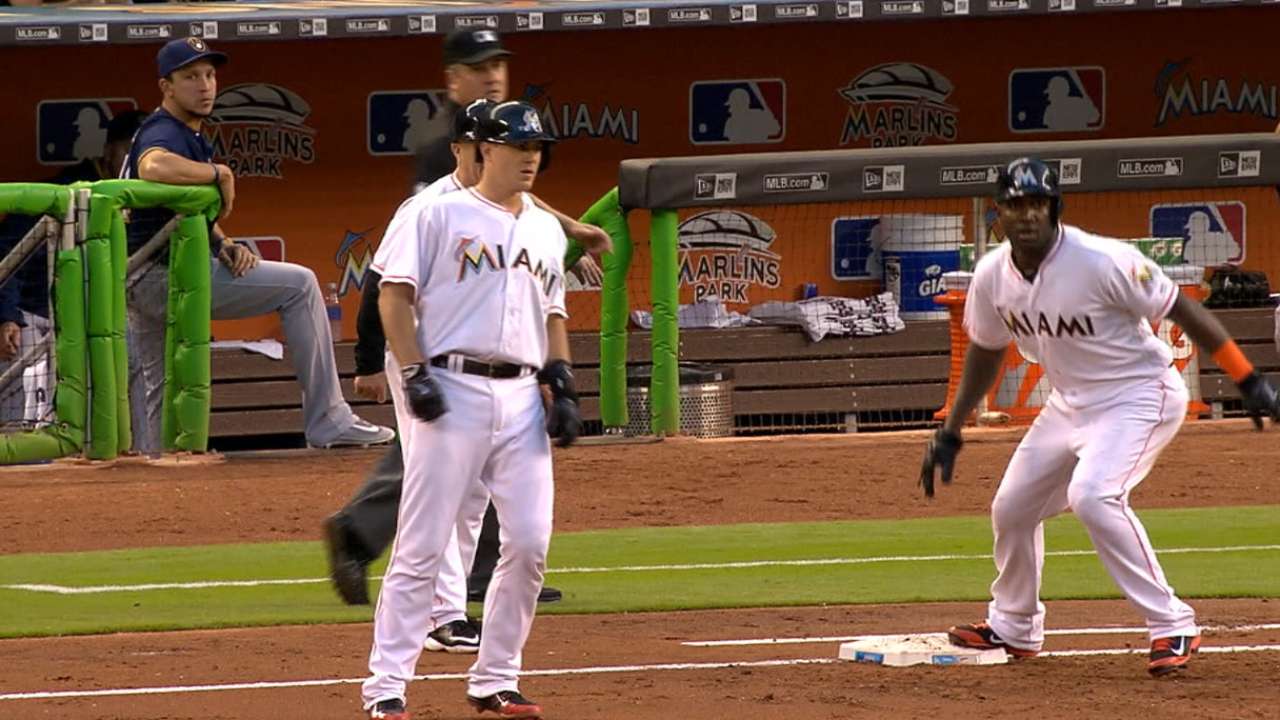 MIAMI -- Catcher J.T. Realmuto called it the longest single of his life. Center fielder Marcell Ozuna and first-base coach Perry Hill each claimed responsibility. And the fact that Miami held on for a 4-1 win over the Brewers on Monday night at Marlins Park allowed everyone involved to brush off one of the strangest overturned home runs you will see.
In the second inning, Realmuto launched a 409-foot drive that cleared the wall in center field, but his would-be two-run homer was overturned to an RBI single because he passed Ozuna at first base.
The rare call cost Realmuto a home run and second RBI. Because he passed Ozuna on the play, an out at first was called.
"It was just an honest mistake," Realmuto said. "I was not looking at Ozuna, because I was watching the ball. He was thinking it was going to be caught in center field, and trying to tag, and make a hustle play, really. Trying to tag and make it to second base. It's inconvenient that it happened, but there is no bad blood anywhere."
The last time a home run was overturned for passing the baserunner, according to Retrosheet.org, was on April 16, 2006. Javy Lopez of the Orioles was guilty of passing the runner at first.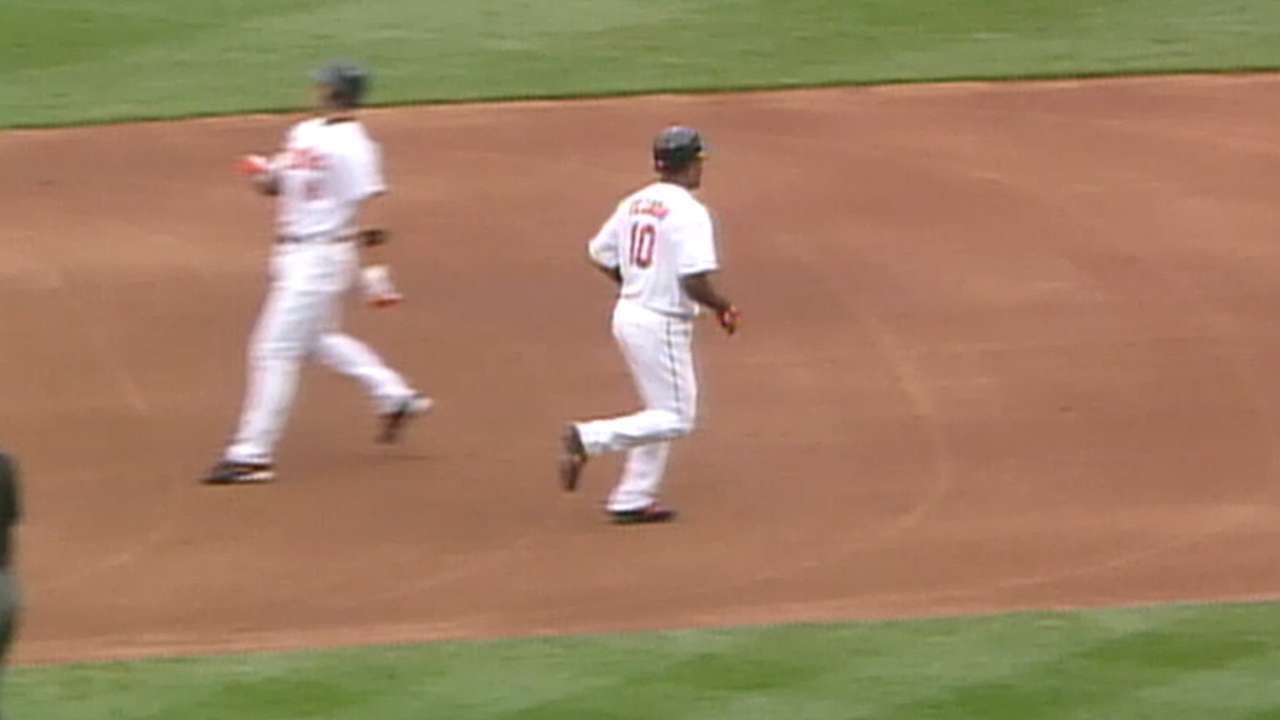 Ozuna took the mistake hard, and repeatedly apologized to Realmuto and his teammates.
"My mistake," Ozuna said. "Because I was tagging. I took away the home run from him and that cost one run. I said, 'Sorry.' I feel bad. I apologized. It's not going to happen anymore and I told that to my teammates."
The Marlins were in violation of MLB Rule 5.09 (b) which states: "A runner may be deemed to have passed a preceding runner based on his actions or the actions of a preceding runner." Rule 5.09 (b) was formerly known as 7.08 (h).
The confusion at first occurred because Ozuna was unsure if center fielder Kirk Nieuwenhuis would be able to catch the ball, so he went back to first to tag up. Realmuto, watching the flight of the ball, had already touched first and was in the process of rounding the base when Ozuna went back and tagged first.
Hill, the first base coach, said he was to blame for not stopping Realmuto before he touched first.
"It's my fault," Hill said. "... Once I see [Ozuna] coming back, I should have stopped J.T. I should have been like, 'Don't pass him! Don't pass him! Don't pass him!' I've done that 100 times before."
Once the home run was signaled, Ozuna and Realmuto fell in line, and they trotted around the bases as if it was a two-run homer. The Brewers immediately detected what happened, though.
The Brewers challenged, and after a 2-minute, 30-second review, the home run was overturned, and Realmuto was credited with an RBI single, and first baseman Chris Carter was credited with a putout.
"A lot of people saw it," Brewers manager Craig Counsell said.
The Brewers won Monday night's challenge, but it was less than a month ago that Milwaukee encountered a similar situation. On April 14 at St. Louis, Randal Grichuk homered for the Cardinals. Like Monday night in Miami, then Grichuk passed baserunner Brandon Moss. That play, unlike on Monday, was not challenged.
Pitcher Wily Peralta thought he gave up a two-run shot.
"I didn't see it, I was watching the ball," Peralta said. "We missed it in St. Louis. We saw it early today. I'm glad that we saw it today. It's a big difference; one run instead of two."
According to Statcast™, Realmuto's drive projected at 409 feet with an exit velocity of 103 miles per hour.
"That's the longest single I've ever hit," Realmuto joked.
On April 26, 1931, Hall of Famer Lou Gehrig had a homer taken away because of passing a baserunner. That ended up costing Gehrig the outright home run crown, as he finished tied with Babe Ruth.
"I don't think this will cost me the home run title," Realmuto joked.
Joe Frisaro has covered the Marlins for MLB.com since 2002. He writes a blog, called The Fish Pond. Follow him on Twitter @JoeFrisaro and listen to his podcast. This story was not subject to the approval of Major League Baseball or its clubs.