Hurdle trusts Melancon, no matter the situation
Closer approaches mound with 'tenacity, focus, determination'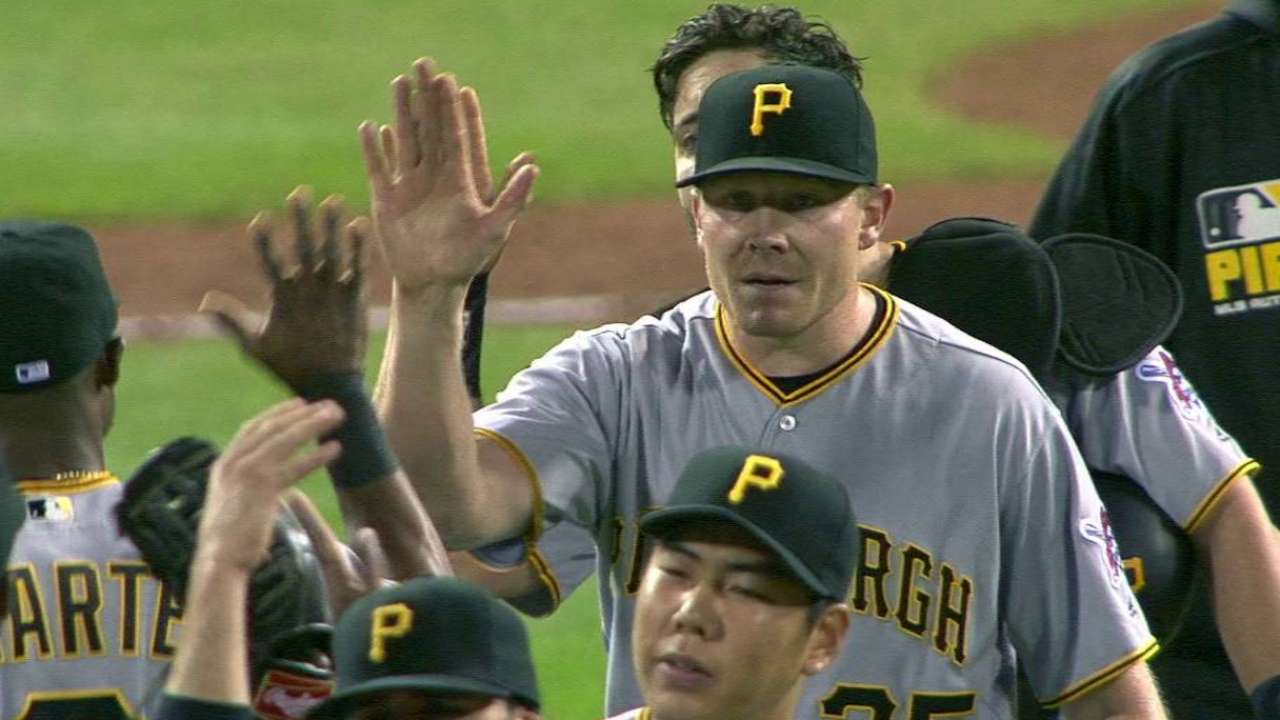 CINCINNATI -- Mark Melancon entered the Pirates' series finale against the Cardinals on Sunday with a five-run lead and the bases loaded. He threw two pitches and picked up his ninth save of the season.
It wasn't a traditional save situation, the kind when a closer enters to pitch one full inning with a lead of three runs or fewer. Melancon hasn't seen many of those this season. But he continues to get the job done, providing manager Clint Hurdle with a reliable bullpen arm amid an uneven start overall.
"He's been a pro," Hurdle said. "Whenever he's been called upon to pitch, he takes that ball, and he goes to work."
Four of Melancon's nine saves this year have come in less than one inning of work, matching his total from last year a little more than a month into the season. In those four games, including Sunday, he's faced one batter and thrown fewer than five pitches.
In three of his saves, Melancon was sent out to protect a lead of four runs or more because another reliever brought the potential tying run to the plate or on deck. In another, April 22 in Arizona, he had to get four outs to lock down the save.
"They have been non-traditional," Hurdle said. "But based on the history, if there's a save situation out there, I can't find an argument to not give it to the guy who had 51 of them last year."
What stands out to Hurdle even more than Melancon's work in those unconventional save situations is his attitude in non-save situations.
Many closers bristle at the notion of pitching when they can't add to the statistic by which they are often evaluated. They're especially agitated if they give up a run in those scenarios, damaging their overall numbers in a moment they theoretically didn't need to pitch. Not Melancon.
The Pirates' closer pitched the ninth inning of the Bucs' 6-2 loss to the Cubs on Wednesday because he hadn't worked in three days. With an off-day coming Thursday, Hurdle wanted to make sure Melancon was sharp heading into Pittsburgh's weekend series in St. Louis.
Melancon took the ball and gave up a run on two hits. His ERA ticked up from 2.61 to 3.18. But sure enough, Melancon recorded a save in each of the Pirates' two wins against the Cardinals over the weekend.
"I've never had a pitcher handle non-save opportunities with the tenacity, the focus and determination that he does," Hurdle said. "There's never a look or anything when he comes off the field. It might be a day where he hasn't pitched in three or four days and I believe he needs the work. There's trust there."
Adam Berry has covered the Pirates for MLB.com since 2015. Follow him on Twitter at @adamdberry. This story was not subject to the approval of Major League Baseball or its clubs.