Jose K's 11 in dominant win over Brewers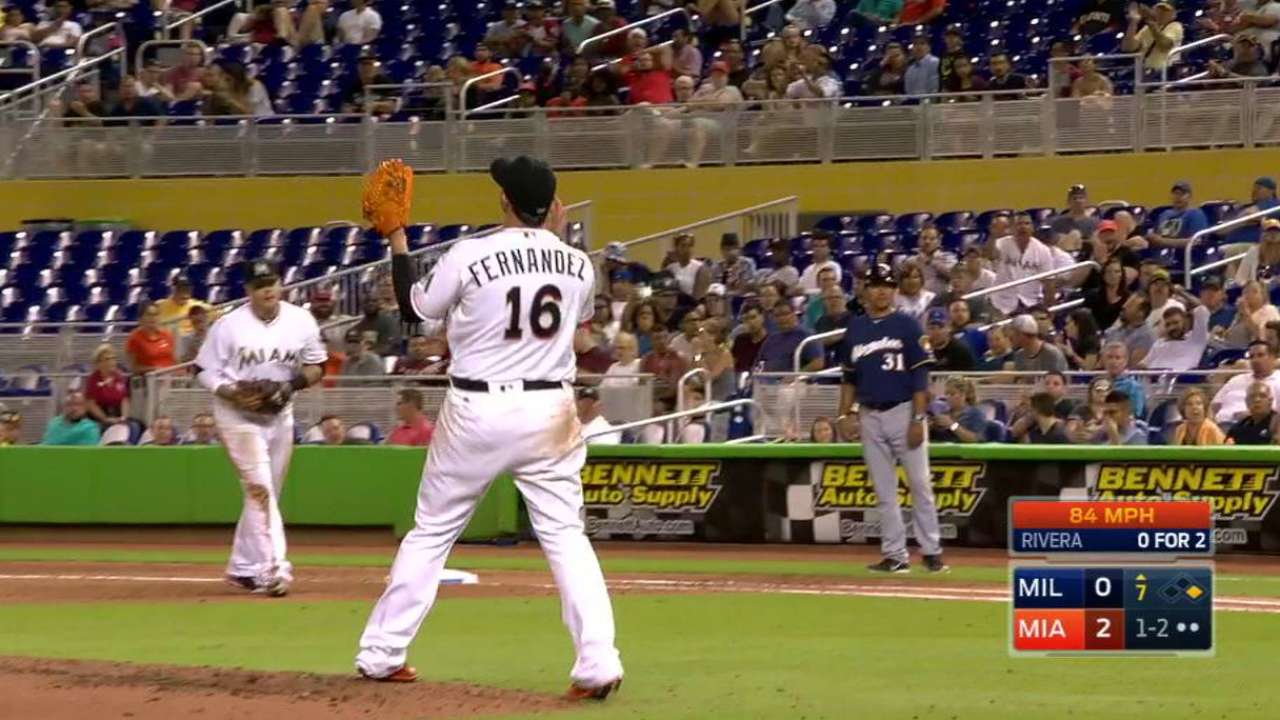 MIAMI -- The Marlins may have had a home run taken away due to a rarely-used rule, but with the way Jose Fernandez was throwing, they didn't miss a beat on Monday night at Marlins Park. Fernandez struck out 11 in seven scoreless innings in a 4-1 win over the Brewers.
Fernandez's pitching brought stability after a bizarre set of circumstances in the second inning. J.T. Realmuto had what would have been a two-run homer off Wily Peralta overturned to an RBI single because he passed Marcell Ozuna at first base. The gaffe cost Miami an early run, but the club was able to snap its two-game skid and improve to 5-2 on its homestand.
• Realmuto loses home run after passing Ozuna at first base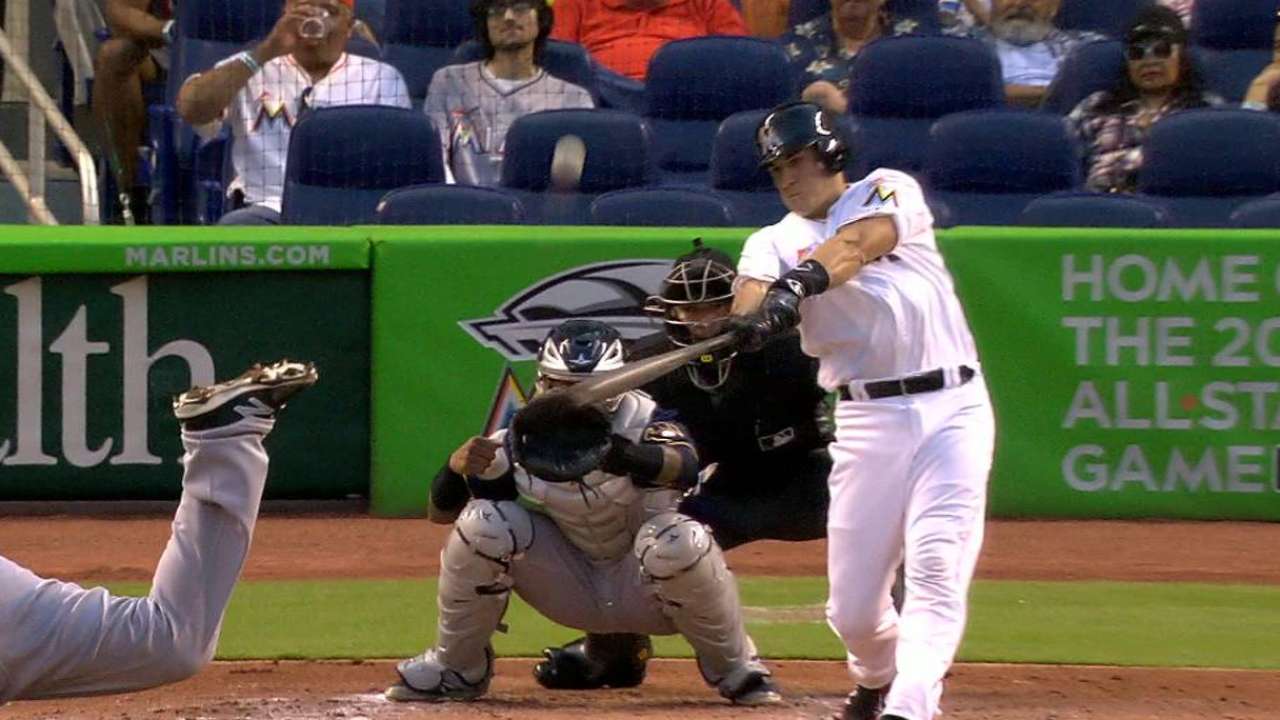 "I think that the result we got today was very important for the team," Fernandez said.
After dropping two straight to the Phillies, when the bullpen lets late leads slip away, the Marlins were looking to bounce back.
"You take those losses like they're going to happen, but you've got to bounce back," Marlins manager Don Mattingly said. "You like setting the tone and [giving] yourself a chance to win a series."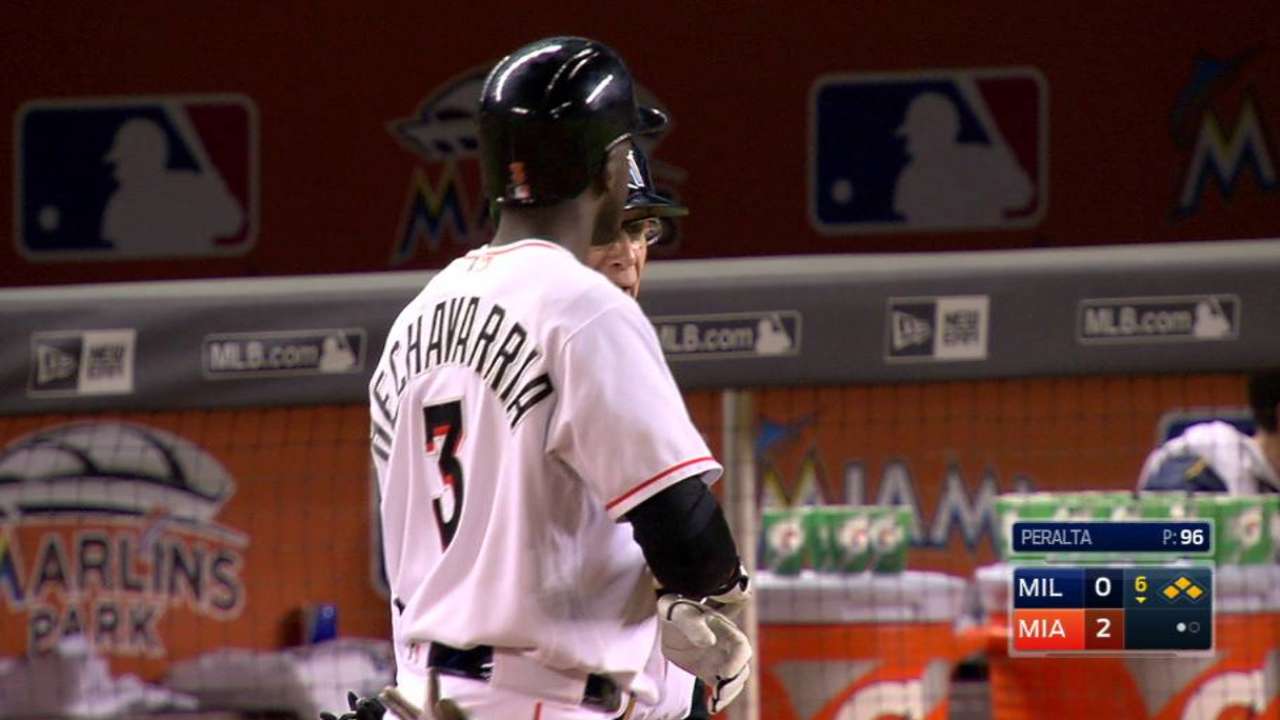 In the sixth inning, Adeiny Hechavarria lined an RBI single to left field with the bases loaded, scoring a run, and the Marlins tacked on more insurance through another unconventional play in the seventh inning. Derek Dietrich tripled to right off Brewers reliever Michael Kirkman to open the seventh inning. On the play, the relay from second baseman Yadiel Rivera deflected off Dietrich's leg as he ran to third base, allowing him to race home with Miami's third run.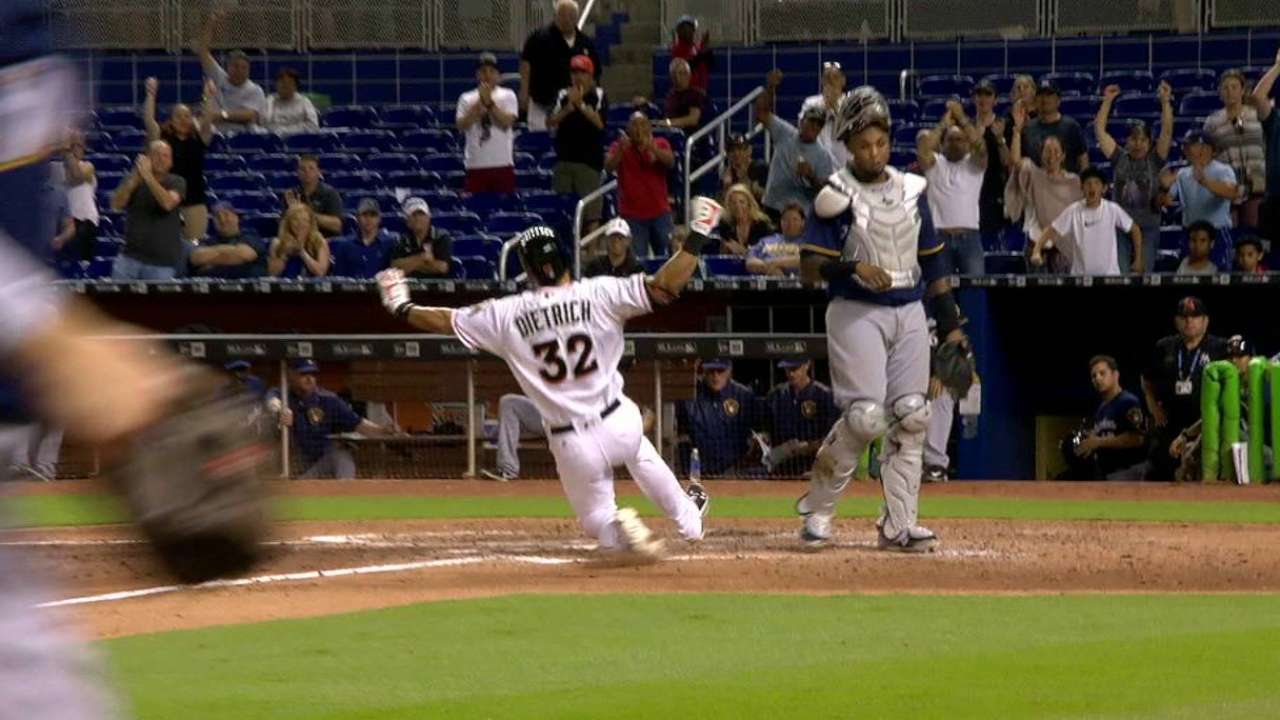 MOMENTS THAT MATTERED
The home run that wasn't: You never know what you might see on any given night at the ballpark. What took place in the second inning was a situation that hadn't occurred in a big league game since 2006. Realmuto had his would-be, two-run home run to center overturned to an RBI single, and he was declared out at first base because he passed Ozuna on the basepath.
The play was covered in MLB Rule 5.09 (b) dealing with passing a runner on the bases. Ozuna went back to tag up as Realmuto touched first. Ozuna then retouched first, and the two got in line and circled the bases. The Brewers won their replay challenge, and the homer was overturned.
"You've always got to look at the guy in front of you," Mattingly said. "Marcell probably has to be a little more halfway. But both guys really have got to be [watching]."
• Brewers can't capitalize in first vs. Fernandez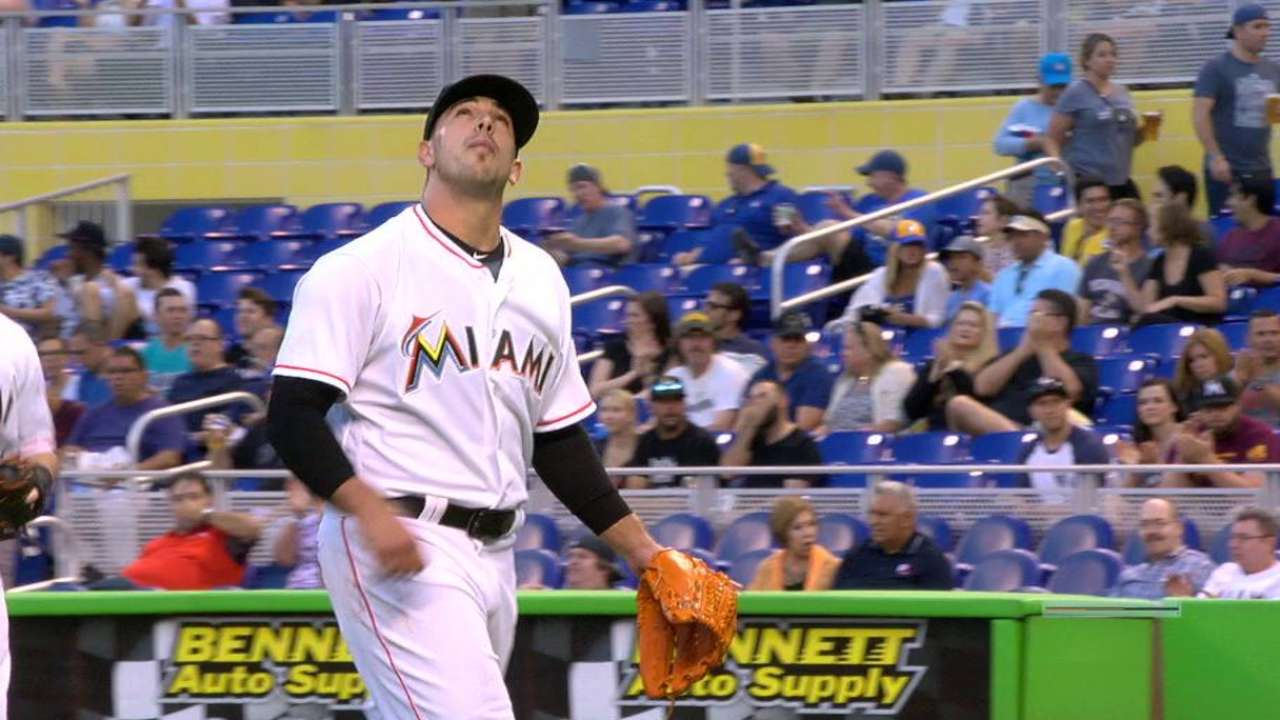 Missed opportunity: With Fernandez on the mound for the Marlins, it was imperative for the Brewers to get to him early, because he only gets stronger as the game wears on. The Brewers had that opportunity and didn't capitalize, putting the first two batters of the game on base. Jonathan Villar opened the game with a single and Alex Presley followed with a walk. But Ryan Braun flied out with Villar advancing to third, and Chris Carter grounded into a double play to end the inning. The Brewers managed just three hits after that off Fernandez, who went seven innings and didn't allow a run.
"That was our best chance, certainly, against Fernandez," Brewers manager Craig Counsell said.
• Jose returns to dominant form vs. Brewers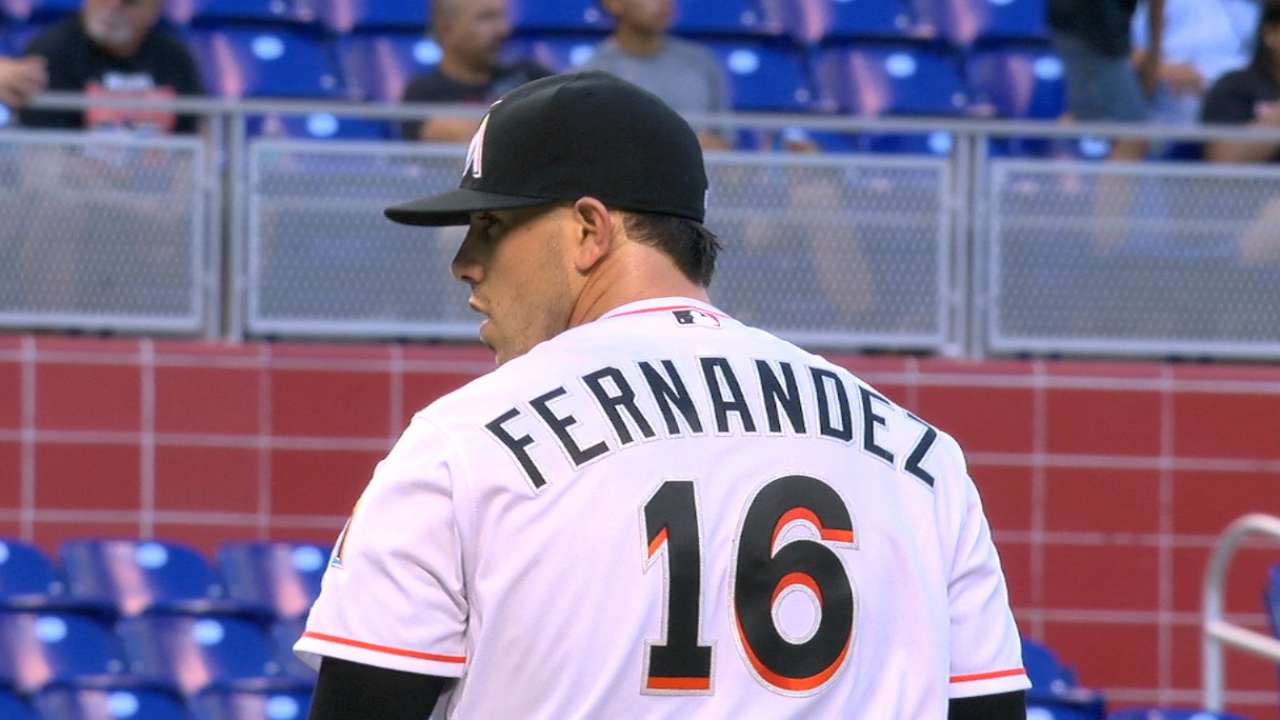 Jose resembles Jose: The Fernandez of old resurfaced for the Marlins, and the 23-year-old pitched like an ace against the Brewers. For the first time this season, the right-hander pitched seven innings, striking out a season-high 11 while scattering four walks and four hits. It also was Fernandez's first scoreless outing of 2016, as well, exiting after 110 pitches.
"[Fernandez] was getting smooth at the end," Mattingly said. "It was one of those outings where around 80 you could kind of see him smooth out. He was good."
• Peralta ends whirlwind week with quality start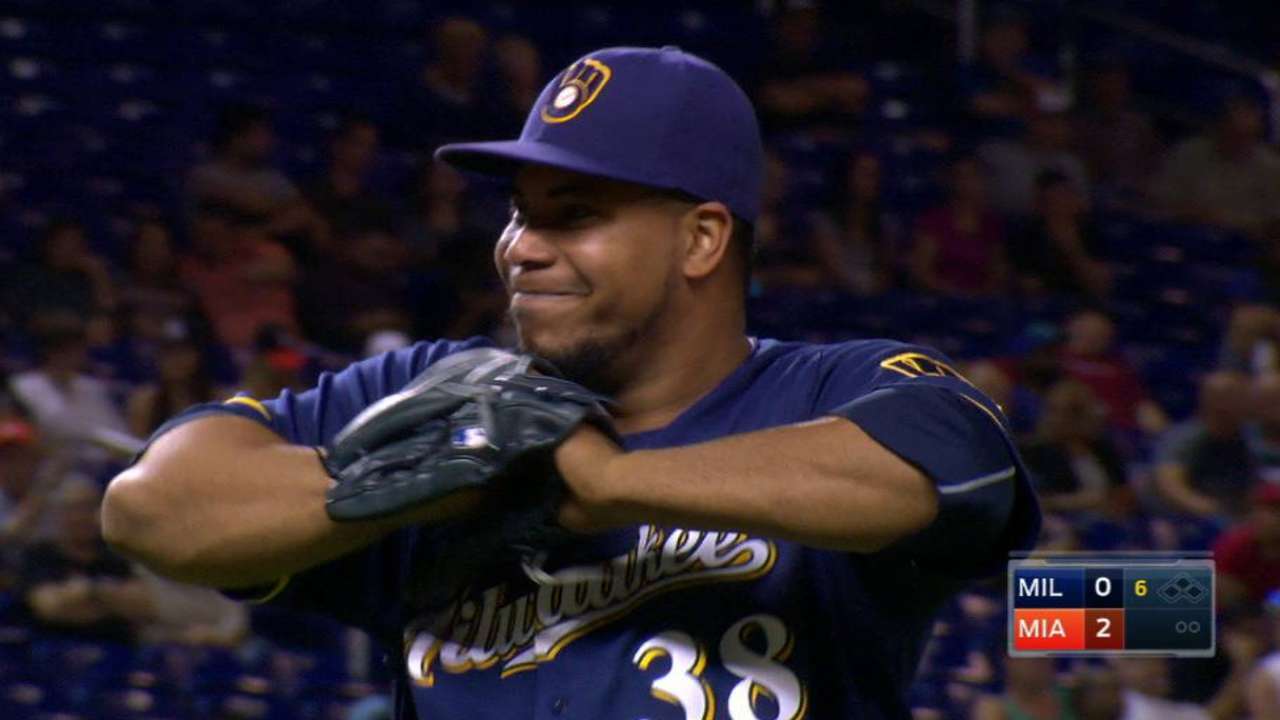 Solid return: After missing his last scheduled start to be on paternity leave, Peralta returned to the mound and turned in a quality start. Peralta worked six innings, scattering 10 hits. He allowed just two runs while striking out four and walking two.
"I thought Wily really competed well tonight," Counsell said.
QUOTABLE
"Hechy is a guy, I like his swing. He's a guy I think is going to be a good hitter. Sometimes he gets frustrated. The other day I thought he was frustrated." -- Mattingly, on Hechavarria's three-hit game a few days after he was given a day off to clear his head
• Santana's shoulder forced return to Milwaukee
UNDER REVIEW
The Brewers won a seldom-seen challenge and saved a run in the second inning. An apparent two-run homer by Realmuto was overturned when it was revealed the Marlins catcher passed his teammate, Ozuna, who was returning to first base to tag up on the long fly ball. The result was Realmuto being credited with a single and RBI, but he was ruled out for passing the baserunner. The replay took 2 minutes, 30 seconds as the home run was overturned.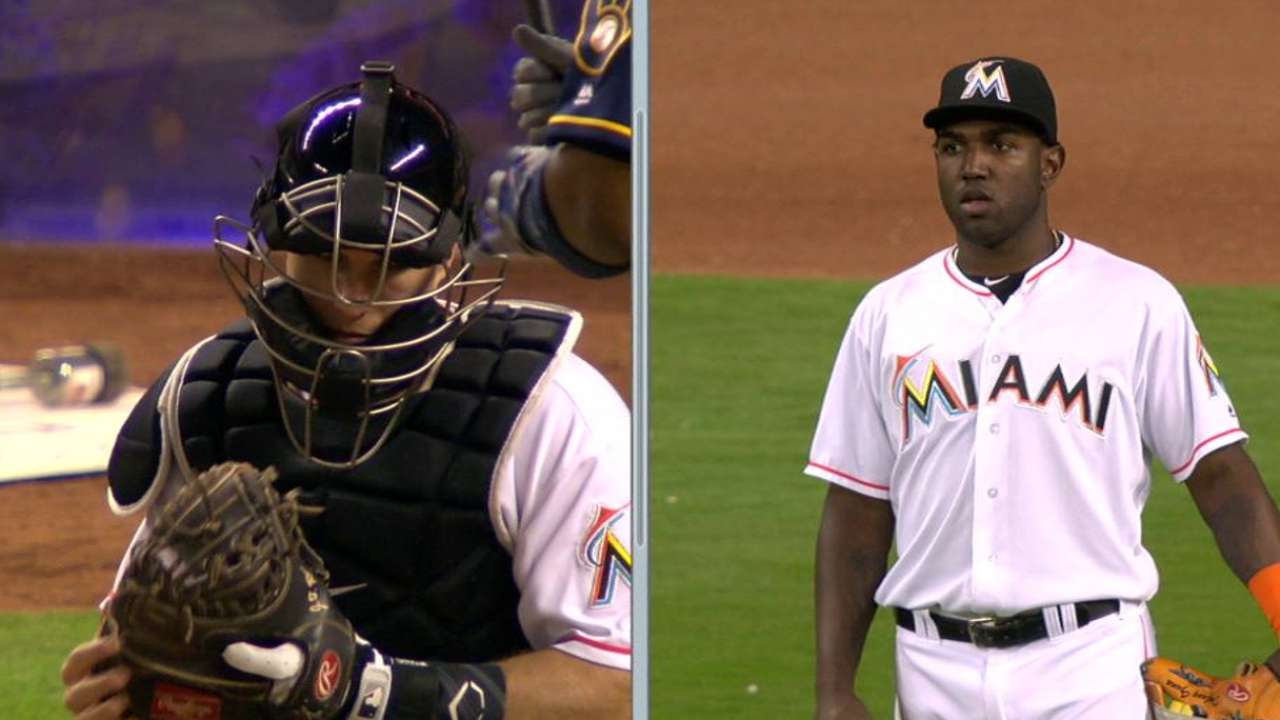 A second replay review came in the bottom of the eighth inning. The Marlins challenged a throw by Rivera that skipped past Carter at first on a double play attempt. The Brewers were looking to complete a double play after Hechavarria's grounder to short, but the throw went to towards the stands. Miami challenged that the throw bounced back from the camera well. After a review of 44 seconds, Hechavarria was awarded second base and Rivera was charged with his second error of the game.
WHAT'S NEXT
Brewers: Zach Davies will take the mound for the Brewers on Tuesday in the second of a three-game series at Marlins Park. First pitch is set for 6:10 PM CT. Davies is looking to improve upon his only road start of the season, which was also his first this year, a short stint that lasted just 2 1/3 innings at Pittsburgh. He gave up eight hits and five earned runs. In his last outing, he allowed just two earned runs in six innings, registering his first quality start of the season.
Marlins: Left-hander Adam Conley, who threw 7 2/3 innings of no-hit ball at Miller Park on April 29, faces the Brewers for the second time in 2016 on Tuesday at 7:10 p.m. ET. Conley is 2-1 with a 3.06 ERA in six starts.
Watch every out-of-market regular season game live on MLB.TV.
Joe Frisaro has covered the Marlins for MLB.com since 2002. He writes a blog, called The Fish Pond. Follow him on Twitter @JoeFrisaro and listen to his podcast.

Glenn Sattell is a contributor for MLB.com based in Miami.

This story was not subject to the approval of Major League Baseball or its clubs.