Kennedy proving durable, valuable to Royals
'It's been a great signing,' Yost says of right-hander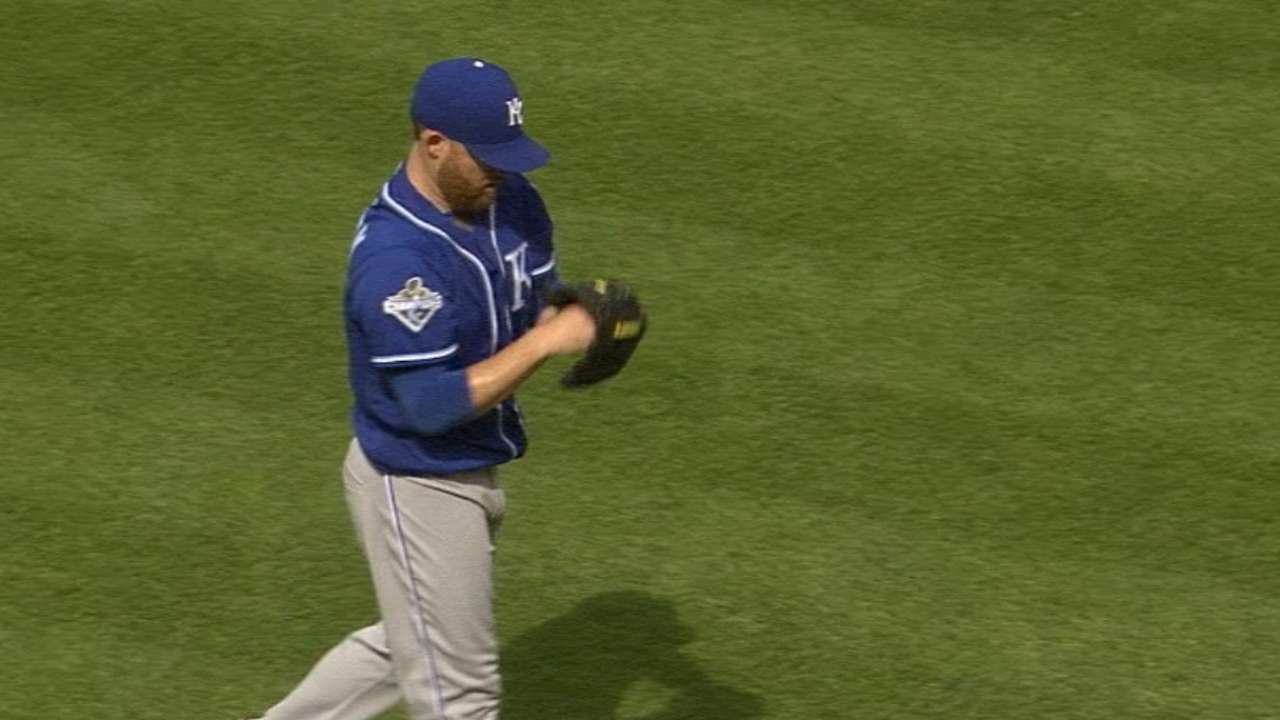 NEW YORK -- Royals right-hander Ian Kennedy admits he was a little bit puzzled by the national criticism of the Royals for signing him to a five-year, $70 million deal over the offseason.
The critics thought that the Royals overpaid.
"The criticism kind of all started when I turned down the qualifying offer [from the Padres]," Kennedy said. "They didn't think that was smart. Now, I say this with all due respect, sometimes writers don't have all the data. Maybe they don't know how hard it is to start 30 games six years in a row. Being durable … that's pretty rare in this game if you look around."
A durable innings-eater is exactly what Royals general manager Dayton Moore sought, which is why Kansas City pursued Kennedy as a free agent. Pitching coach Dave Eiland worked with Kennedy when the two were with the Yankees, and he highly recommended the righty.
"We wanted starters who could go deeper into games," Moore said at the time. "That's one area we need to improve upon."
Kennedy has done his part. His 38 innings are second best on the team, and his 2.13 ERA is best among the starters.
"This is what I thought we'd get out of him," Royals manager Ned Yost said. "This is what Dave thought we'd get out of him. We knew he was an innings-eater. It's been a great signing."
Kennedy has been a bit of a stopper, too. He has snapped Royals losing skids in each of his past two outings.
"I'd rather be known as a continuer than a stopper," Kennedy said, smiling. "That would mean we're winning more."
Kansas City also has been impressed with Kennedy's unselfish approach. He said he will do whatever it takes to help get the Royals back to the World Series.
The Royals knew that about Kennedy, having vetted him before the signing.
"I knew they were big on character," Kennedy said. "Dayton knows some of the same people I know, and he knows some of the players I played with, so I knew he did his due diligence. Some guys called me, and I hadn't told anyone who I was interested in signing with, but they would say, 'Oh, a certain GM called about you.' I pretty much knew who it had to be."
And for now, Kennedy and the Royals can laugh off the critics.
"When I signed it and the criticism started," Kennedy said, "I remember thinking that people have always talked about Dayton being so smart and putting together this World Series champion. So do you think he'd make a stupid move by signing me? People were contradicting themselves.
"You know Dayton and the Royals, they don't make dumb moves."
Jeffrey Flanagan has covered the Royals since 1991, and for MLB.com since 2015. Follow him on Twitter @FlannyMLB. This story was not subject to the approval of Major League Baseball or its clubs.