Ross, Maddon address walks to Harper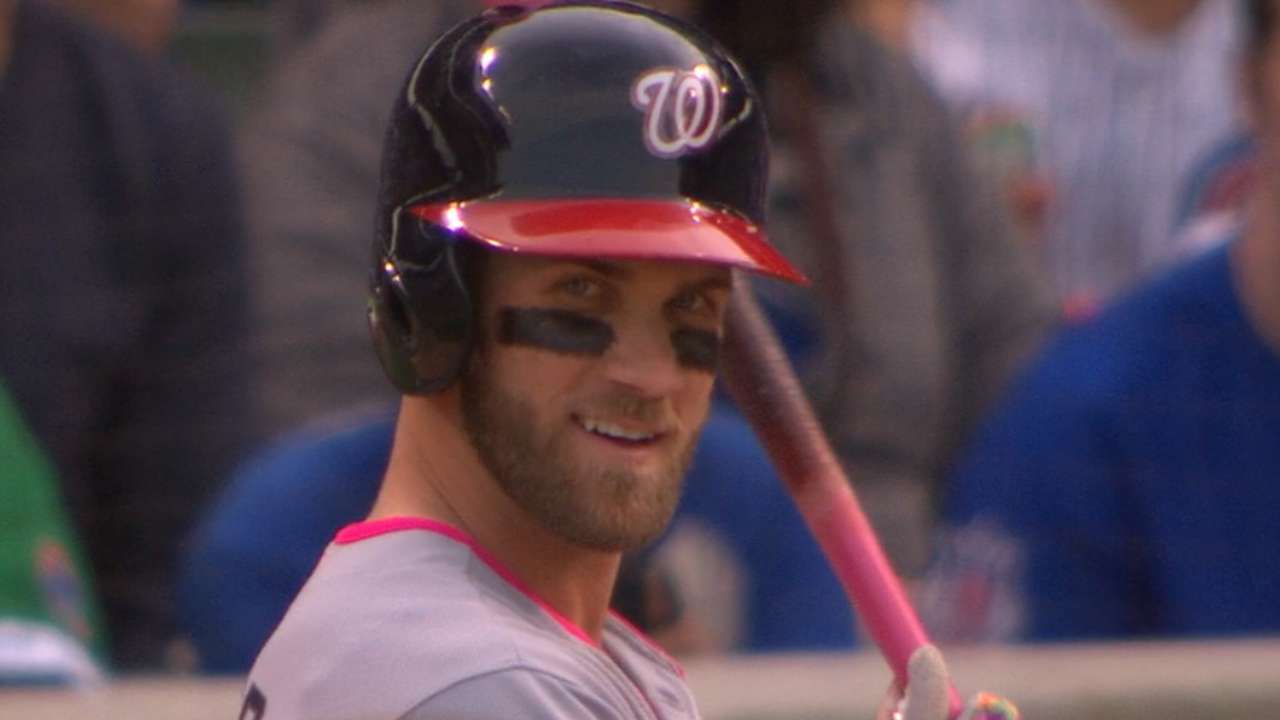 CHICAGO -- Cubs manager Joe Maddon knows there was some criticism regarding the six walks issued to the Nationals' Bryce Harper on Sunday -- three of them intentional -- but he said the situations called for them.
"If you're a Cubs fan, you loved it. If not, you don't," Maddon said on Monday. "It was just a strategy of the game based on how they built their group. That's what it came down to. It's nothing I did. We had to react to the moment. ... It happens every day. It just happened more often than not in yesterday's game."
Told that Nationals pitcher Tanner Roark called it "scared baseball," Maddon shrugged.
"There's nothing I can say about that," Maddon said. "The best way I can put it is, I did not do anything to them."
Harper tied a Major League record with six walks in the game -- which the Cubs won, 4-3, in 13 innings -- and set a record for walks in the four-game series with 13.
"You try to manage the game accordingly," catcher David Ross said. "The lineup shook out where guys were on base in key situations, especially late, and we weren't going to let him beat us late. [Jake Arrieta] wasn't trying to walk him [early in the game]. [Arrieta] just didn't have his command that he normally has."
Arrieta walked Harper three times, including one intentional pass in the fourth.
"[Harper] is a great player and very talented," Ross said. "At the end of the day, you have to pitch around the guys who may beat you in the game when the game's on the line. The goal is to win the game however we have to do that."
Ross was catching when Harper was intentionally walked in the 10th and 12th innings, and the two had a chance to chat. They joked about the Cubs' Kris Bryant, who played youth baseball with Harper in Las Vegas.
"I said, 'How come you can't get [Bryant] to have good hair like you have?'" Ross said. "I know they're buddies. I was just making fun of K.B. to him.
"He said something like, 'Man, I like you, you're the man,'" Ross said. "I said, 'I'm not the man. Me the man? You could say that if I put up numbers like you have.' He first started off congratulating me on the no-hitter [with Arrieta], and I congratulated him on his year last year. I talk to everybody, especially during intentional walks when there's nothing going on. I was ragging him -- that's why I was laughing."
Ross, who is retiring after this season, enjoyed the chatter.
"Too many people think it's all about, 'I hate this team or that guy,'" he said. "It's one of those things, you're out here to compete and have fun, and I'm trying to have way more fun this year than I normally have and take it in. I don't know him that well. ... I got to get a little insight into his personality, and it was fun. He seems like a good guy."
Carrie Muskat has covered the Cubs since 1987, and for MLB.com since 2001. She writes a blog, Muskat Ramblings. You can follow her on Twitter @CarrieMuskat and listen to her podcast. This story was not subject to the approval of Major League Baseball or its clubs.