Maurer finding 'new' slider effectively deceptive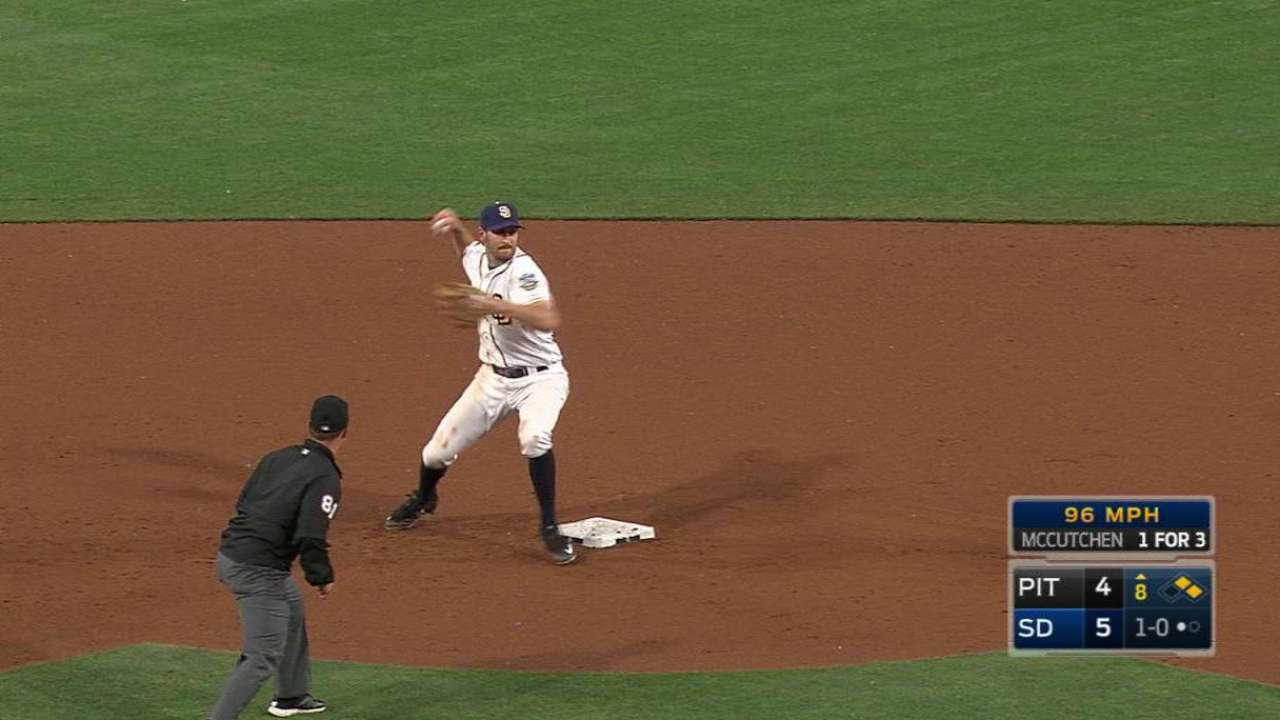 CHICAGO -- When Brandon Maurer got the news that he'd be staying in the bullpen this spring, it meant it was time to put his curveball -- his fifth pitch, and an ineffective one at that -- on the shelf.
Or so he thought.
Maurer hasn't thrown his curveball once this season, but the pitch has seeped its way into his premier weapon -- his slider. In short, Maurer's spring experimentation with a curve has affected both the velocity and movement of his slider.
"I was working on the curveball so much in Spring Training," Maurer said. "I don't really want it to be doing that, but I think I've got different rotation on the [slider] now. It breaks more down instead of a sweep. It's a slider, it's just not the power slider I was throwing last year."
Unintentionally, Maurer's slider is averaging 83.2 miles per hour this season -- five mph slower than last year.
But the results have been, essentially, the same. Opponents are hitting .167 against the pitch, and his strikeout rate is actually higher, although both home runs allowed by Maurer came on sliders.
"It makes sense, logically, that if you're throwing more curveballs to build up to be a starter, that maybe it would make the slider a little bigger, too" said catcher Derek Norris, who has noticed the fusion of the two pitches, compared with last season's slider, which was "closer to a cutter."
Fangraphs' PitchFX tracks the vertical and horizontal breaks on pitches, and Maurer's slider this season has, indeed, been more "slurvish." On average the pitch is moving 4.6 inches horizontally. Until this season it never had an average break of more than two inches.
"He's having a hard time getting back to the hard [slider]," manager Andy Green said. "I think either one can be equally as effective, it just depends on the individual. The great thing about it is that it's sharp, it's biting, people are biting on it and swinging at it, so I feel good about what it is now."
Maurer got off to a shaky start, as his ERA ballooned to 7.00 after allowing three runs to St. Louis on April 24. But since that appearance, Maurer has seven consecutive scoreless outings, during which he's allowed only one hit.
Following that outing, Maurer made some adjustments during a bullpen session, which led to an increase in fastball velocity, according to Statcast™.
Because of the bigger break, the slider doesn't have quite as much late deception as it did in the past. But with his fastball in the upper-90s, the 13-mph gap between pitches might offer enough deception in itself.
"If they're raring up for something hot, as long as the slider starts out looking like the fastball, I think [it's a good thing]," Maurer said.
Looking at things from a hitter's perspective, Norris concurred.
"It [stinks] as a hitter," Norris said. "It's a lot tougher. Any time you're changing velocities like that on a hitter, it makes it a lot tougher to be on time, square the ball up. That might be a good reason as to why it is so effective."
AJ Cassavell covers the Padres for MLB.com. Follow him on Twitter @ajcassavell. This story was not subject to the approval of Major League Baseball or its clubs.