Starlin sits with oblique injury, but ready
Ellsbury could return to lineup as soon as Wednesday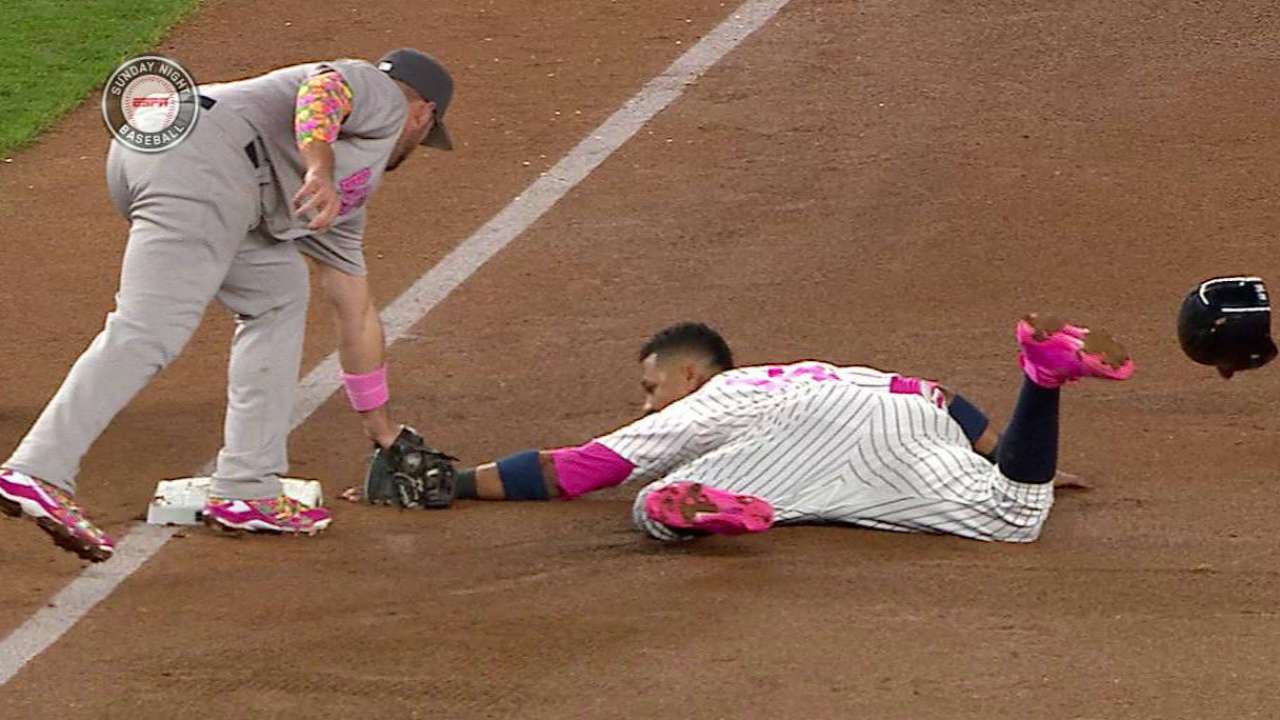 NEW YORK -- When the Yankees took the field Monday night against the Royals, neither Jacoby Ellsbury nor Starlin Castro were in the lineup.
Manager Joe Girardi believes, however, that it shouldn't be long before the two lineup fixtures are back in the mix.
Both Castro and Ellsbury were injured at third base during last weekend's home series against the Red Sox. Ellsbury left Friday's game with right hip soreness and Castro came out of Sunday's game with pain in his left oblique. And while Ellsbury might need a couple more days before he's ready for game action, Castro said that he's ready as soon as Girardi needs him.
"I feel better today. I am ready to play," Castro said Monday. "But he just decided to give me the day off today, but I'll be ready on the bench."
Girardi said that he feels the second baseman was due for a day off anyway, so Monday made sense as a rest day.
"I hadn't given him a day the whole year. He's played every game," Girardi said. "He does feel significantly better than he did yesterday. If I need him, I will use him today. But I just felt like if I could sneak him a day, it might really help and just clear it all up."
As for Ellsbury, the timetable isn't quite as certain. Girardi said that Tuesday is almost out of the question for his return, but depending on how well the center fielder feels after some scheduled running on the treadmill and swinging in the cages, Wednesday might be a possibility.
And even if Ellsbury does feel well enough to go, Girardi said he might give him an extra day of rest just as he is doing with Castro.
"Sometimes as a manager, a guy may say, 'I'm 90 percent, I'm ready to go,'" Girardi said. "And you might say, 'You know, I'm going to give you one more day. If you're 90, maybe you'll be 95 tomorrow.'"
Nick Suss is a reporter for MLB.com based in New York. This story was not subject to the approval of Major League Baseball or its clubs.