Comeback story? Joseph mashing in Minors
First baseman could be nearing callup to Phils; prospects Crawford, Williams impressing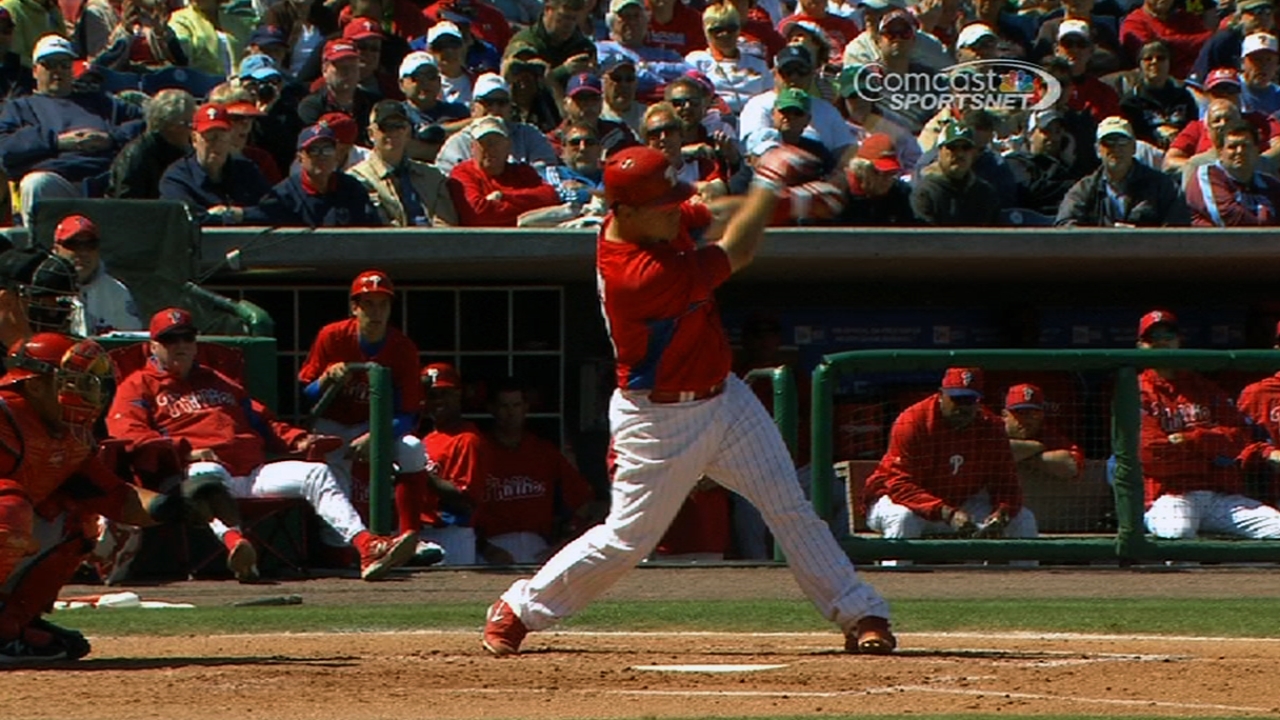 PHILADELPHIA -- There has been a little more interest than normal lately in the happenings at Triple-A Lehigh Valley. Specifically, can anybody there help the Phillies' offense?
One name to watch closely is Tommy Joseph, who has been crushing the baseball with the IronPigs. Joseph joined the Phillies in July 2012 in the Hunter Pence trade with the Giants. But a series of concussions and injuries derailed the 24-year-old's catching career. Now a first baseman, Joseph is hitting .392 (31-for-79) with seven doubles, six home runs, 17 RBIs and a 1.126 OPS in 23 games.
Joseph could be playing his way to his big league debut.
"I think this is what our scouts saw when they recommended him in that trade," Phils player-development director Joe Jordan said. "We're seeing the healthy, confident version of him and what he can do. He's making a case."
The Phillies outrighted Joseph from the 40-man roster in October, but he remained in the organization because he had not accrued enough time in the Minor Leagues.
It could be a lucky break for the Phils, who looked to have nothing to show for from the Pence trade.
"There's an opportunity here, if he can swing the bat and play the position," Phillies assistant general manager Scott Proefrock said prophetically in October. "We don't really have a first baseman at the upper levels."
If Joseph reaches the big leagues, it would be a fantastic comeback story considering his history with concussions. Plus, there are few players in the organization more liked or highly regarded, so it seems everybody is rooting for him.
"We're pleased more from a personal standpoint than anything, because he's gone through a lot challenges," Jordan said. "He's looked great since Spring Training, and he just hasn't quit hitting."
Defensively, Joseph has room to improve at his new position, but if he keeps hitting like this, everybody can afford to be patient.
"He's very, very invested in it," Jordan said about Joseph learning first base. "He's a smart guy and I think he understands that he's got to be able to do that. He's not bad out there. I think the offense is coming easier right now, which is good because he's spending a lot of time and effort on the defensive side."
Crawford and Williams update
Everybody also wants to know about the progress of Double-A Reading shortstop J.P. Crawford and Lehigh Valley outfielder Nick Williams. They are two of the Top 100 Prospects in baseball, according to MLBPipeline.com.
Crawford (No. 3 overall, No. 1 among Philadelphia's prospects) is hitting .270 (27-for-100) with four doubles, two home runs, six RBIs and a .781 OPS for Reading. He has walked 24 times and struck out 19.
Williams (No. 60 overall, No. 3 among the Phils' Top 30) is hitting .280 (26-for-93) with two doubles, two triples, two home runs, 15 RBIs and a .709 OPS at Triple-A.
"Nick got off to a rough start," Jordan said. "He got his feet underneath him, but he's getting exactly what he needs: Triple-A experience, Triple-A pitching. That's a challenge J.P. is going to be ready for in the near future. He's doing what we need him to do. There's a lot of good arms in the Eastern League, so he's not suffering at all being there for the time being. He's doing a great job."
Todd Zolecki has covered the Phillies since 2003, and for MLB.com since 2009. Read his Phillies blog The Zo Zone, follow him on Twitter and listen to his podcast. This story was not subject to the approval of Major League Baseball or its clubs.