Inbox: How long before Swanson receives call?
Beat reporter Mark Bowman answers questions from Braves fans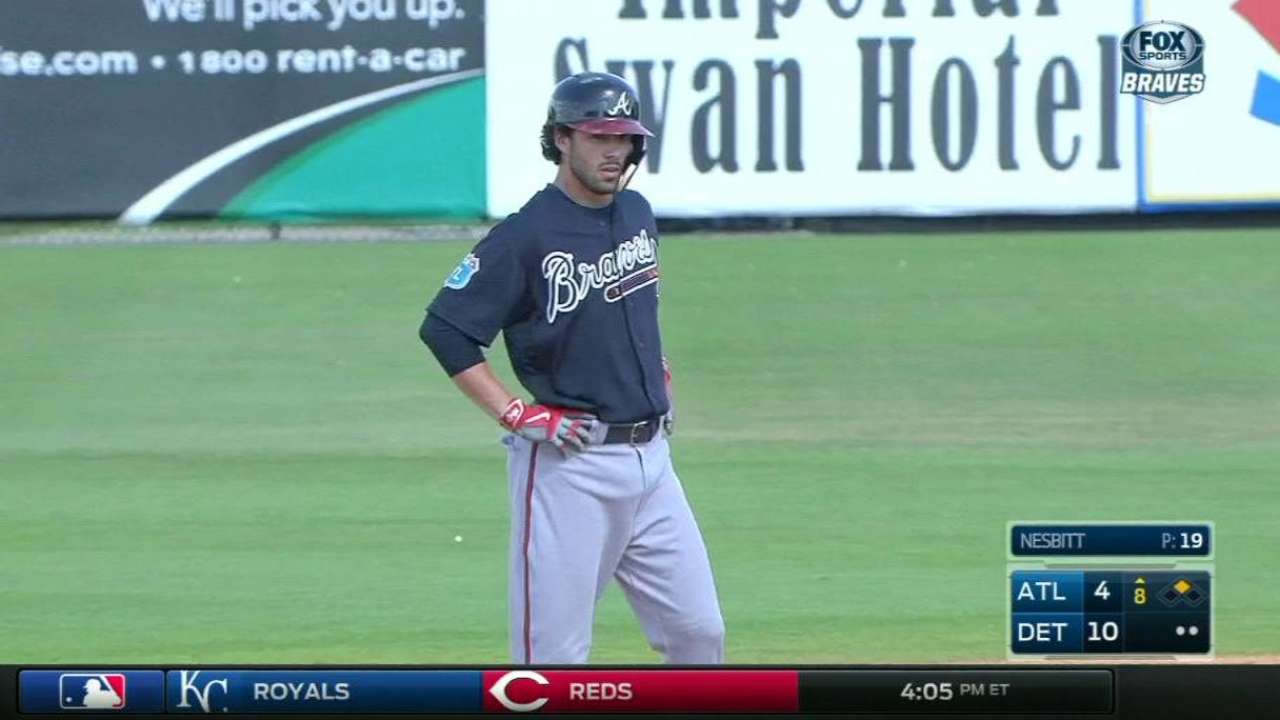 When should we expect to see Dansby Swanson and Ozzie Albies in Atlanta?
-- Jennifer P., Macon, Ga.
If these highly-regarded prospects (Swanson is the Braves' No. 1 prospect and Albies is No. 3) prove productive over the next couple of months, we could certainly see them both with Atlanta at some point after the All-Star break. It seems like the team is leaning toward having them both at the Major League level at some point in August, but they could push the issue and increase the potential of debuting in July.
Swanson has hit .310 and produced a .962 OPS over the eight games he has played since being promoted to Double-A Mississippi. The polished shortstop seems talented and mature enough to play at the big league level right now. But given that he's tallied just 228 plate appearances at the pro level, the Braves do not want to hinder the development of what might be their most valuable asset.
Albies has hit .219 and compiled a .500 OPS through his first 32 plate appearances with Triple-A Gwinnett. However, in recording five hits and striking out just once in his past 10 at-bats, the 19-year-old shortstop has provided some indication that he is not overwhelmed by his new environment.
Before promoting these two shortstops, the Braves may opt to unite them in Gwinnett in an attempt to allow them to get used to working together as a middle-infield combo. It's still too early to say which one will make the switch to second base, but for now, I'll project Swanson as the better bet to stay at shortstop.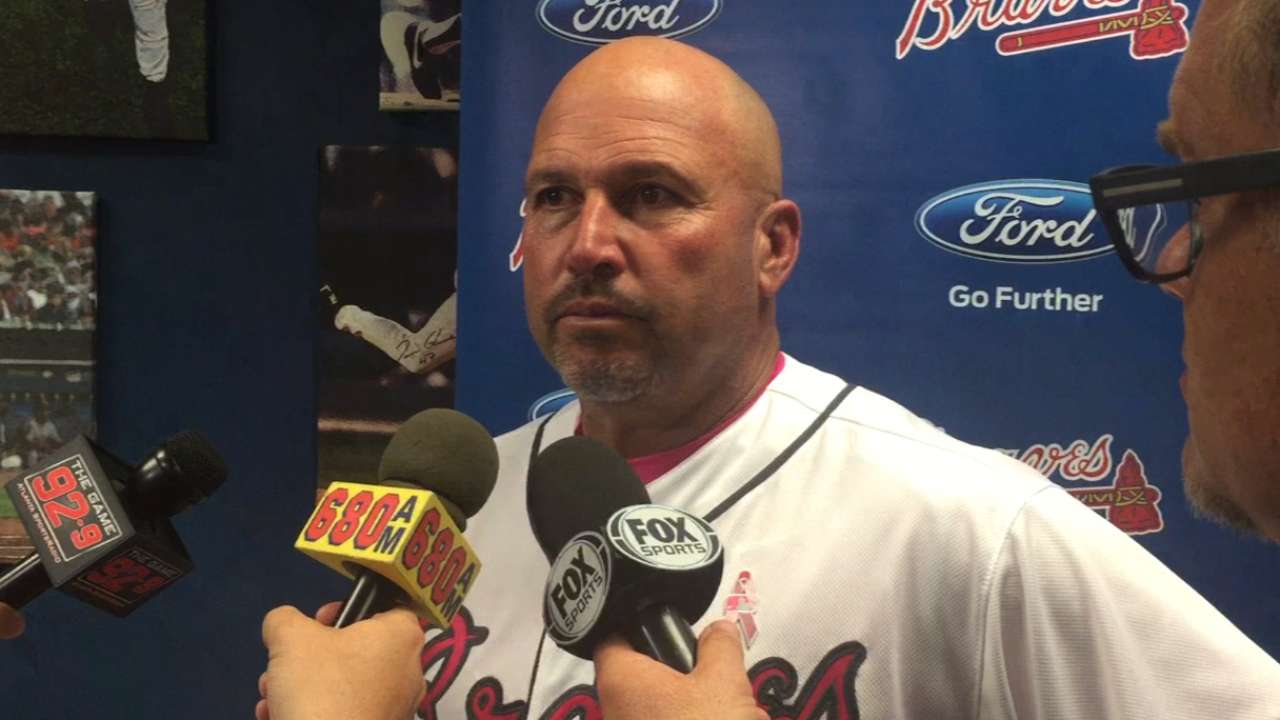 How long will the Braves stick with Fredi Gonzalez as their manager?
-- John H., Nashville, Tenn.
Though frustrations continued to mount as the Braves fell to 7-23 after being swept this weekend by the D-backs, it does not seem like a managerial change is imminent. There's a chance the team will have no choice but to dismiss Gonzalez at some point within the next couple of weeks or months. But after spending the past month playing the Majors' toughest schedule with a roster laden with a group of veterans who have not come close to meeting expectations, Atlanta seems intent on sticking with Gonzalez for the time being.
Gonzalez might have made some questionable in-game decisions during the 0-9 stretch that began this season. But as we've gained a better sense of the team's composition, we've been reminded that it's not easy to make good decisions when you don't have many options.
At the same time, Gonzalez had no influence on the strained left hamstring that sidelined Ender Inciarte for a month or the actions that might have ended Hector Olivera's career as a Brave just seven games into this season. Nor did he ask for his Gold Glove shortstop (Andrelton Simmons) to be replaced by a former Gold Glove shortstop (Erick Aybar) who has arguably been one of the game's least productive players. Aybar and catcher A.J. Pierzynski own the lowest fWAR marks among all qualified Major Leaguers at their respective positions. The enhanced bullpen depth that was promised has been soured by Jim Johnson's two-out struggles and the fact that Jason Grilli has had to steadily adapt while distancing himself from last year's ruptured left Achilles, an injury that could have ended his career.
Even without knowing how little Aybar, Pierzynski, Inciarte, Olivera and the recently demoted Adonis Garcia would provide through these first 30 games, there wouldn't have been much reason to expect the Braves to go through the early portion of this schedule with a .500 record. At the same time, it is tougher to endure such a stretch than it is to project it.
There may come a time when -- if for nothing more than public perception -- Atlanta will need to make a change. But for now, the front office will remain patient while acknowledging that it has played a part in what has transpired this season.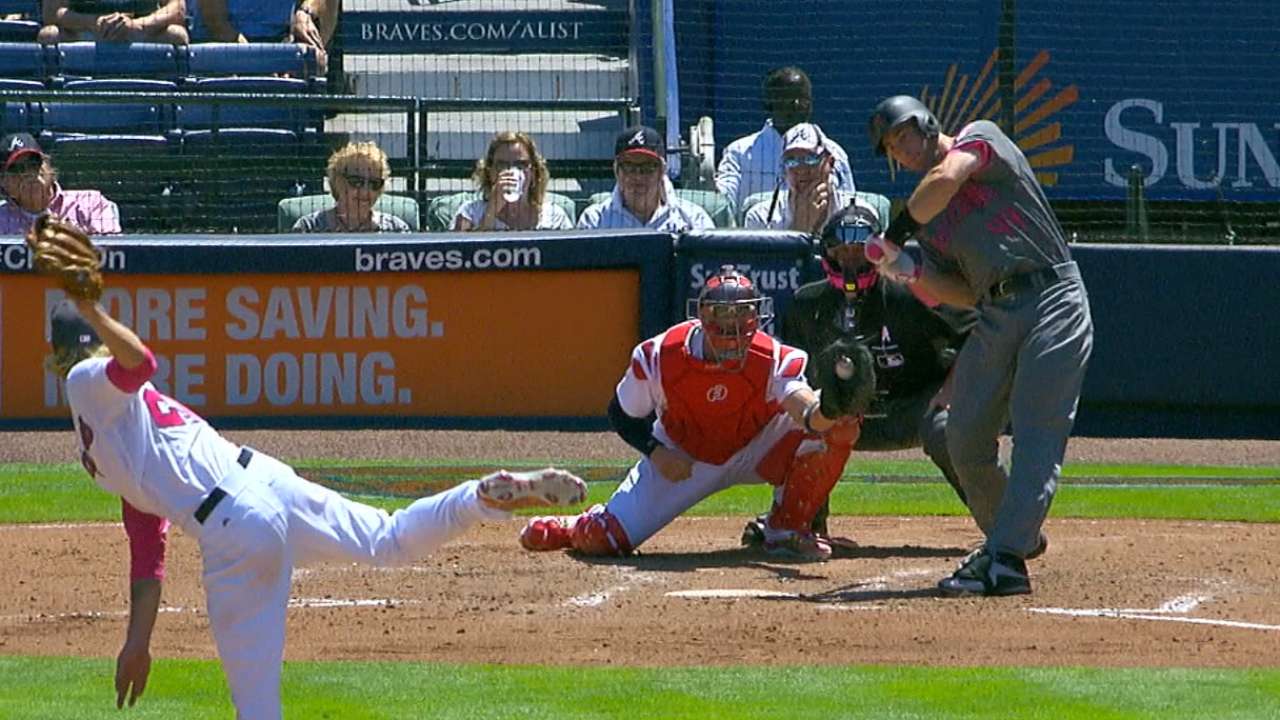 What is a realistic time frame for the Braves to start thinking playoffs? 2017 seems out of reach. Is 2018 a stretch?
-- James E., Birmingham, Ala.
After last year's woeful Phillies team took a third straight game from the suddenly depleted Braves in early August, a Philadelphia executive casually said, "Wow, they're worse than us right now." At that time, as the Phils were moving toward a 99-loss season, no sane individual could have predicted that they would come to Atlanta on Tuesday with the National League's fourth-best winning percentage.
The Phillies will likely be grounded at some point over the next couple of months, but their strong start does show how quickly a rebuild can at least enter the encouraging stage. I've always contended that the Braves would not be a legitimate playoff contender again until 2018. But what we've seen over the past couple of weeks from Julio Teheran, Aaron Blair, Matt Wisler and Sunday's version of Mike Foltynewicz does provide hope that the Braves might at least return to a level of respectability next year, when their lineup will almost certainly include Swanson and Albies.
When Gordon Beckham returns, will Mallex Smith return to the Minors?
-- Kaleb C., Bowling Green, Ky.
Gonzalez fought hard for Smith to remain at the Major League level as he struggled through his first few weeks, and it now seems the entire organization agrees that the energetic and talented outfielder should stay with Atlanta throughout the season.
The Braves can't change the fact that the power potential within their lineup does not extend much past what Freddie Freeman offers. But they're hoping to at least partially compensate for this glaring weakness courtesy of the speed Smith and Inciarte can provide when they're in the lineup together.
Mark Bowman has covered the Braves for MLB.com since 2001. This story was not subject to the approval of Major League Baseball or its clubs.