Gonzalez earns another start with strong return
Righty allows one run over 5 2/3 innings after callup from Minors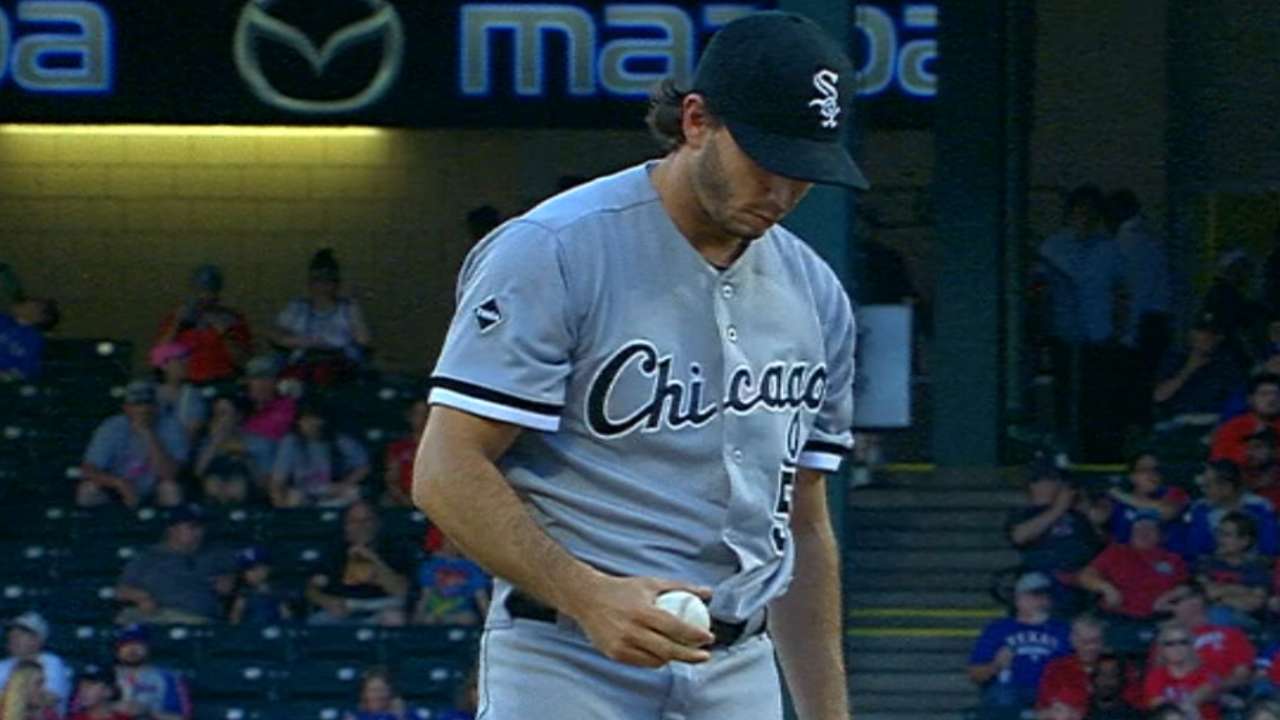 ARLINGTON -- Monday night's White Sox battery of starter Miguel Gonzalez and catcher Alex Avila didn't have a whole lot of time to discuss their game plan against the Rangers. Both had rejoined the team just earlier in the day.
Avila was returning from a rehab assignment and Gonzalez was called up from Triple-A Charlotte to make his second start of the season.
Whatever discussions they may have had, they seemed to be on the same simple, successful page. Gonzalez, who allowed only one earned run on three hits in 5 2/3 innings in an 8-4, 12-inning victory for the White Sox, probably earned another start as the fifth starter, manager Robin Ventura said.
"I would think so at this point, I'd like to see him throw another one," Ventura said. "I thought he did a good job. He pitched well, he earned another shot at it."
Gonzalez struck out four and walked three. He cruised through the first four innings, retiring 11 hitters in a row at one point and throwing 29 of his first 37 pitches for strikes as he continually got the Rangers to put the ball in play for outs.
"The most important thing for me is strike one, it's really important, knowing that this [Rangers] team is really aggressive and they've been playing really good baseball," Gonzalez said. "It was exciting to have Avila back there again, he did a really good job back there, I'm impressed."
Gonzalez ran into trouble in the fifth inning when he issued back-to-back walks to Mitch Moreland and Elvis Andrus to put two runners on with one out. But the White Sox right-hander retired the bottom two hitters in the Rangers' lineup in short order, striking out Bobby Wilson and Delino DeShields.
"He was spinning it nice and getting some bad swings and getting through it," Ventura said. "He throws strikes, you know he's going to be around the zone, so let the defense work for you. He was getting some early swings as well."
The next batter, Rougned Odor, led off the sixth with a solo homer, and after Gonzalez recorded two outs, he allowed a single up the middle to Prince Fielder and walked Ian Desmond, prompting Ventura to bring in lefty Zach Duke to get lefty Moreland for the third out.
"He's going through that lineup a third time, it's tough to go through once, let alone for the third time," Ventura said. "We had a spot to get Duke in there and figuring we had that bullpen to be able to do it."
In addition to adding Gonzalez and Avila, the White Sox also designated catcher Hector Sancez for assignment. Sanchez went 1-for-7 in two games for the White Sox.
Dave Sessions is a contributor to MLB.com who covered the White Sox on Monday. This story was not subject to the approval of Major League Baseball or its clubs.