MLB.com Columnist
Jonathan Mayo
Pair of Yankees lead Prospect Team of the Week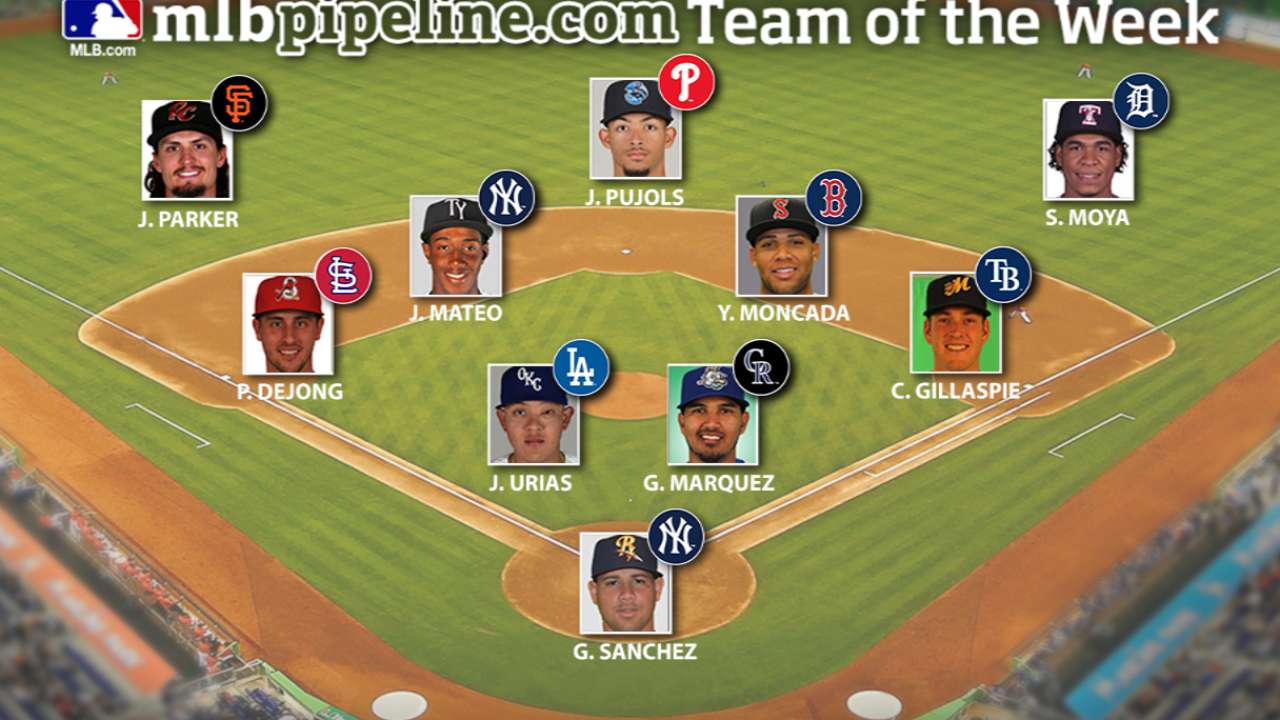 MLBPipeline.com's Prospect Team of the Week honors the best performances from the previous seven days. Any player currently on an organization Top 30 Prospects list on our Prospect Watch is eligible, including big leaguers.
The key to success in building a winning big league team, most will agree, is to build up the middle. Having impact talent behind the plate, in the middle-infield positions -- especially shortstop -- and in center field, is crucial. If this week's Prospect Team of the Week, covering games May 2-8, is any indication, the Yankees are headed in the right direction.
Yanks hold the roster spots this week at catcher and at shortstop. Gary Sanchez becomes the first prospect to repeat on PTOW in 2016 with his power and run production behind the plate in Triple-A, while the New York's top prospect, shortstop Jorge Mateo, is showing he might be too good for the Florida State League.
C: Gary Sanchez, Yankees (No. 3 prospect)
5 G, .458/.480/.958, 6 R, 3 2B, 3 HR, 9 RBIs, 1 BB, 3 SO, 1 SB
This is Sanchez's second PTOW nod, and for good reason. The No. 2 catching prospect in baseball, Sanchez had four multihit games last week and three multi-RBI performances. He's now fourth in the International League in slugging and second in RBIs to one of the outfielders on this week's team.
1B: Casey Gillaspie, Rays (No. 8 prospect)
5 G, .467/.556/.867, 5 R, 3 2B, 1 HR, 3 RBIs, 3 BB, 2 SO
The switch-hitting first baseman picked up five hits at the beginning of the week and has been swinging a hot bat in May, bringing his season totals up to .306/.449/.553. He's third in the Southern League in on-base, slugging and OPS.
2B: Yoan Moncada, Red Sox (No. 1 prospect)
7 G, .320/.452/.800, 13 R, 3 2B, 3 HR, 9 RBIs, 6 BB, 5 SO, 3 SB
You have to think Moncada is going to join Double-A Portland soon, right? Especially if he keeps doing what he's been up to in Salem thus far. The power switch went on last week as Moncada hit his first three homers of the year. He leads the Carolina League in stolen bases and is fourth in OPS.
3B: Paul DeJong, Cardinals (No. 18 prospect)
7 G, .320/.452/.840, 6 R, 1 2B, 4 HR, 7 RBI, 6 BB, 7 SO, 1 SB
The Cardinals challenged their 2015 fourth-round pick with an assignment in Double-A to start his first full pro season. DeJong understandably struggled out of the gate, but looks like he's starting to figure it out. He homered on Monday and Tuesday, then hit two out on Thursday. DeJong has raised his batting average more than 50 points in May while hitting all five of his home runs for the year in the past eight games.
SS: Jorge Mateo, Yankees (No. 1 prospect)
5 G, .571/.591/1.048, 6 R, 2 3B, 2 HR, 5 RBI, 1 BB, 2 SO, 1 SB
The dynamic shortstop had four multihit games for the week, including a four-hit performance on Thursday. Mateo is second in the Florida State League in batting (.374), but he leads it in both SLG and OPS. A trip to Trenton has to be in his not-too-distant future.
OF: Steven Moya, Tigers (No. 10 prospect)
6 G, .458/.500/1.208, 8 R, 4 2B, 1 3B, 4 HR, 10 RBIs, 2 BB, 7 SO
Moya's big game came on Monday, when he homered twice (among four hits) and drove in five. But the big outfielder also homered in back-to-back games to close out the week. Now hitting over .300 for the year while leading the International League in home runs and RBIs, you have to think he'll get another shot in Detroit eventually.
OF: Jose Pujols, Phillies (No. 25 prospect)
7 G, .321/.345/.714, 6 R, 2 2B, 3 HR, 11 RBIs, 1 BB, 12 SO
The plate discipline still needs some refinement, but the power is really starting to show up. The outfielder homoered in three straight games this past week, starting with a five-RBI performance on Wednesday. Pujols is now tied for the South Atlantic League lead in home runs with seven and stands third with his 24 RBIs.
OF: Jarrett Parker, Giants (No. 18 prospect)
7 G, .250/.300/.750, 5 R, 1 3B, 4 HR, 9 RBIs, 2 BB, 4 SO
Parker had seven hits last week, but five of them were of the extra-base variety. He drove in runs in five straight games, homering in four of those. The outburst put Parker into a tie for the home run lead in the Pacific Coast League, and he's tied for third in RBIs.
LHP: Julio Urias, Dodgers (No. 1 prospect)
1-0, 0.00 ERA, 1 GS, 6 IP, 0 H, 0 R, 0 ER, 0 BB, 6 SO, 0.00 WHIP
You can't get much better than Urias last week. Actually, it's almost impossible to be better. Urias fired six no-hit innings on Tuesday. The teenaged southpaw now leads the Pacific Coast League in ERA (1.88) and WHIP (0.71), posting a ridiculous 29-3 strikeout-to-walk ratio over 24 innings of work while allowing just 14 hits.
RHP: German Marquez, Rockies (No. 13 prospect)
1-0, 0.00 ERA, 2 GS, 14 IP, 4 H, 2 R, 0 ER, 4 BB, 10 SO, 0.57 WHIP
To finish off the week, Marquez carried a no-hitter into the eighth inning on Sunday, the longest outing of his career. He gave up just one hit over eight in that contest, following up the six innings he threw last Monday, where he yielded just two unearned runs. Marquez leads the Eastern League with a 1.03 ERA.
Jonathan Mayo is a reporter for MLBPipeline.com. Follow him on Twitter @JonathanMayo and Facebook, and listen to him on the weekly Pipeline Podcast. This story was not subject to the approval of Major League Baseball or its clubs.